'Incheon Strives to Emerge as a Tourism Hub of Peace on Korean Peninsula': ITO CEO Min
He says Incheon tries to foster a convergence & multipurpose tourism covering meetings, incentives, conferences and exhibitions (MICE), medical care and entertainment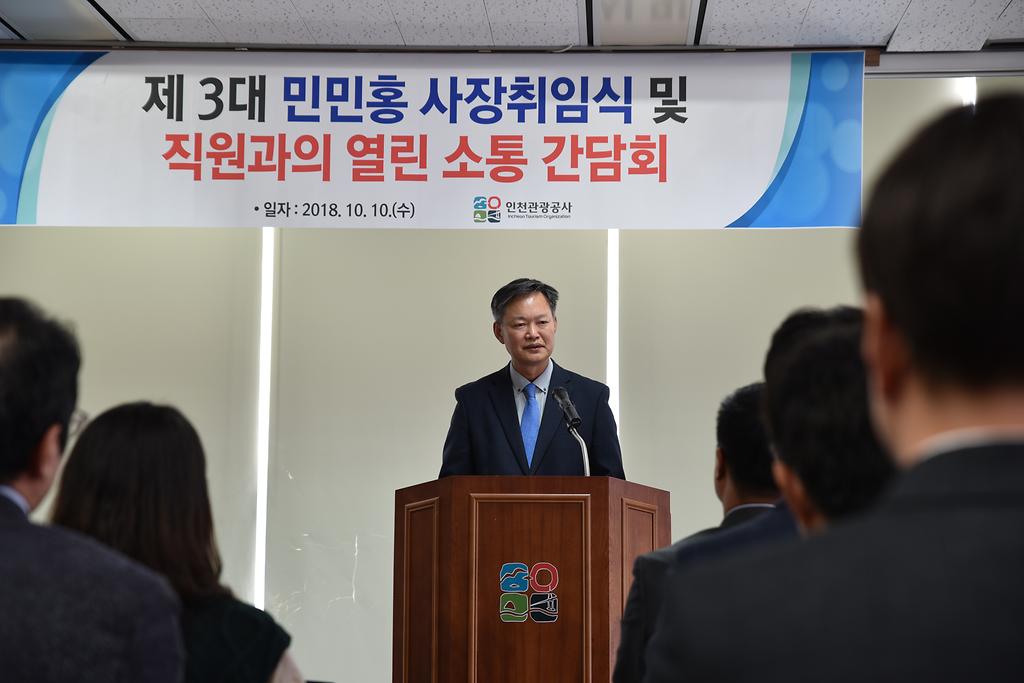 President Min Min-hong of Incheon Tourism Organization (ITO) delivers his inaugural speech as he took office as the 3rd president of the ITO on Oct. 10. (Photos: ITO)
President Min Min-hong of Incheon Tourism Organization (ITO) stressed the need for the establishment of Incheon as a city of staying tourists, not a gateway city with passing tourists.

"Incheon is a gateway city with strengths such as a world-class airport and a port. The municipal government's slogan "All roads lead to Incheon sums up well Incheon City and Incheon's tourism," President Min said in a recent interview.

He revealed his determination to make Incheon Asia's premier convergence and multi-purpose tourism city by making the most of the city's strong points. "(I'll) strive to make Incheon a tourism city of international exchanges in cooperation with world-class universities at global campuses in Songdo International City, the Green Climate Fund Secretariat, the United Nations Economic and Social Commission for Asia and the Pacific (ESCAP) and other international organizations," Min said.

As inter-Korean rapprochement is building up these days, he said, Incheon is ready to emerge as a tourism hub of peace on the Korean Peninsula. President Min enumerated tours connecting South and North Korean airports, the Pan-West Sea Sphere cruise tours linking North Korea and China, and inland tours using the "East Sea Inter-Korea Peace Road."

President Min said Incheon tries to foster a convergence & multipurpose tourism covering meetings, incentives, conferences and exhibitions (MICE), medical care and entertainment. In this regard, he said, ITO strives to attract international conventions, exhibitions, incentive tours and hallyu (Korean Wave) events.

In his inaugural speech, ITO President Min announced his three management tenets – changes based on communications, fair merit-based personnel change and corporation beloved by citizens.

He urged his executives and staff members to make efforts to become the most excellent public entity by promoting diverse convergence, multi-purpose tourism such MICE, music and international exchanges, creating jobs and strengthening co-prosperity with citizens.

President Min took office as the 3rd president of the ITO on Oct. 10 after receiving a certificate of appointment from Incheon mayor. Min, a graduate of Hankuk University of Korean Studies, obtained a master's degree from Hanyang University International Tourism Graduate School and a doctorate in convention & exhibition management from Kyunghee University Graduate School.

He had a 30-year stint with the Korea Tourism Organization (KTO). He held major positions such as the head of the KTO's International Tourism Headquarters and a non-standing director of Korea Health Industry Development Institute (KHIDI).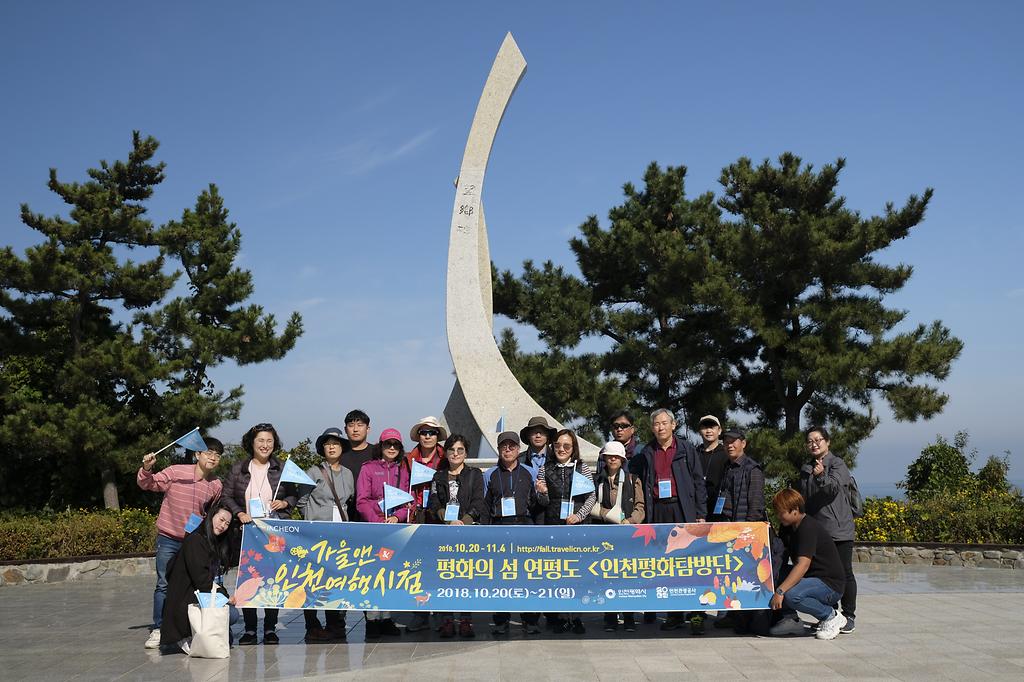 A view of a "Incheon Peace Journey Team" who toured Yeonpyeong Island.

Incheon's Tour Gems

ITO President Min recommended trekking and appreciation of autumn foliage at Incheon's islets during fall. The excellent geological heritage of Baengnyeong Island and Daecheong Island, parts of the five islands on the West Sea that have so far been unknown due to inter-Korean tensions, is to be clarified.

The ITO wants to recruit tourists on peace tour in Incheon and publicize tourist spots such as the five islands of the West Sea, Gangwha and Gyodong islands during the Autumn Tour Week that gets under way until Nov. 4.
인천관광공사 제3대 민민홍 사장 취임식 및 직원 간담회
시민으로부터 사랑받는 최우수 공기업 포부 밝혀
인천관광공사 제3대 사장으로 임명된 민민홍(58) 사장이 10일 인천시장으로부터 임명장을 수여받고,
공사 대회의실에서 취임식 및 임직원들과의 간담회를 마치고 본격적인 업무를 시작했다.
민민홍 사장은 한국외국어대학교를 졸업하고 한양대학교 국제관광대학원 석사, 경희대학교 일반대학원
컨벤션전시경영 박사를 거쳐 한국관광공사에서 30여 년을 근무한 경력을 가지고 있다.
또한, 한국관광공사 국제관광본부장(상임이사) 및 한국보건산업진흥원 비상임이사를 역임했다.
민 사장은 취임사를 통해 "소통을 기반으로 한 변화, 성과 중심의 공정한 인사, 시민들로부터 사랑받는
기업의 3가지 원칙으로 공사를 운영해 나가겠다. 인천이 가지고 있는 경쟁력을 바탕으로 MICE, 음악,
국제협력 등 다양한 융복합 관광과 일자리 창출, 시민과의 상생을 통해 최우수 공기업이 될 수 있도록
함께 노력하자"고 포부를 밝혔다.