The deal is worth around $5.8 bln with Anbang Insurance Group of China, involving over
Chairman Park Hyeon-joo of Mirae Asset Group.
Mirae Asset Global Investments said Oct. 2 it has acquired 15 premium hotels in the United States in a package deal reportedly worth more than $5.8 billion, the largest alternative investment deal ever for a South Korean financial firm.

The company said that it signed a contract to acquire 15 high-end hotels in the United States from Chinese insurer Anbang Insurance Group. Mirae Asset did not officially disclose the size of the deal, which is said to be worth over $5.8 billion.

Anbang purchased the 15 hotels from Blackstone, the world's largest private equity fund, in 2016. The Chinese insurer had to put them up for sale amid its worsening management crisis after Chinese authorities arrested its top manager on charges of illegal fundraising and fraud and seized control of the group.
Mirae Asset was named the preferred bidder for the U.S. hotels, beating other global investors such as Blackstone and Brookfield in a bidding war that started early this year.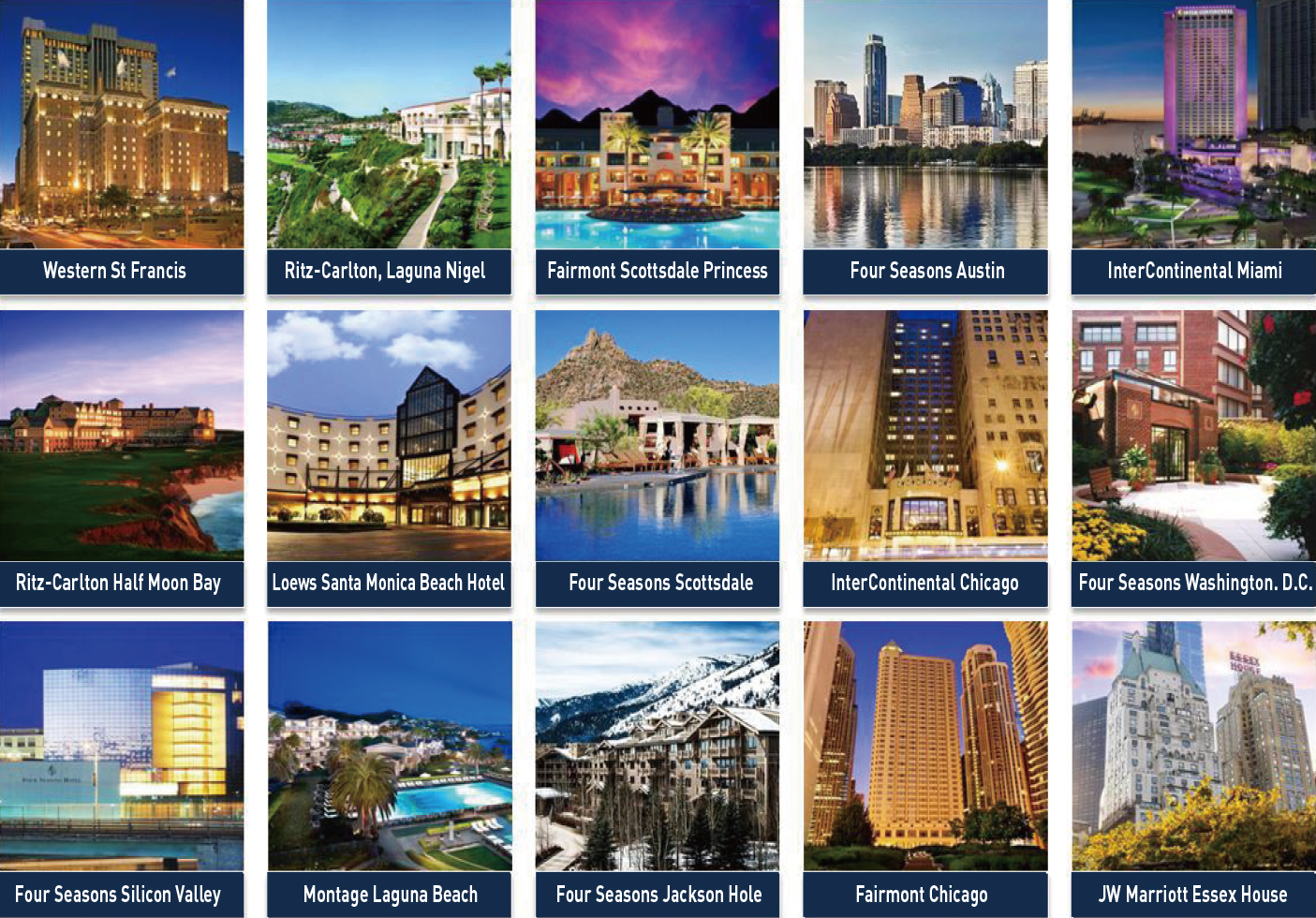 The photos of 15 hotels that Mirae Asset Group bought as member of a consortium paying reportedly $5.8 billion from Anbang Insurance Group. (Photos: Mirae Asset Group)

The hotels are located in nine major cities in the U.S., including New York, Los Angeles and Chicago. Among the properties are JW Marriott Essex House New York, which overlooks the Central Park in Manhattan, The Ritz-Carlton Half Moon Bay near San Francisco and InterContinental hotels in Chicago and Miami.
The 15 hotels have a combined 6,912 guestrooms and over 66,000 square meters of total banquet hall space.

In the meantime, Mirae Asset Daewoo Co. has added a Hong Kong high-rise landmark in its worldwide property portfolio.

Mirae Asset Daewoo announced recently that it will underwrite mezzanine debts worth $243 million of Goldin Financial Global Center located in Kowloon Bay, a district where the Hong Kong government has been developing as the new central business district in the east part of Kowloon Peninsula with an investment of 34 trillion won ($29.9 billion).

Owned by Goldin Financial Holdings and Pan Sutong, a businessman in Hong Kong, the office building received Platinum certification, the highest level, from the U.S. Leadership in Energy and Environmental Design (LEED). Global major investors like the Government of Singapore Investment Corp. (GIC) and Deusche Bank.

The Korean brokerage running 12 subsidiaries in 11 countries has been showing its voracious appetite for foreign real estate recently. It took over Keangnam Landmark 72 building in Hanoi, Vietnam for 400 billion won in 2016 and a logistics center of the U.S. FedEx in the following year.

It also invested $95 million in Cosmopolitan Hotel in Las Vegas, 380 billion won in Cannon Bridge House in London and $78 million in Amazon's distribution center in Atlanta last year.

Last month, its consortium was named the preferred bidder for the Tour Majunga building, a landmark building located in La Défense district district in Paris. Built in 2014, Tour Majunga is the fourth tallest building in France and has been mostly leased out to global names of accounting and consulting firms under long-term contract.

Mirae Asset Global Investments launched Korea's first ever real estate fund in 2004 and now operates globally with investments in North America, Europe, Asia, and Latin America.
We are committed to meeting our investors' evolving needs and aim to generate attractive long-term, risk-adjusted returns, yield-generating opportunities, and diversification, said a key official of the company, an affiliate of Mirae Asset Group.