Korea South-East Power Co. (KOEN) is devoting itself to being a leader by concentrating on the continued implementation of new and renewal projects in the Korean market. KOEN has so far played a leading role in ensuring a stable supply of quality electricity in a cheaper price. In the wake of the Paris deal in 2016 for the Post-2020 Climate Change Regime, KOEN has declared its new vision "Clean & Smart Energy Leader." The declaration of the vision may be construed as the power company's determination to be reborn into an eco-friendly energy leader in the fast-changing energy market.
KOEN became the first Korean power company to have a grid-connected photovoltaic power plant in October 2015. The power company dedicated a small hydropower plant in Samcheonpo in September 2006, which uses cooling waste water from a coal-fired power plant. It's the first-ever such case in the world.
It also completed the nation's largest-ever capacity wind power complex in May 2013. KOEN has played a leading role in the supply of new and renewable energies. The power company dedicated a wind power-connected energy storage system (ESS) for the first time in Korea in September 2015 and competed the wind power connected ESS phase II project last December.
KOEN has contributed to invigorating the Korean fuel cell industry as the power company installed a multi-layered fuel cell power plant at KOEN's Bundang Office in Gyeonggi-do last October, the first-ever installation in the world.
The power company is seeking to implement a next-generation solid fuel cell business and a photovoltaic power-connected ESS business. KOEN is aggressively working on the construction of photovoltaic power plants by making the most of existing coal-powered plants. The company broke ground for a 10ME-class photovoltaic power plant project on the site of the first coal ash treatment center of the Samcheonpo Thermal Power Complex last September.
KOEN plans to invest about 210 billion won in new energy industry projects this year, including photovoltaic power, wind power, fuel cell, and new and renewable energy complex projects.
KOEN is now implementing the Tamna Sea Wind Power Complex with a capacity of 30MW, the largest-ever in Korea. Overcoming initial hardships, funding and local opposition, KOEN's participation has solved some long-standing pending issues.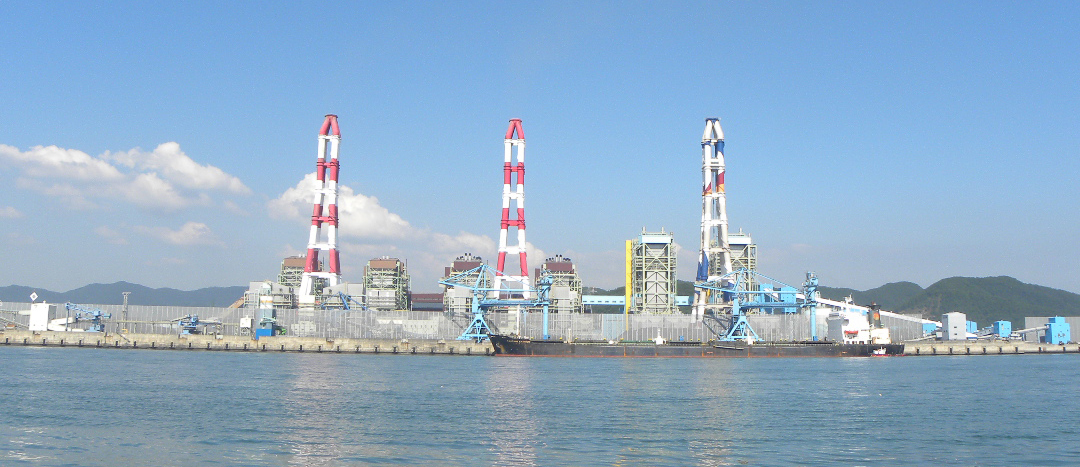 The Samcheonpo Thermal Power Plant operated by KOEN. (Photos: KOEN)
KOEN Declares '2nd Founding' to Become Global Energy Company
Company President Chang Jae-won, executives and staff members participated in a ceremony to declare the "2nd founding of KOEN" at its headquarters in Jinju, Gyeongsangnam-do, on Jan. 23.
The participants shared their views on uncertainties within the energy industry, which are expected to rise after environmental restrictions are implemented related to greenhouse gas emission reductions.
KOEN decided to establish nine tasks in three areas: new energy business; power generation business; and management infrastructure, taking preemptive steps to focus on implementation over the next three years. Some start-up tasks include the development of GW-class, large-scale new and renewable energy complexes; the securing of new and renewable core technologies in advance and the development of optimal business models for distributed generation in the new energy business category; the supplementing of eco-friendly equipment to coal-fired power units and the conversion to high-efficiency power plants; the improving of power portfolios with the expanding of combined cycle generation; and the diversifying of overseas businesses and technology businesses; the securing of core manpower for future growth engines; the creation of alternatives to the decommissioning of old thermal power units; ways of utilizing new sites; and the innovation of a corporate culture to live up to "core values" in the management infrastructure category.
In this regard, KOEN plans to develop 1GW-class tidal wind plants, 640MW-class large-scale new and renewable complexes in Korea and 1.8Gw-class power plants abroad.
In an effort to ramp up the competitiveness of thermal power generation, a mainstay business, KOEN plans to pour 700 billion won into the installation of equipment to reduce fine dust emissions, while expanding new and renewable energies as well as gas combined cycle plants in the power generation portfolio, which is currently concentrated on thermal power.