The third blast furnace at the Pohang Steelworks entered operability as the world's fifth largest blast furnace, after wrapping up a 102-day upgrade period. About 200 people participated in a ceremony at Pohang Steelworks on June 6. Among those on hand at the event were Rep. Kim Jung-hae, Pohang Mayor Lee Gang-duk, Chairman Moon Myung-ho of Pohang City Council, POSCO Chairman Kwon Oh-joon and other POSCO executives and staff members.
The third blast furnace, whose upgrade period started on Feb. 24, has been expanded from 4,350 cubic meters to 5,600 cubic meters, making it the fifth largest in the world. The four-round operation blast furnace has a daily production of 15,000 tons of molten iron.
POSCO has established itself as one of the world's top steelmakers, as the latest expanded facility at the Pohang Steelworks brings the number of blast furnaces greater than 5,500 cubic meters in size to five. They include: the first blast furnace at the Gwangyang Steelworks with 6,000 cubic meters, the largest in the world; the third and fourth blast furnaces at the Pohang Steelworks, each standing at 5,600 cubic meters; and the fourth and fifth blast furnaces at the Gwangyang Steelworks, each with 5,500 cubic meters.
POSCO's five giant blast furnaces compare to four in Japan, three in China, one in Russia and one in Germany.
The revamping of the third blast furnace at the Pohang Steelworks was carried out with the experience POSCO accumulated over 28 previous repairs. It involves prediction technology, prolonging its lifespan, and also the application of automatic controls on the inside of the blast furnace from the design stage. The blast furnace has been subsequently outfitted with an features that could lead to a "smart" blast furnace as a step forward by monitoring the inside and outside conditions from an early stage and gathering big data.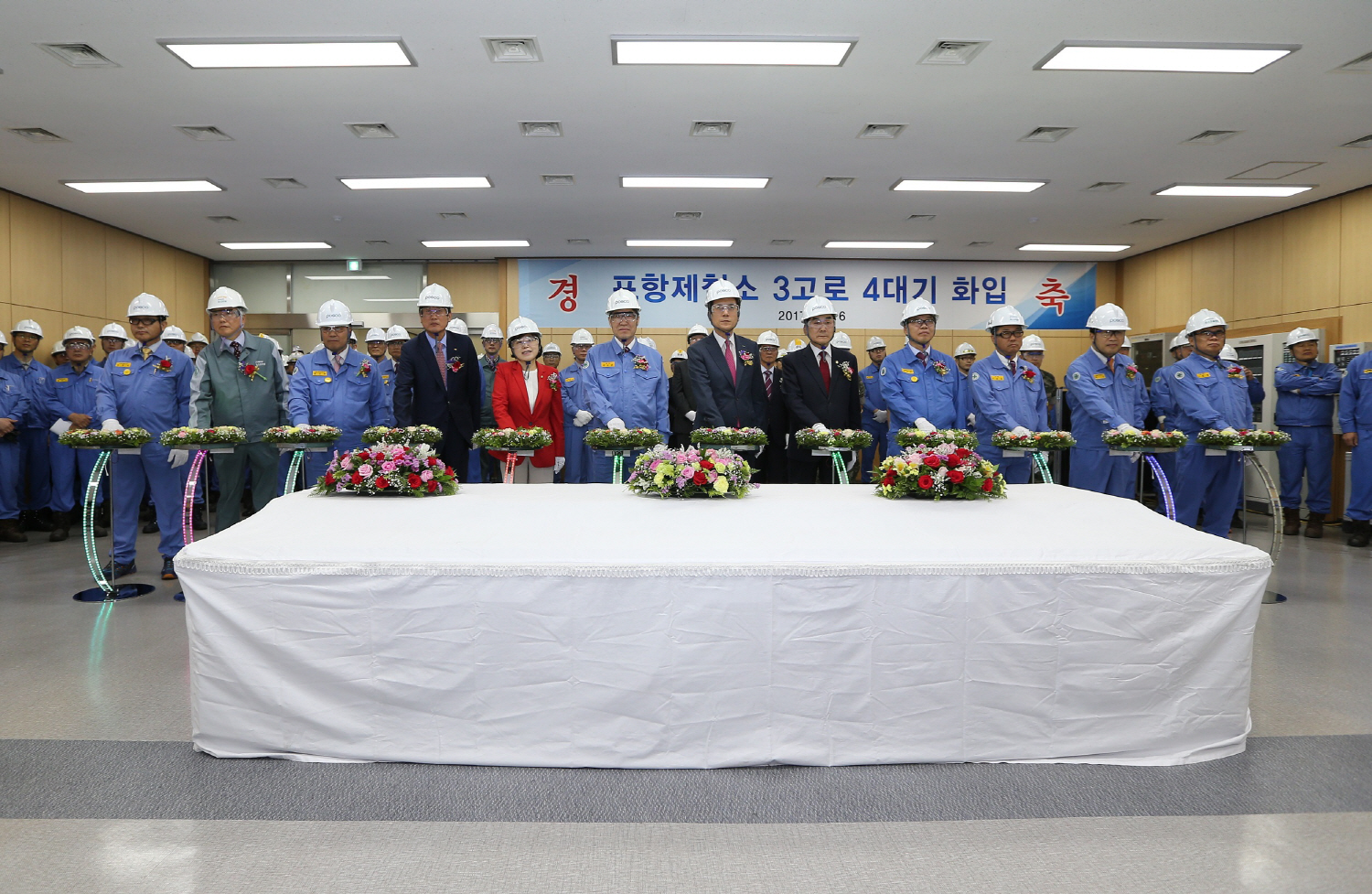 Notables, including POSCO Chairman Kwon, participate in a ceremony of setting a fire to the third blast furnace of the Pohang Steelworks. (Photos: POSCO)