As Kim Hyun-mee took office as the first minister of the Ministry of the Land, Infrastructure and Transport (MOLIT) in the President Moon Jae-in government, she declared "war" against real estate speculators. The move may be construed as a declaration of her willingness to correct the distorted market and steer it back to becoming a market oriented for "real" home buyers. She said that the real estate market is overheated and distorted due to transactions for speculative purposes.
While delivering her inaugural speech at the Sejong Government Complex on June 23, the new MOLIT Minister Kim presented a power-point presentation to show that of late, the overheating of the real estate market has been caused by speculative demand, not a rise in "real" demand stemming from a shortage of supply. Citing the MOLIT's report, Minister Kim said home transactions by non-home owners and single-home owners in May dropped 6.02 percent and 1.71 percent over the same period, respectively. On the other hand, those by home owners with three or more homes rose. Home owners with three homes, those with four homes and those with five homes saw transactions surge 6.19 percent, 4.4 percent, and 7.4 percent, respectively.
Taking a closer look at the four ward areas south of the Han River, the contrast was more apparent. In the Gangnam-gu area, transactions by homeless households declined 3 percent, while those by home owners with five or more homes jumped 58 percent. In the Songpa-gu area, transactions by homeless households rose 2 percent, while home owners with five homes or more swelled 89 percent. In the Yongsan-, Eunpyeong-, and Mapo-ward and other Gangbuk areas with better development projects, transactions by multiple-home owners overwhelmed those by people who were making their first purchase of a home.
Minister Kim also revealed a report on transactions by age groups in the overheated areas. Among home buyers who bought and sold real estate last month, those aged under 29, those in their 30s, those in their 40s and those in their 50s jumped 54 percent, 5.6 percent, 14.4 percent, and 13.8 percent, respectively. Data stands out for transactions by those in their 20s because many are suspected of unlawful inheritances and "borrowed name" transactions for speculative purposes, the minister said.
Looking at age groups' portion of total transactions, not growth rates, transactions by those aged under 29 stood at 134 cases, accounting for 3.3 percent of a total of 3,997 transactions in the study period.
Minister Kim's strongly worded remarks may be a kind of a warning shot against some views that the government's June 19 steps on real estate may not work some time. They may be construed as Minister Kim's intention to block any real estate speculators' room to maneuver by signaling signs that the government may intervene in the market at any time if necessary, even though the steps were taken not long ago.
Minister Kim said the June 19 steps on real estate focused on curbing demand, and some still cited a shortage of supply as the reason for the overheating of the market. If the overheating of the market is caused by a shortage of supply, she argued, the transactions by real demand home owners should have surged, but in reality that was not the case. The latest real estate measures were the initial steps taken by the new government against those who may distort the real estate market, said the minister. She reconfirmed the possibility of additional steps, saying that real estate policies were decided by the government, not those who incite real estate speculation.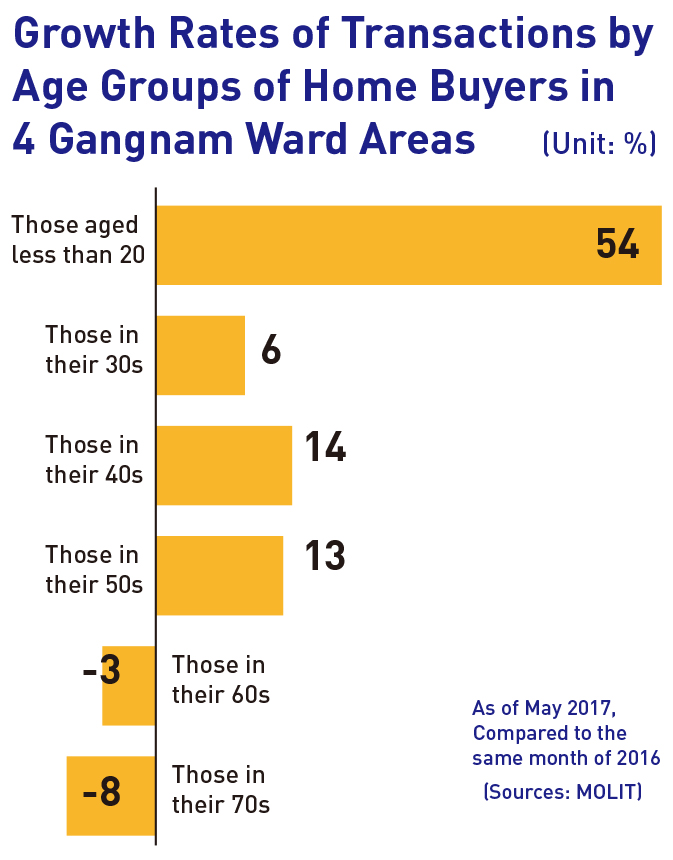 MOLIT's Revamping Apartment Distribution System
MOLIT Minister Kim disclosed a plan to overhaul a new apartment housing distribution system, giving more additional points to non-home owners, during his first meeting of reporters on July 7 since she took office as the minister. While unveiling the plan, Minister Kim said, "The MOLIT's housing policy is to help non-home owners get houses and create an environment in which low-income earners live and feel at home." Kim's policy appears to revert to a previous one before the government's steps, taken on Sept. 1, 2014 under which the new apartment distribution system has been relaxed to the current one to reinvigorate the slumping housing market.