LSIS Chairman Koo Ja-kyun urged his company's team leaders to purse a newly defined leadership tailored to meet members' needs, rather than being "committed to unconditional loyalty to the company."
LSIS Chairman Koo participated in a leadership enrichment symposium for LSIS team leaders at the LS Future Institute in Anseong, Gyeonggi-do, on June 28.
"Healthy corporate culture will be a foundation behind a long-term corporate growth," Koo said. "Demanding unconditional corporate loyalty is a concept of old days, so loyalty is defined in a realistic perspective." Chairman Koo selected as "virtues of loyalty" behind long-term corporate growth autonomy and responsibility, as well as being immersed in yielding outcomes. in the past, enduring personal sacrifices — sometimes for unconditionally prioritizing organizations — but loyalty today is a concept in which each member ought to devote himself or herself to yielding outcomes with autonomy and responsibility to drive long-term corporate growth, he said.
"Coercing allegiance unnecessarily and taking an attitude of approaching "everything's OK" instead of calling out the good performers and bad performers will lead to the lowering of overall competitiveness, and leaders' demanding of bygone royalty is rather a malpractice that stands in the way of corporate development, the chairman said. Team leaders are required to be armed with a leadership tailored to meet member's needs and maintain evaluations, principles and conformance for compensations, thus leading to the natural building of a sound corporate culture, he said. "All of us, including I, the CEO, should pursue changes so that a corporate culture corresponding to a new era can be built," Koo said.
Chairman Koo has been refraining from his participation in team leaders' meetings in order to nurture leadership on a voluntary basis since 2011, when he appointed the chief action officer (CAO), an equivalent position to an executive in charge of team leaders.
Chairman Koo's latest comments at the event not only reconfirm the efficacy of the CAO's roles, but the comments are also designed to recognize a new conception of leadership and loyalty, an LSIS official said.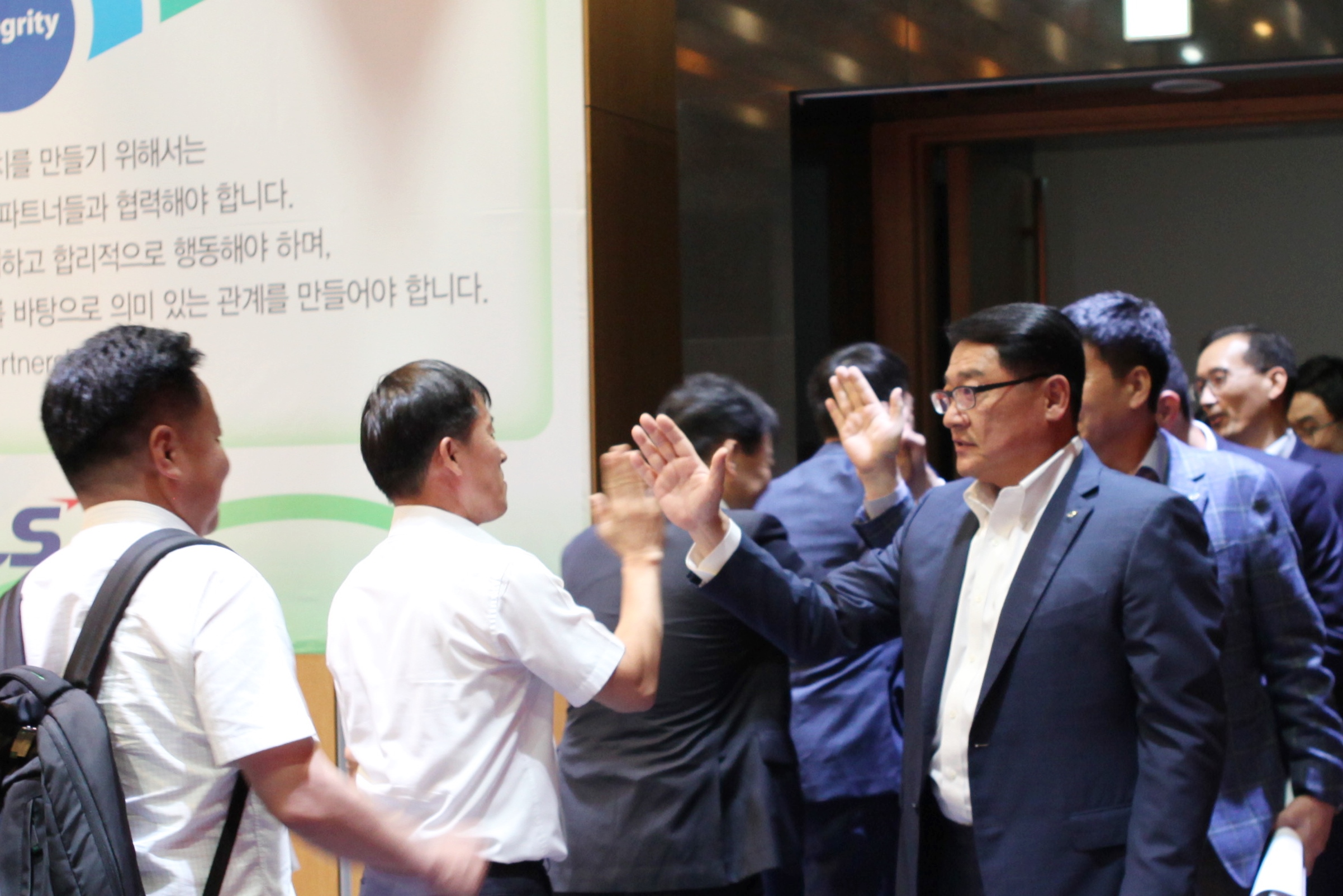 LSIS Chairman Koo Ja-kyun makes a high-five gesture to one of his company's team leaders who participated in a leadership enrichment symposium for LSIS team leaders at the LS Future Institute in Anseong, Gyeonggi-do, on June 28. (Photos: LSIS)
LSIS Clears Anyang Stream with Local Residents to Keep Environment Clean
LSIS said its executives and staff, together with members of the Environment Action Association, and 30 local residents, all chipped in to clean the Anyang Stream, which flows through Seoksu-dong, Anyang, Gyeonggi Province. The group cleared out all kinds of debris from the stream under a program called, "Let's Make Green with LSIS." The LS affiliate said on June 20 that they traveled to the Seoksu-dong to work on a number of events, such as those related to keeping the stream clean by removing all kinds of debris, plants that undermine the growth of native plants growing in and around the stream and releasing "balls" made with effective microorganisms.
The LSIS Social Service Team placed some 600 EM balls in a 5-km section of the stream in Seoksu-dong to keep the stream, known as a "treasure trove" of ecology, protected from all kinds of detrimental elements, LSIS said. They threw in some 80 EM balls, which are not harmful to humans, to remove odors, prevent oxidization and keep water clean. The balls are expected to improve the quality of the water in the steam in the long run. LSIS officials said the work they put in has been a very significant for the communities along the stream. The LSIS officials have made contributions to important matters related to the stream and the communities, such as keeping the environment clean and the preservation of ecology in and around the stream.