KB Financial Group has been doing very well this year when it comes to expanding its operation.
Under Chairman Yoon Jong-kyoo, the group's leadership managed to take over Hyundai Securities last year and is about to make on KB Non-Life Insurance Co. and KB Capital as wholly-owned affiliates. The moves are part of the chairman's plan to boost the group's non-banking sector earnings to diversify its total earnings to be less dependent on banking sector earnings.
Both the boards of KB Non-Life Insurance and KB Capital approved the plans to swap stocks with KB Financial Holdings when they met on June 22, which will take place on July 7, and their shares will no longer be listed from July 21. The two financial firms will officially become wholly-owned affiliates of KB Financial Holdings.
KB Financial Group is expected to hold treasury shares to prevent KB Financial's stock value from being diluted.
A KB Financial Group official said, the plan "was to promote the public tender and the stock exchange in order to give the best option of all stakeholders, while promoting the expanded equity affiliates at the same time." The two companies wholly owned as an incorporated subsidiaries has been interpreted as a strategic move to strengthen the non-banking sector of KB Financial Group.
At stake would be Chairman Yoon's position, whether he will be retained or let go after his current term is finished toward the end of this year. He has a great chance to be reappointed if the group ends the year with its earnings up substantially, along with the expansion plan to diversify its earnings and make the group less dependent on interest earnings in the banking sector.
In the first quarter, the group's earnings outperformed those for its major rival, Shinhan Bank, with its earnings coming to 1.621 trillion won against the rival bank's 1.393 trillion won. The group's performance results for this year will have a great bearing on his personnel matters, a high-ranking official of the group said.
KB Financial Group, Inc. is a holding company that engages in providing financial services through its subsidiaries. It operates through the following segments: Corporate Banking, Retail Banking, Other Banking Services, Credit Card, Life Insurance, Investment and Securities business.
The Corporate Banking business segment provides services such as loans, overdrafts, deposits, credit facilities and other foreign currency activities. The Retail Banking business segment offers services such as private customer current accounts, savings, deposits, consumer loans and mortgage loans.
The other banking business segment provides services relating to banking business besides corporate banking and retail banking services. The Credit Card business segment offers services such as domestic as well as overseas credit and debit card operations. The Investment and Securities business segment provides services such as investment banking and brokerage.
The Life Insurance business segment provides products such as life insurance and wealth management. The company was founded on Sept. 29, 2008 and is headquartered in Seoul, South Korea.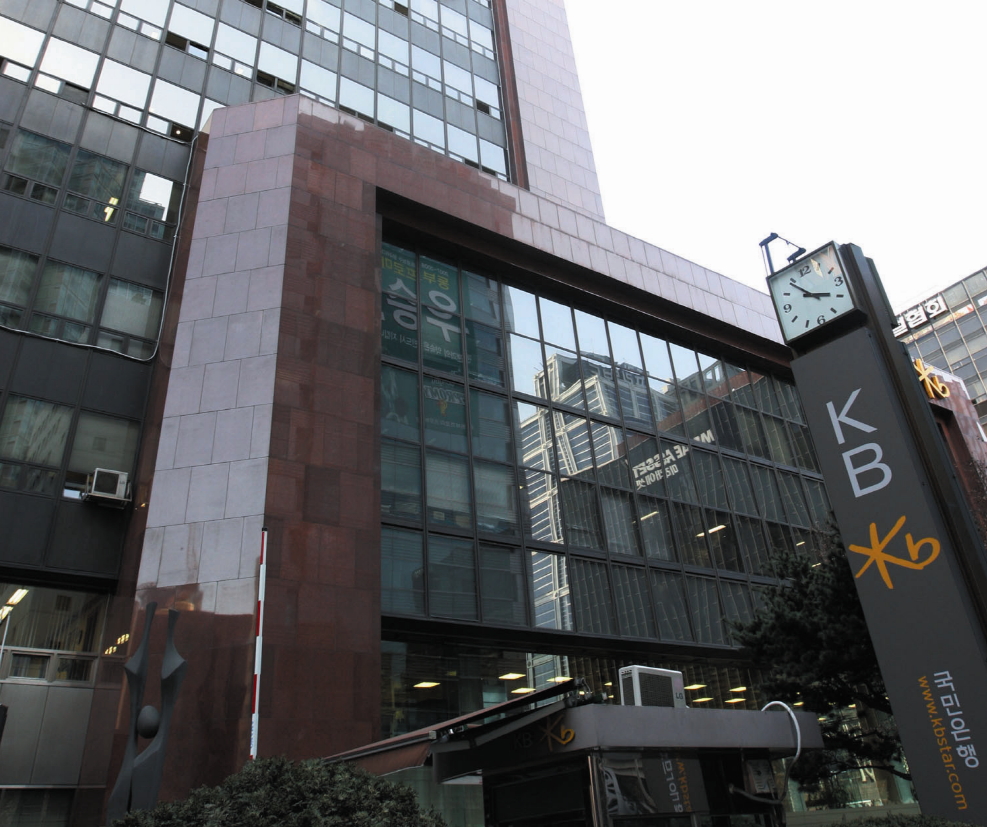 A view of the KB Financial Group headquarters building in Yeouido, Seoul.(Photos: KB Financial Group).