SK E&C is out to build a large automobile sales complex in Pyeong-dong, Suwon, Gyeonggi Province under the name "Suwon SK V1 Motors," the construction company announced Dec. 5.
It would be the first time a large construction company will directly build an automobile sales complex and sell the space to auto dealers. The complex will have four basement floors and six floors above ground on a total space of 199,379 square meters with a room to display all kinds of new cars. Suwon has been a center for the car market in the country.
SK E&C officials boasted that Suwon is the best place to build a new car sales complex because infrastructure for sales is already in place in many places around the city. The new complex is to be built at the old site of Sunkyung Textile, which used to be operated by late Choi Jong-kun, its owner and the founder of SK Group where some buildings from the old days are still preserved.
The construction company is scheduled to open its publicity hall on Dec. 15 and sell space in the new complex from the publicity hall located on the 3rd floor of the Gyeonggi Integrated Labor Welfare Association located at 46-16, Homaesil-ro, Suwon.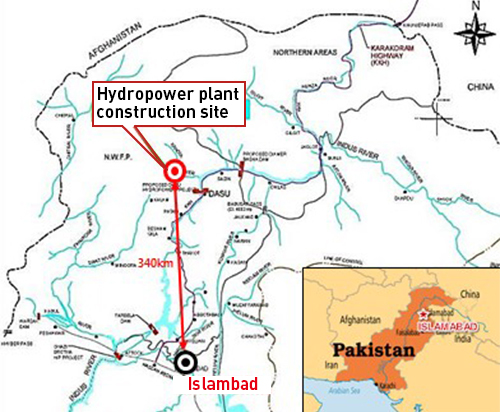 This map shows the location of Kandiah Hydropower plant in Pakistan
International Growth
The construction company said it won a civilian project to build a hydropower plant worth $1.44 billion recently in Pakistan to officially enter the country's power plant market. The company said it signed an agreement to take over 89 percent stake in Kandiah Hydropower Co. from ATL in Islamabad, Pakistan, on Nov. 4. Kandiah Hydropower Corp. is a special purpose company set up to build a hydropower plant over Kandiah River. ATL holds an 11 percent stake in the special purpose company.
The project involves building a hydropower plant over Kandiah River some 340 km north of Islamabad with the power generating capacity of 545 kwh on BOT (build, operate, and transfer) type development system. The company will manage the power plant for 30 years from the date the power plant goes on stream and turn it over to the state government thereafter.
SK E&C will not only undertake the construction of the power plant, but take part in its operation after completion. The project will cost a total of $1.12 billion. It will take 60 months to complete the power plant. The builder aims to go into commercial operation in 2025. This project is quite meaningful in that this marked the first time that SK E&C made a foray into the super-large hydroelectric power generation market dominated by Chinese companies. It was a first for a Korean company.
At present, the construction of power plants with a capacity of more than 500MW is dominated by Chinese builders in Pakistan's private hydroelectric power market. Korean construction companies are participating mostly in 100 MW hydroelectric power plant projects. SK Innovation said on Nov. 30 it will invest 840.2 billion won ($777 million) to build an electric vehicle battery plant in Hungary to meet demand from automakers in Europe. SK Innovation, which owns South Korea's top refiner SK Energy, plans to break ground in February 2018 and start production from early 2020, the company said in a statement.
The new plant would have a capacity to produce 7.5 gigawatt hours per year of batteries and customers would include Mercedes-Benz. The announcement comes as SK Innovation and other South Korean EV battery makers have suffered a major setback in China, the world's top auto market, amid diplomatic tensions between the two countries. Electric vehicles powered by South Korean batteries have been excluded from state subsidies in China.
SK Innovation has suspended an EV battery pack plant in China with China's Beijing Automotive Group and Beijing Electronics, and had also delayed a plan to build an EV battery cell factory in China.