Beijing, the host city of the next Winter Olympic Games, Tokyo, the venue of the next Summer Olympiad, joined other countries in operating pavilions in such places as PyeongChang and Gangneung to launch a public relations broadside. Korean corporate Olympic sponsorship partners followed suit, attracting spectators' attention with diverse public relations activities.
On eye-catching display was the public relations pavilion of Korea Electric Power Corp. (KEPCO), one of Korea's largest public entities.
KEPCO became the first Korean public entity to give patronage to the 2018 PyeongChang Winter Olympics under the Tier 1 classification. Spectators at the KEPCO pavilion, titled "Smart Energy City Unfurls in PyeongChang," got a glimpse into the future world of smart energy city.
KEPCO and power company subsidiaries presented video shows and gave spectators the chance to experience the future smart energy city. The pavilion enjoyed popularity as it attracted 7,000 to 8,000 spectators daily. "Flying performance," a dynamic live concert using wire installations and lighting, took place twice every day to the delight of spectators. Visitors at the virtual reality experience zone were given the chance to experience power generation facilities, including tidal wind power and solar power, and other facets of the future smart city world, pretending that they might play such Olympic disciplines as biathlon, alpine skiing, and bobsleigh.
The pavilion was swarmed with visitors, who had to wait for about one hour on average just to get in, a KEPCO official said. In particular, the pavilion attracted much attention from children and youth. It was designed not only to publicize the Korean power industry's prowess and future vision to Korean and foreign Olympic spectators, but also to offer something to see during the Olympic period, he said.
The pavilion, which was closed shortly after the PyeongChang Winter Olympics was over, is to accept spectators again on March 9 when the PeyongChang Para-Olympic Games is opened.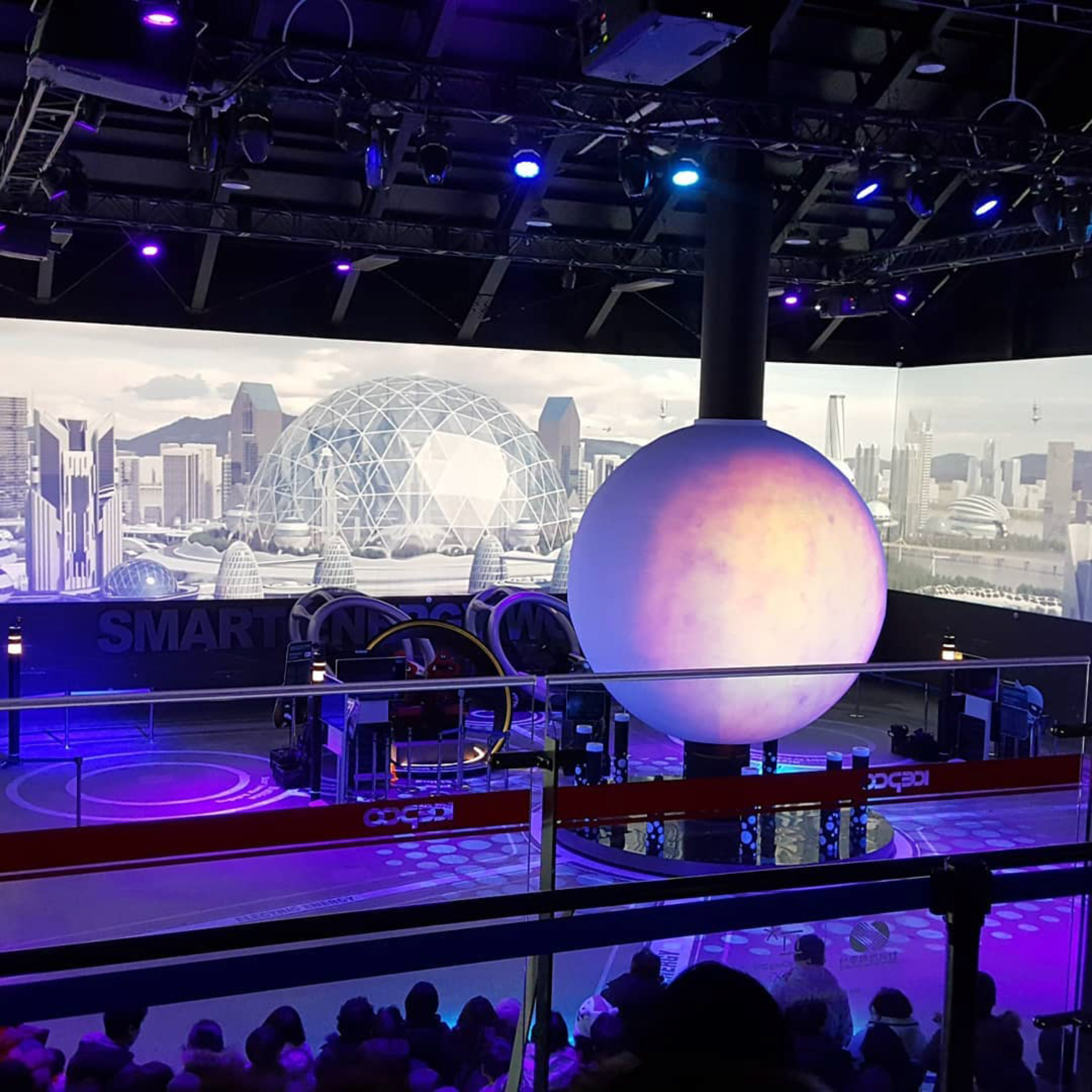 An inside view of the KEPCO pavilion. (Photos: KEPCO)
KEPCO Acting President Calls for Innovation, Creativity
In his New Year's message, Acting President Kim Si-ho of Korea Electric Power Corp. stressed the need for innovation and creativity to change energy, digital, businesses and systems.
Kim has set the New Year buzzword as "pyoshinipi," which roughly translates into: "Let me talk about new things and create things differently from the conventional way." He adopted the catchphrase to break the mold and introduce innovation and creativity for sustainable growth.
"We should not rest on our laurels," Kim said. "We have to build a new ecosystem based on platforms by leading the spread of new and renewable energies, making power grid facilities intelligent and diversifying overseas business."