Korea Kolmar's 1.3 trillion won offer has been named as the priority bid for CJ Healthcare on Feb. 20, securing a base for its emergence as an integrated healthcare business firm.
The company grew continuously in the pharmaceutical industry with its annual turnover reaching as much as 1 trillion won in recent years. The company targets becoming the 5th largest pharmaceutical company in the country by 2020.
CJ Cheiljedang named Korea Kolmar and its consortium as its priority bidder in the sale of its affiliate CJ Healthcare. The consortium includes Mirae Asset Private Equity and H&Q Korea Stock Investment, most being PEF management firms.
The consortium offer up 1.3 trillion won to take over the 100 percent stake in the healthcare company. Chairman Yun Dong-han was said to have pushed hard for the takeover.
Chairman Yun boosted the annual sales of Korea Kolmar to 1 trillion won for the first time in 26. The company kept grew by two digits per year since its launching in 1997, led by CEO Yun. In 2015, Korea Kolmar and its affiliates logged combined total sales of 1.72 trillion won in 2015, led by AHC Eye Cream and other hit cosmetics products boosting sales.
Korea Kolmar is going after CJ Healthcare to diversify its business lines, and strengthen them at the same time. The company eyes taking up a pharmaceutical arm now that its cosmetics business has been jelled with the cosmetics sector taking up around 70 percent of the company's sales, while the drug sector shares the balance of 30 percent.
Korea Kolmar Co., Ltd. develops and manufactures cosmetics on behalf of cosmetic manufacturers.
The Company also produces pharmaceutical & quasi-drugs and health functional foods. Korea Kolmar operates its business through ODM (original development & design manufacturing) process.
Korea Kolmar continues rapid growth and has made great strides by developing new technology, by opening up abroad markets extensively since 1990, the establishment of Korea Kolmar joint-incorporated with Japan Kolmar. Korea Kolmar is well known as one of the nine worldwide Kolmar Companies, and is proud of being the world leader in contract developer & manufacturer of cosmetics, the company said.
"We have an excellent research & development ability in cosmetic development and manufacturing field. We, Korea Kolmar established on May 15, 1990, have devoted ourselves to the developing cosmetics technology under the motto of 'think creatively, find reasonable way, act positively and make our company worth working for ourselves.'"
Permitted by the Cosmetic Good Manufacturing Practice in 1994, Korea Kolmar has established a benchmark quality control system. It listed on the KOSDAQ in 1996. Korea Kolmar acquired "venture" grade on KOSDAQ in the year 2000 because of being highly rated the Small & Medium Business Administration.
"We received 'Technology the Grand Prize by Chungcheongnam-do that year," a company official said.
Korea Kolmar invests of 5.5% of its earnings in R&D annually.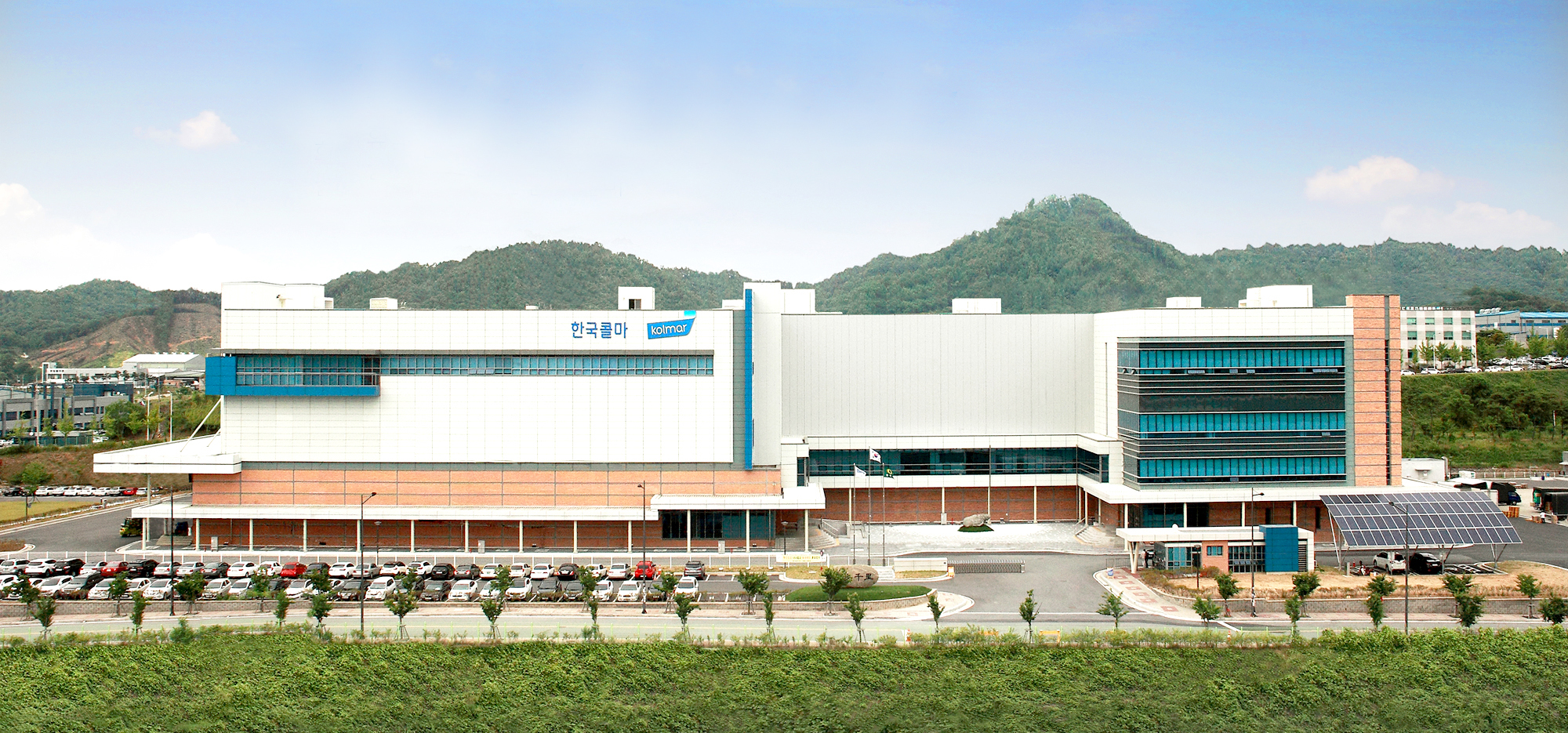 A view of the Head Office Building of Korea Komar.(Photos: Korea Komar)