Nexledger, blockchain platform built for enterprise is in place in such areas in financing, manufacturing, logistics and public sector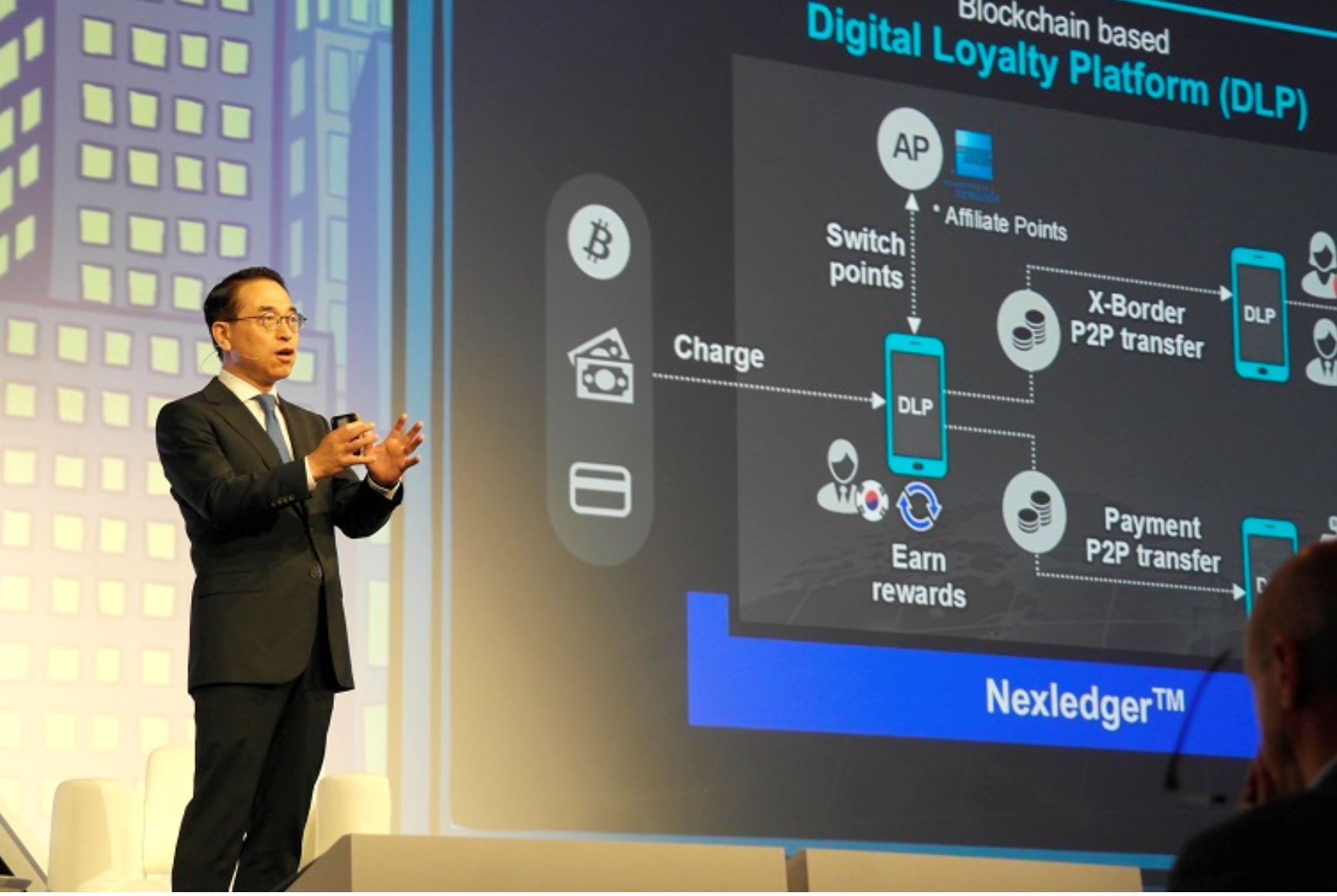 Samsung SDS President Hong Won-pyo speaks at the Money 2020 Europe, Europe's largest FinTech event in Copenhagen, Denmark last year June 27. (Photo: Samsung SDS)
Samsung SDS, a leader in the system integration industry, is accelerating efforts to explore such new businesses as blockchain, AI, cloud, and big data analysis. The company aims to create new growth engines by finding and strengthening platforms and solutions that will drive IT innovation. Samsung SDS has Nexledger, the company developed as a blockchain platform built for enterprise, in place in such areas in financing, manufacturing, logistics and public sector.
Nexledger covers real-time, large-scale transactions, which have been not been realized by the conventional blockchain technology, and smart contracts for ensuring automation and safety. The platform enables optimal development and operational environment and management monitoring regimes.
In the financial sector, Samsung SDS has formed a blockchain network connecting 16 commercial banks across the nation in cooperation with Korea Federation of Banks (KFB) and the company is implementing a project on joint certification with the KFB.
In the manufacturing sector, the blockchain technology has been employed by Samsung SDI's global smart contract system. Many large-sized companies find it difficult to handle e-contracts due to certification and security systems varying according to counties, but Samsung SDS has fixed the problems by utilizing blockchin technologies.
In the logistics sector, a maritime logistics blockchian consortium of 38 government agencies, research institutes and companies, including Samsung SDS, formed last December, announced outcomes of a pilot project applied to the logistics field. It allows the tracking of location, temperature, humidity and vibration via IoT gadgets. Sharing bills of lading, letters of credit and other documents among shippers, shipping companies, customs authorities, and banks prevent document forgeries and related processing is simplified.
Samsung SDS was awarded a project to offer consulting services on exploring opportunities to use blockchain technology to reinvent the administration of the Seoul Metropolitan Government. The company is stepping on the gas to develop blockchian technologies in the public sector.
Samsung SDS's NexPlant is a solution that can diagnose conditions of manufacturing facilities by employing AI and IoT to manufacturing processes as well as collecting and analyzing sensor data. It took about 12 hours to find problems that took place in the course of manufacturing and to fix them, but the time can be shortened to less than 10 minutes, Samsung SDS officials said.
The NexPlant solution can automatically find factors that cause faults and suggest priority for solving problems.
Samsung SDS is strengthening its presence in the hybrid cloud business combining public and private methods. The company is developing AN-enabled cloud integrated management platform while forging strategic alliances with such global companies as Amazon, Microsoft, and SAP.
Samsung SDS Aims to Become Global Logistics Platform Provider
"Samsung SDS is transforming itself fast into a platform-oriented company based on its own smart logistics platform 'Cello,' Samsung SDS President Hong Won-pyo said in a meeting with reporters in Pangyo, Gyeonggi-do on March 8. Hong said his company will raise the efficiency and competitive edge of Cello by upgrading it with AI and blockhchain technologies.
Cello is an end-to-end platform specializing in each company's overall logistics management ranging from raw material procurement to storage transfer and management and the last mile delivery to end-users.
Samsung SDS made its debut in the logistics business in 2012, but the business has emerged as a mainstay sector within four years as it saw sales swell to 4.2 trillion won annually. Of late, the company is striving to have Cello outfitted with AI and blockchain technologies. A representative practice in focus is the application of the AI-activated big data analysis platform "Brightics AI" to sales analysis and inventory management.
Lim Ik-soon, general manager in charge of strategic business at Samsung SDS, said the application of the prediction system to 428 German and 53 Austrian electronics outlets lead to a reduction from one day to 10 minutes and a raise in accuracy from 55 percent to up to 80 percent.
President Hong introduced a pilot project of applying blockchian technology to Samjin Food, a fisheries product processing company based in Busan. He said information of a logistic career management system, including warehousing, processing, packing and marketing, cannot be fabricated.