The group aims to secure 10 percent of its net income from global operation by 2022 and set up digital finance with Big Data at center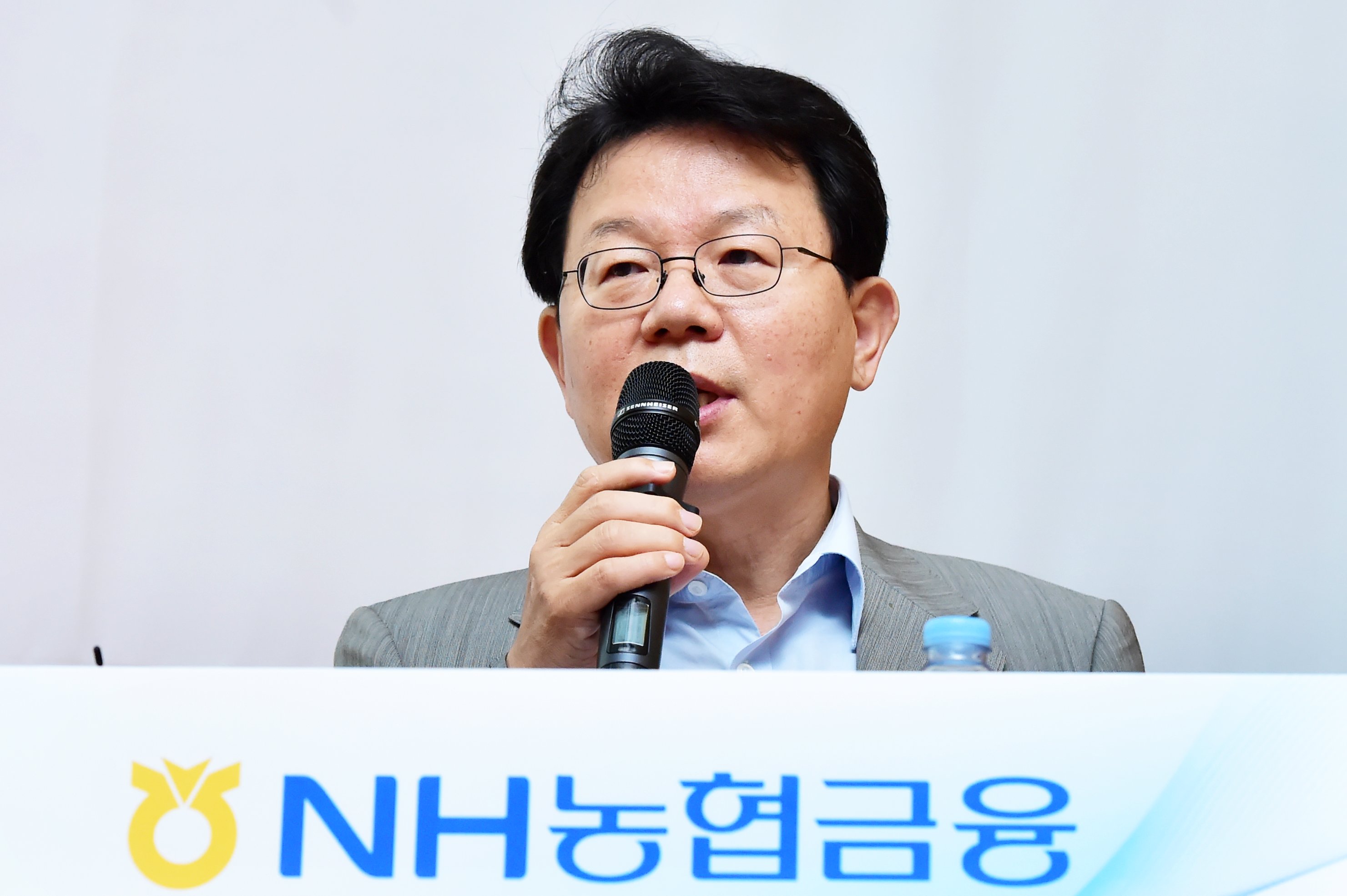 Chairman Kim Kwang-soo of NH Financial Group. (Photo: NHFG)
NH Financial Group has been pushing globalization and digitalization as the two main points of its management strategy this year, with a special emphasis on globalization as the initial year for the push. The group targets generating 10 percent of its operating profit from the overseas sector. The strategy is called the NH Finance Global 2022 Project.

A key part of the globalization strategy is to link China, southeast Asia and southwest Asia under the NH Finance Asian Financial Belt. A number of key affiliates of the group led by NH Bank, NH Investment and Securities and NH Capital have already been in operation in those regions, with 14 outlets in nine countries.

NH Bank has a local subsidiary in Myanmar and branches in New York, Hanoi and Vietnam, among others.

NH Investment and Securities has subsidiaries in five countries around the world, including Beijing, Hong Kong, Singapore, Hanoi, and Jakarta with offices in Shanghai and London.

Nonghyup Financial Group is considering acquiring banks in Indonesia or Myanmar as it seeks to expand into global markets amid low growth and low margins in Korea.

"We plan to invest in banks or leasing companies in emerging markets, and we are considering acquiring them to increase our presence there," a group official said.
To push forward its investment plans, NongHyup Financial said it had set up a task force composed of CEOs from NH Bank, NH Investment & Securities and NongHyup Life Insurance.

"The team is conducting a feasibility study on Asia's potential markets such as Myanmar, Indonesia, Vietnam, China and Cambodia before NongHyup Financial enters the markets," the official said.

On top of stake purchases, the acquisition of a bank would facilitate NongHyup Financial's bid to gain a foothold in those emerging markets, he said.

NH Financial is confident in its chances to break into the Asian region, counting on its abundant experience in providing financial support to agricultural areas. NH Financial plans to sign partnership agreements with agricultural cooperatives in Asian countries, including China so it can provide them with tailor-made financial support suitable for each country in the region.

The financial group has been looking at its chances to sign a cooperative agreement with Gongseo Group, the largest agricultural cooperative in the world, in China, to embark on financial deals with Chinese farming cooperatives in partnership with Gongseo Group.
NH Financial invested in the loan and lease affiliate of the Chinese financial group and received a dividend for its investment after one year.

The group is now looking for a bank and insurance affiliates to go for joint ventures with their Chinese counterparts to speed up their operations in China. The group at the same has been working to provide tailor-made financial deals to farmers in southeast Asia. The group signed a partnership with Mandari Bank, the largest commercial bank in Indonesia, to engage in the banking business in the S.E. Asian country.

In Cambodia, the group has been moving to engage in retail banking, making use of the postal service in the country by taking over MFI as a bridgehead for its operation.
NH Financial has been moving to monetize digital finance with Big Data as the center of the strategy. The group set up the NH Big Square, a big data platform which has been used to analyze customer data and develop financial models suitable for certain groups of customers.

The platform has three years of information on 22 million individual customers, 370 corporate customers. The data is as much as 242 terabytes, which will be used to select appropriate financial products after analyzing customers' financial deals and habits.

NH Bank's chief digital officer will also take care of digital finance for the group.