Group's affiliates flock to Cambodia, led by KB Bank, and set to launch IB unit in New York to be linked with those in Hong Kong and London to form triangular network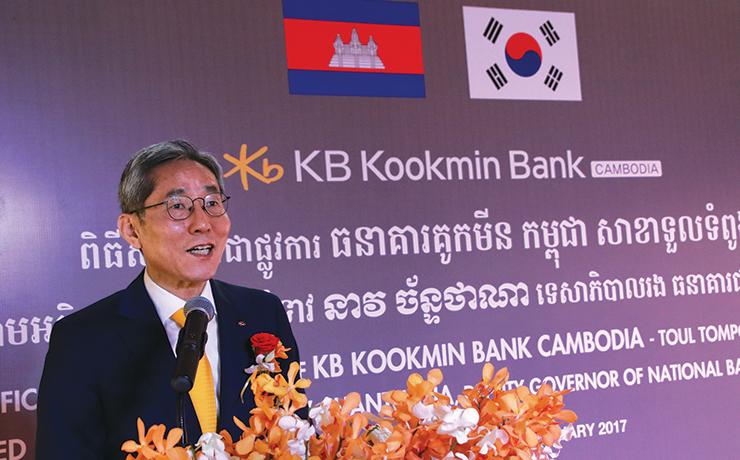 Chairman Yoon Jong-kyoo of KB Financial Group speaks at a ceremony for the opening of KB Kookmin Bank's third branch in Cambodia early last year. (Photo: KB Financial Group)
Chairman Yoon Jong-kyoo has been on a trip to Southeast Asia after stopovers in Beijing and Shanghai in a bid to speed up KB Financial Group's overseas expansion.

He left Seoul on Aug. 3 on route to Beijing to visit the Beijing branch of KB Kookmin Bank. Next he flew to Shanghai to inspect the affiliate bank's branch there. He then flew to Phnom Penh, Cambodia, to visit TSB Co., a local financial company which Kookmin Card took over in April.

The credit card affiliate of KB Financial Group took over a 90 percent stake in the company to engage in installment financing in the local financial market, including the check card operation with Korao Group, a local business group owned and operated by Korean investors.
Cambodia is one of the favorite countries in Southeast Asia for businesses with six of the financial group's affiliates engaged there led by Kookmin Bank, which operates six branches around the S.E. country.

The group has decided to focus on the Asian financial market as the first stage of its global operation strategy. The group has been looking for a special operational model suitable for the financial markets in Asia, with the eventual strategy being to expand its operations in advanced countries such as North America and Europe.

KB Kookmin Card Co. said recently it is pushing to tap Myanmar's credit card market after getting the nod to set up an office in the country. Kookmin Card said it won approval from Myanmar's central bank.

KB Financial Group Inc. reported earnings results for the second quarter and first half of 2018. For the quarter, the company's net profit was 946.8 billion won. This is a slight decline quarter on quarter due to the one-off gain from the sale of the bank's headquarters in the previous quarter. But on a recurring basis, it was up approximately 7%.

Net interest income was 2,196.4 billion won, driven by even growth in interest income across subsidiaries, including the bank securities and nonlife insurance.

It was up 2.5% quarter on quarter. For the first half of 2018, the company's net profit was 1,915 billion won, which is up 2.9% year-over-year. Operating profit was 2,551.2 billion won. Net interest income was 4,340.2 billion won, up 10.8% year-over-year on solid loan growth, which led to a sizable increase in the bank's interest income and higher interest income contributions from the nonbank subsidiaries.

The group's cumulative ROA and ROE in the first half of 2018 recorded 0.85% and 11.24%, respectively.

KB Financial Group (KB) reported net income of 946.8 billion won in the second quarter (-4.4% YoY, -2.2% QoQ), beating the consensus estimate of 928.4 billion won. Stripping off the gain from the bargain purchase of KB Insurance in 2Q17, net income would have increased 7.1% YoY.

Core income (interest income plus commission income) climbed 8.3% YoY and 0.7% QoQ. Group NIM slipped by 1bp QoQ (banking NIM flat QoQ). NIM stalled because of: 1) a funding cost increase stemming from interest rate hikes; 2) an increase in time deposits upon sharp loan growth; and 3) sharpened focus on low-risk loan management Meanwhile, loan growth was 2.1% QoQ (household loans +2.1%, business loans +2%). Cumulative loan growth was 4%, already close to the annual loan growth guidance of 5%. We believe the company will expand NIM moderately in H2, managing the pace of loan growth. Net commission income rose 16.8% YoY but fell 5.3% QoQ on a decline in trust fees and brokerage commissions.

KB Financial Group Inc., a financial holding company, provides a range of banking and related financial services to consumers and corporations in South Korea and internationally. It operates through Corporate Banking, Retail Banking, Other Banking Services, Securities Business, Non-life Insurance Business, Credit Card Business, and Life Insurance Business segments.

The company offers deposit and credit products and services, and other related financial services to large, small, medium-sized enterprises and SOHOs, and individuals and households; and engages in trading in securities and derivatives, funding, and other supporting activities.