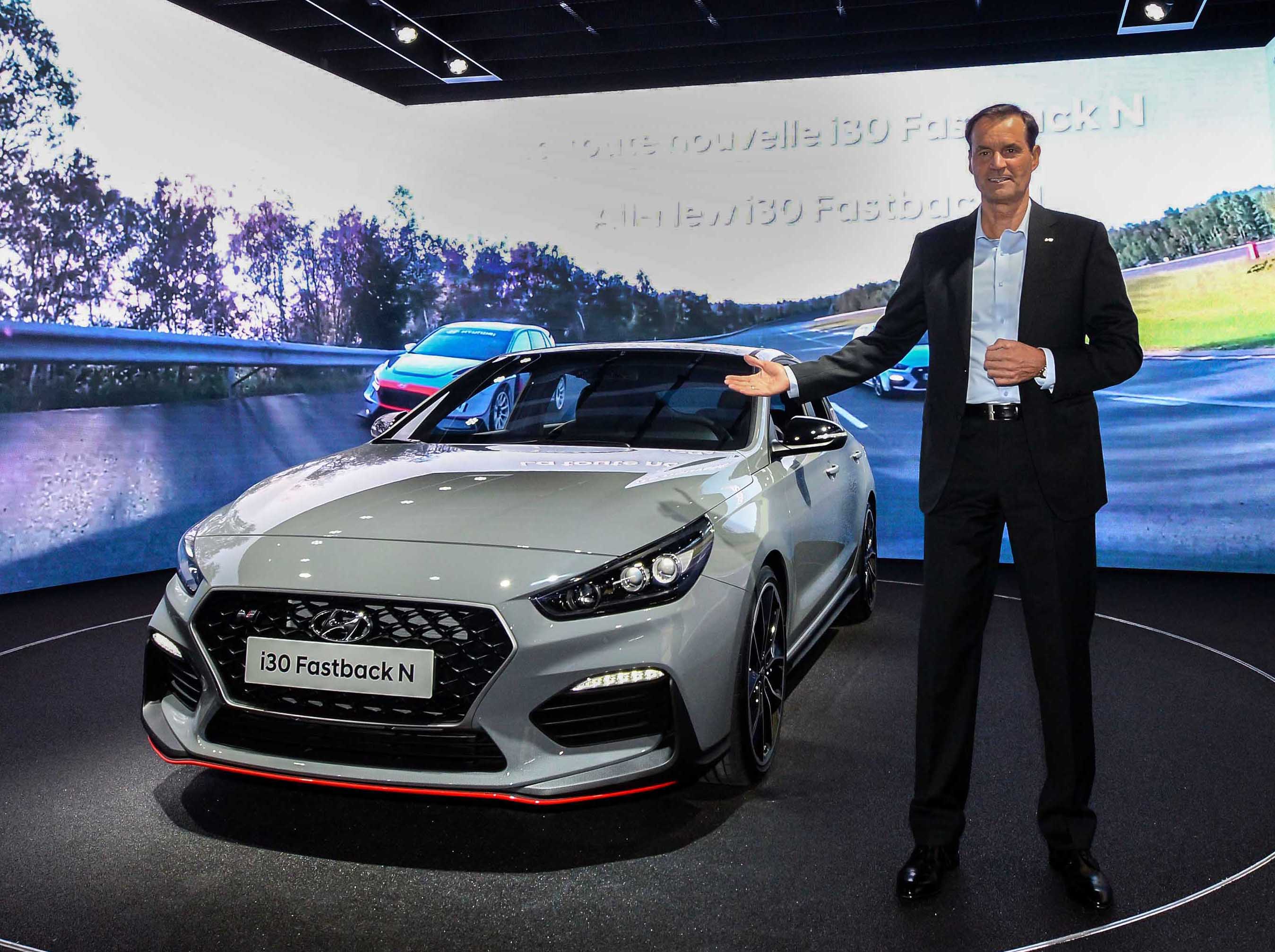 Hyundai Motor Group appointed Executive Vice President Thomas Schemera, head of the Product Strategy Division at Hyundai Motor introduces the i30. (Photo: Hyundai Motor)
Hyundai Motor and Kia Motors conducted a surprise reshuffle of executives and restructured their organization after posting the worst business performances in eight years.

In general, Hyundai Motor Group has carried out personnel changes with a focus on areas where executives underperformed. The latest reshuffle is related to the one tailored to meet the group's future strategies regardless of its underperformance. It may be construed as the group's acceleration of efforts to go global and develop "future cars."

Hyundai Motor Group appointed Executive Vice President Thomas Schemera of the High Performance Vehicle & Motorsport Division to be head of the Product Strategy Division. It is the first time a non-Korean has been appointed to lead the Product Strategy Division.

Executive Vice President Schemera, former head of BMW M, BMW Individual in the Americas, joined Hyundai Motor Group last March. He has been credited with making achievements at Hyundai Motor's motorsport business. He has been praised for successfully releasing high-performance models such as i30N and Veloster N and raising the automaker's brand image on the global market.

He is to be charged with preceding product planning and establishing a direction for new technology development. He will be also in charge of strategizing of all cars, including self-driving car, connected car, and vehicle motorization.

Luc Donckerwolke, head of Hyundai Design Center, has been promoted to President Peter Schreyer's old position. The position remains vacant as President Schreyer moved to an executive in charge of design management designed to ramp up the group's design capabilities. Donckerwolke has previous stints within the VW Group, designing for cars such as Séat, Bentley and Lamborghini, before being scouted by Hyundai in 2016.

Vice President Lee Sang-hyup in charge of Hyundai Styling was promoted to executive vice president to head Hyundai Design Center while Director Ju Byung-chul, head of Hyundai Motor Prestige Design Office, was promoted to vice president to be charged with Kia Motors' styling.
Hyundai Motor and Kia Motors inaugurated bodies to strengthen their new technology development capabilities and conducted a reshuffle of related executives.

The Fuel Cell Business Division under the direct control of the R&D Headquarters was created to ramp up the development of technologies related to hydrogen fuel cell electric vehicles (FECV). Vice President Kim Se-hoon, head of the Fuel Cell Development Office, was appointed to head the new business division.
Vice President Kim has been charged with developing hydrogen FECVs such as Tucson ix and Nexo. He will be in charge of technology upgrade and seizing new business opportunities in advance before popularizing hydrogen FEVs in earnest down the road.

The Artificial Intelligence Research Lab (AIR Lab), an independent body under the umbrella of the Strategy Technology Headquarters, was created to brace for the future mobility market. The AIR Lab will be in charge of production efficiency, future car development and mobility services.

Director Kim Jung-hee, one of the nation's renowned AI experts, was hired by the group to head the AIR Lab. Kim, selected as one of "2025 Technology Leaders" by the National Academy of Engineering of Korea, and he had been worked as leader of Naver Lab's Intelligence Group until recently.

The Russian Sphere Headquarters was created as part of field-oriented globalization strategies the group had carried out since July. Executive Vice President Lee Young-taek of Hyundai Motor Manufacturing Russia (HMMR), was appointed to head the new Hyundai Motor Russia Headquarters, while Director Chung Won-jung, head of Kia Motors Sales Russia, was appointed to lead the new Kia Motors Russia Headquarters.

Hyundai Motor's Deal on Hydrogen Startup Fund with Tsinghwa University

In a latest development, Hyundai Motor signed an MOU on the creation of a $100 million hydrogen fund in cooperation with Tsinghwa University and Beijing-Tsinghua Industrial R&D Institute on Oct. 129.