The bank announces its plan to set up 3 trillion won fund to help 300 medium-sized firms for reformed growth and advancement to global market at the Medium-sized Firm Business Summit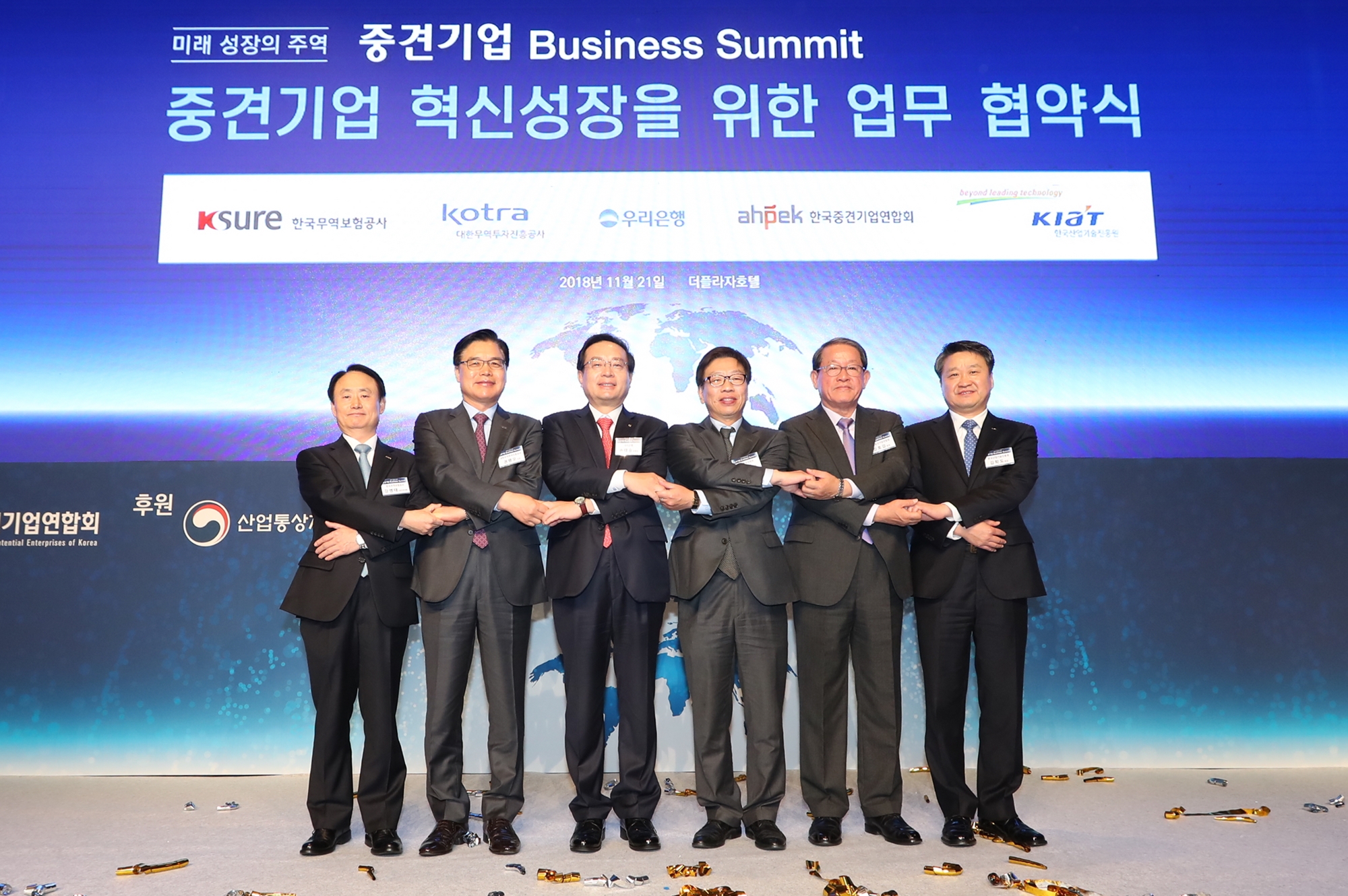 Woori Bank President Sohn Tae-seung, 3rd L, holds hands with a number of dignitaries present at the summit on Nov. 21 including President Kwon Pyong-oh of Kotra, 2nd L, Chairman Kang Ho-kap of the Association of High Pontetial Enterprises of Korea (AHPEK), 2nd R.and Chairman Kim Hak-do of the Korea Industrial Technology Promotion Association, 1st R.among others. (Photo: Woori Bank)
Woori Bank has decided to provide at least 3 trillion won in financial support until 2022 to 300 medium-sized firms to help their reformed growth and advance to global markets.

The bank announced its move entitled, "the Great Vision 2022," at the Medium-scale Firm Business Summit held on Nov. 21 at Plaza Hotel in downtown Seoul. The event is dedicated to the growth of medium-sized firms.

Attending the meeting were such dignitaries as Director Yoo Jeong-yul, the Industrial Reform Growth Office of the Ministry of Trade, Industry and Energy (MOTIE); President Kwon Pyung-oh of Kotra; Chairman Kim Hak-do of the Korea Institute for Advance of Technology; and President Sohn Tae-seung of Woori Bank. Also in attendance were heads of 300 medium-scale firms and related organizations.

The bank will provide 300 million won to each of the 300 selected firms and make investments in firms endowed with technologies deemed to be excellent and those firms with great export potential. The bank will also set up a joint strategy with institutions that can help firms with great potential for exporting their products to make advances overseas.

The bank signed an agreement with a number of institutions, including the Korea Medium-Scale Firms Federation, Kotra, Korea Industrial Technology Promotion Association, Korea Trade Insurance Corp. and others to promote the reform growth of the medium-scale firms and boost their global competitive power.

President Sohn said the medium-sized firms are engine of growth to lead the 4th Industrial Revolution and will create jobs. He said the bank will spare no effort to support their growth to the best we know how so that they would be able to jump to be global business firms. Woori Bank engages in the provision of personal and commercial banking services. It operates through the following divisions: Personal and Business Service.

The Personal Service business division provides internet banking, deposit, loans, insurance, foreign exchange, funds and retirement pension. The Business Service division offers its corporate customers with internet banking, deposit, loans, insurance, foreign exchange, credit card, WIN-CMS service, retirement pension and funds. It was founded on Jan. 30, 1899 and is headquartered in Seoul, South Korea.

The Digital Strategy Department of the bank carried out the initial test in late January, and a further test earlier this month. The bank will now focus on practical training of its foreign exchange and IT departments in the use of the new system.

Remittance is the fancy word for 'sending money overseas'. Ripple uses a blockchain version of the ancient Arab trading system of hawala to make money appear at its destination instantly. The SWIFT network, which is the most widely-used money transfer service, takes days to process a payment. The advantage is clear.

According to Tokyo-based SBI Group, 37 Japanese banks also tested the service. Other banks involved included Shinhan Bank of South Korea and Siam Commercial Bank of Thailand. Woori Bank intends to install overseas remittances via Ripple as a commercial option this year.

An official said, "The issue of overseas remittance fees is a matter for discussion, but it is much quicker and cheaper than existing remittances … In the future, the customer will choose the most advantageous overseas remittance method."

"Since the test results were good … several banks, such as two or three megabanks and Internet professional banks are pushing to introduce the practice," according to a Japanese bank official.