At CES 2019, Samsung Electronics showcases latest innovative products outfitted with AI technologies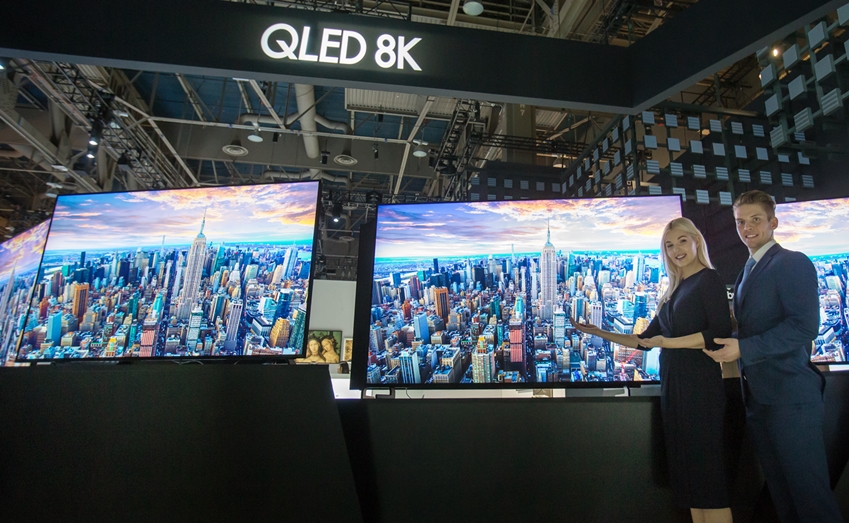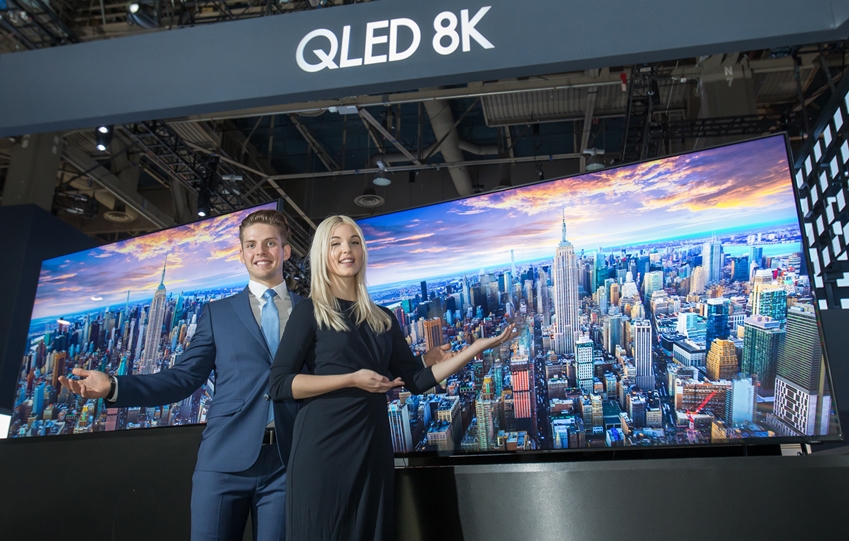 Models make a pitch for the QLED 8K TV, the biggest-ever one in the world, which made its debut at the CES 2019 held in Las Vegas. (Photos: Samsung Electronics)
The CES 2019, which wrapped up a four-day run in Las Vegas on Jan. 11, showcased a feast of advanced technologies on top of conventional hardware such as televisions, robots and automobiles. CES is the world's gathering place for all those who thrive on the business of consumer technologies.

Above all, AI emerged as the much talked-about topic during the CES 2019 as juggernaut companies had come up with almost all AI-enabled products and services. With an AI era coming around the corner, companies were apparently forging alliances to expand the AI ecosystem.

The CES 2019 demonstrated how AI has influenced our daily lives. IBM CEO Ginni Rometty, an opening speaker, said AI would enable a wide scope of innovation, ranging from smart city to health care, traffic and transportation, and data will be proven to be a great natural resources.

Samsung Electronics focused on services tailored according to individual's personal lifestyle and tastes through connectivity of each device with AI technologies and enriching users' daily life.

In particular, AI Speaker "Galaxy Home," outfitted with New Bixby, Samsung's smart voice assistant, offers support to control all devices at home in a more convenient fashion. Family hub refrigerators and drum washing machines has reinforced AI functions to enhance users' convenience.

"Samsungbot" and "QLED 8K" TV, which made its debut at the fair, were based on AI technologies. Samsung Electronics unveiled 98-inch QLED 8K TV, the biggest-ever one in the world.

Samsung Electronics President Kim Hyun-sok said at a news conference on the sideline of the CES 2019 the key focal point of the conference was AI. He added that Samsung's innovative new products were born through AI technologies.

LG Electronics set up "LG Think AI Zone" to showcase new AI features. LG displayed AI functions that had been never experienced so far by offering users' experiences tailored to meet their needs beyond acting according to simple command words.

Most TV and home appliance makers, including Korean companies, Sony, Hisense and TCL of China, displayed intelligent TVs outfitted with "Google Assistant," developed by Google. Samsung Electronics and LG Electronics strengthened cooperation with global companies to expand the AI ecosystem. Samsung Electronics, boasting its own AI platform Bixby, let its products embrace Google Assistance and Amazon Alexa.

Samsung Electronics President Kim said many companies had already introduced smart home tech about 20 years ago, but they ended up in failure since they stuck to their own protocol, making connectivity impossible.

From now, connectivity can be achieved among devices and gadgets, and days have come when not only smart homes, but also smart cars and smart buildings, have emerged to bring about tremendous changes. Explaining the background of forging alliances, President Kim said, "We and our partners should create a bigger ecosystem through cooperation to make such services fully available.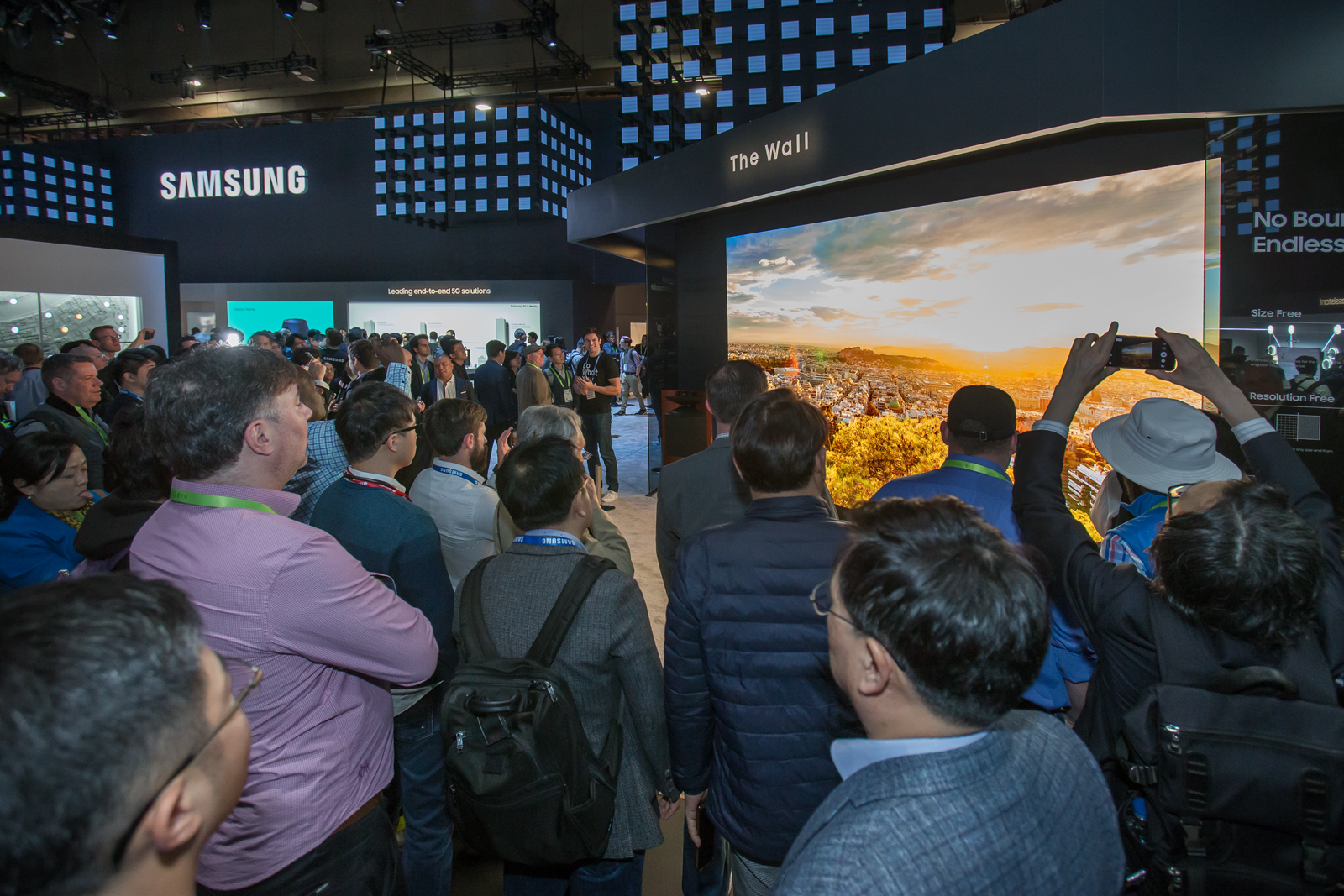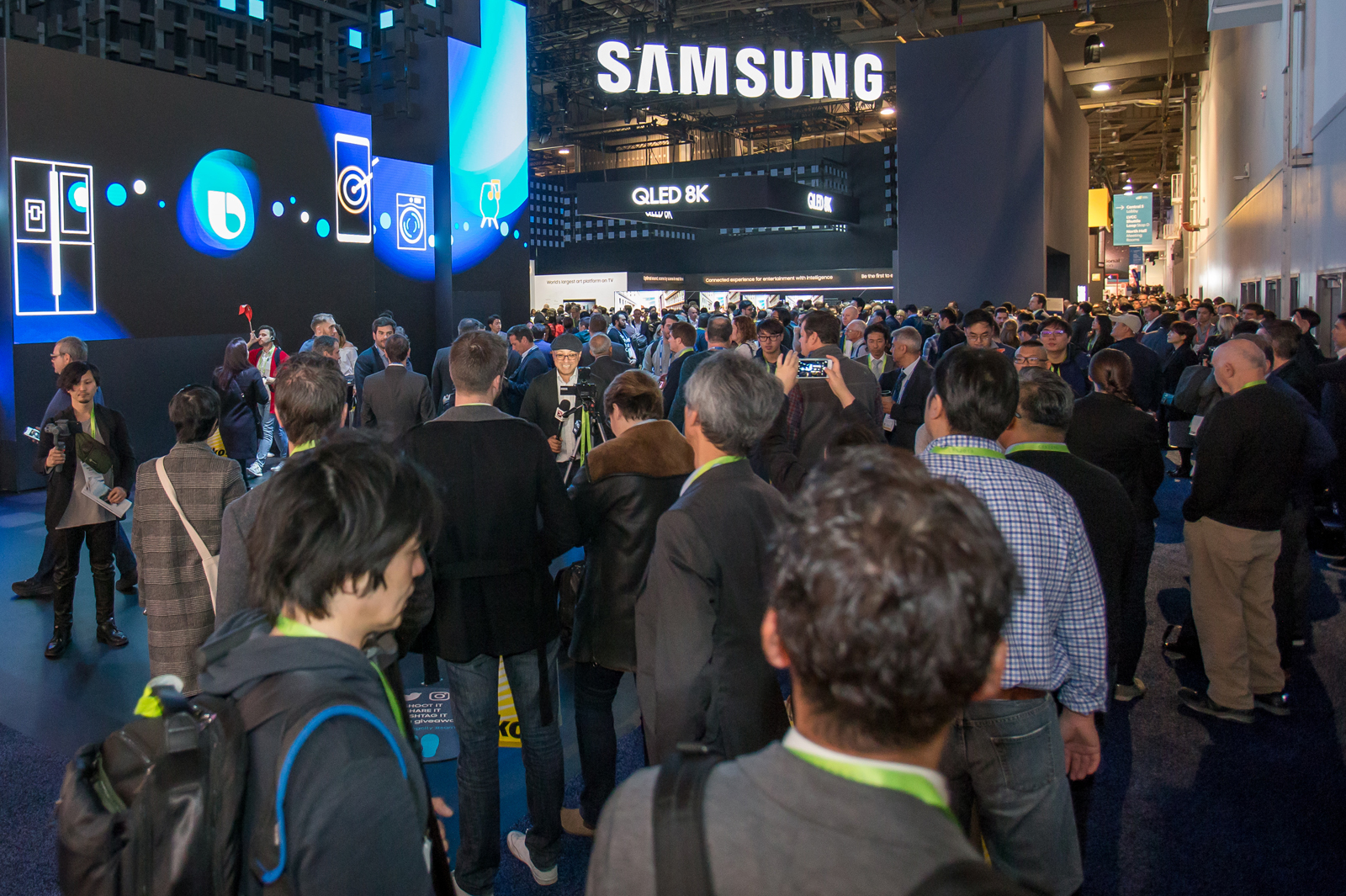 Samsung Smart TV Remotely Controls PCs & Smartphones

Samsung Electronics unveiled remote access at the CES 2019 in Las Vegas in January, enabling user control over peripheral connected devices through its smart TVs. Remote access offers enhanced wireless connectivity with PCs, tablets, and smartphones, allowing consumers to remotely control programs and apps through Samsung Smart TVs.
Remote access allows input devices, including keyboards, to be connected to a Samsung Smart TV, making it easier for users to control their on-screen content.

For instance, users can remotely access a PC in their room through the TV in their living room to execute various tasks, including web surfing and playing games form their TV screen without a separate HDMI cable connection. Remote access also offers cloud office functions to perform document work through a TV.

Furthermore, Samsung Electronics provides virtual desktop infrastructure (VDI) solutions in cooperation with VMware Horizon, a leading innovator in enterprise software. Virtual desk creates each user's virtual computer environment in cloud instead of computers.
Users can work by connecting allotted cloud PC via their own devices regardless location. Consumers can use Samsung Smart TV, outfitted with remote access, as if they are PCs anywhere in the world. In particular, the functions will be a boon to countries with lower TV use rates.