The consortium including LH to take charge of the master plan for South Saad Al-Abdullah City in Kuwait to build homes for 25,000 households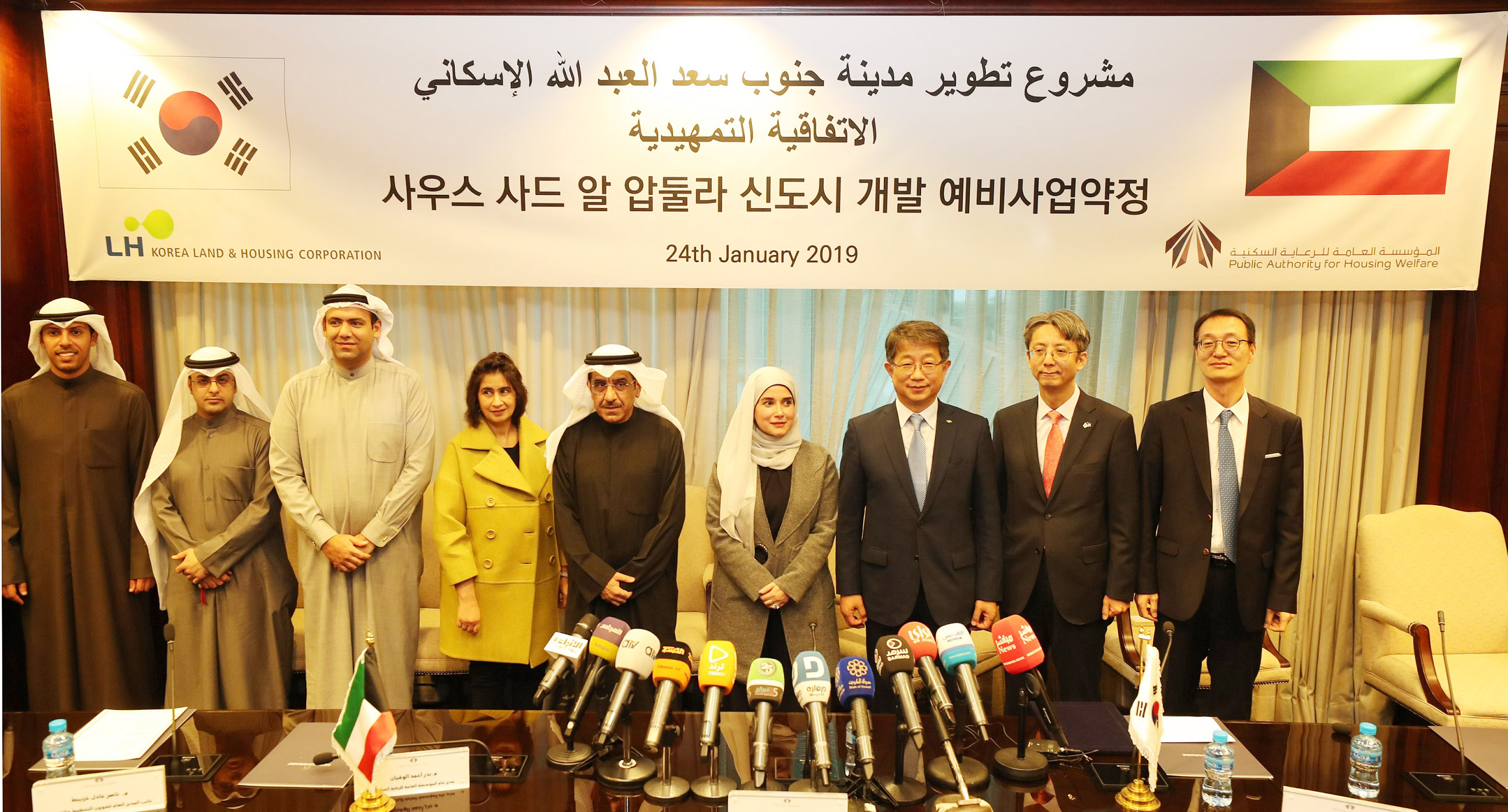 Key officials of Korea Land and Housing Corp.(LH) and the Ministry of Housing and Welfare of Kuwait are lined up for a photo session after signing a contract giving the consortium led by LH the right to take charge of the master plan for South Saad Al-Abdullah New City in Kuwait on Jan. 24 at LH's head office in Seoul.LH President Park Sang-woo is seen 3rd from right.


The Ministry of Land, Infrastructure and Transport said recently that the Korea Land and Housing Corp. (LH) signed a contract with Kuwait's housing and welfare ministry to take charge of the master plan for South Saad Al-Abdullah New City in the Middle East country.
A Korean consortium, comprised of a group of Korean urban architects, will undertake the project.

During a Korea-Kuwait summit in 2015 the latter proposed that Seoul create the new city plan for the country. The Arab country highly evaluated Korea's experience in developing new mega-cities.

MOLIT decided to help the Korean builders make further advances into global construction market by accepting the deal.

The South Saad Al-Abdullah New City project will provide homes for at least 25,000 households. LH dispatched specialists in new city development to examine the site and start design work, drawing up a master plan to construct a futuristic city connected with smart devices.

South Saad Al-Abdullah New City is one of nine new cities that Kuwait plans to build. Located 30 kilometers to the west of Kuwait City, the area of land to be used is 64.4 square kilometers. When a Kuwait man gets married, the government provides a home for the new couple. Around 110,000 are waiting to get homes in Kuwait, but the annual supply of homes stands at a mere 1,800, on average.

Kuwait plans to make New City an example of a global smart city as well as the first environmentally friendly city in the Middle East. It is likely to provide more business opportunities for Korean construction companies as well.

After analyzing the feasibility of the master plan, which will take two years to complete, the Korean consortium will set up a special purpose vehicle jointly with Kuwait. Construction will begin in 2019.

"South Saad Al-Abdullah New City will be the first example of a Korean smart city design being exported overseas. When the project is successfully completed, Korean firms will have the upper hand in city development projects in the Middle East, which has much demand for cities thanks to its increasing working-age population." an official at LH said.

"Using our experience in new city development, we will contribute to enhance housing welfare for the Kuwaiti people as well as help Korean firms advance into the Middle East. We hope the city will be the pride of both Kuwait and Korea when completed." said LH CEO Park Sang-woo. "Greetings, my name is Sang Woo Park, CEO of Korea

LH has always been together with the growth and history of South Korea. Through the establishment of 2.6 million public houses and new city development, while contributing to the civilians' residential stability, we have also greatly supported Sejong City, other Innovation Cities, and high-tech industrial complex, as well as land development and supply for social infrastructure expansion such as roads and schools, and the overall national economy's advancement.

Till now, LH is matching the rapidly changing social environment by developing the Happy Housing Project; we are making housing welfare widely available through our housing voucher project and expanding our customized housing services; and we are putting in effort to create an economic and balanced national land space by the creative economic valley and customized region-specific development.

Moving forward, LH as a public enterprise and its employees who are dedicated to work for the people will go beyond the objective of housing stability and national land development; and while we strengthen our solid financial stability and play our public role with management innovation as our background, we will go closer to the people with transparent and high quality service that meets the expectations of the people.
A bird's eyeview of South Saad Abdullah New City in Kuwait planned for construction. (Photos: LH)