Organization will help them test new technologies related to water resources management using control facilities as testbeds, and will help either create or nurture some 150 startups in the water-resources management operation to create 12,000 new job ope
A team of K-water officials holds an inaugural meeting designed to take countermeasures against water pollution and green tide on June 17. (Photos: K-water)
The Korea Water Resources Corporation (K-water) has been speeding up a project to develop water resources around the country by providing support to the R&D activities of small- and medium-sized firms.
At the same time, it is helping them go abroad for business, expanding its overseas activities through an international body organized by the state-run company.

K-water opened 111 dams and reservoirs under its management to SMEs to use them as testbeds for new technologies. Some 50 SMEs already have tested their new technologies at the water resources control facilities at those dams and reservoirs last year.

K-water is a state-run water provider under the Ministry of Environment. It also has expanded overseas, completing 76 overseas projects in 30 countries, and is currently participating in 11 projects in nine countries.

The state-run company's representative project designed to help SMEs has been the Water Industry Platform Center, which was set up in 2017 thru which the water resources management technologies that the company accumulated over the past half century will be provided to the SMEs.

It's intended to create some 150 small and venture firms providing some 12,000 water-resources management related jobs across the country by 2022.

The center already had a hand in helping 192 new firms, creating some 921 new jobs. In January, the K-water Startup Hub was set up to help create some 48 new startups around the country, with its major operation being dedicated to providing management consultations, technology advisory, test-beds, and office rooms and the chances to participate in major events related to water-resources development jointly with K-water.

The hub was able to attract some 3.3 billion won in investments from the private sector, securing some 2.8 billion won in government support funds to selected business firms in the water resources management sector, getting credit for boosting the number of new jobs by 30 percent.

Korea Water Resources Corp. will set up a team for development of the Vietnamese water management market with Korean small and medium-sized enterprises and participate in Viet Water 2018 to be held in Ho Chi Minh City, the capital of Vietnam, from Nov. 7-9.

The Viet Water 2018 is Vietnam's largest water industry expo that has been held by the Vietnamese Ministry of Construction every year since 2009. Last year, 488 companies from 38 countries including Singapore, Japan, France and Australia took part in the event.

Seven Korean SMEs will participate in the Vietnamese market development team. These companies are developing products using Korea Water Resources Corp.'s dams and water treatment plants as test beds or participating in the corporation's various collaborative and pilot projects to support SMEs.

During the fair, K-water will run a smart water management hall with the market development team. The corporation and seven SMEs will actively seek new sales channels and customers by exhibiting products based on smart technologies and holding business meetings.
This year, K-water and small businesses jointly took part in international events held in Vietnam and Indonesia. At Singapore International Water Week, one of the global water market's largest events, last month, the state-run company promoted Korean companies' smart water management technologies.

K-water said Korean small businesses signed 25 export contracts at Vietnam International Water Week held in Hanoi in March. In addition, K-water signed a memorandum of agreement with a Vietnamese water agency to install products related with water management made by seven Korean companies.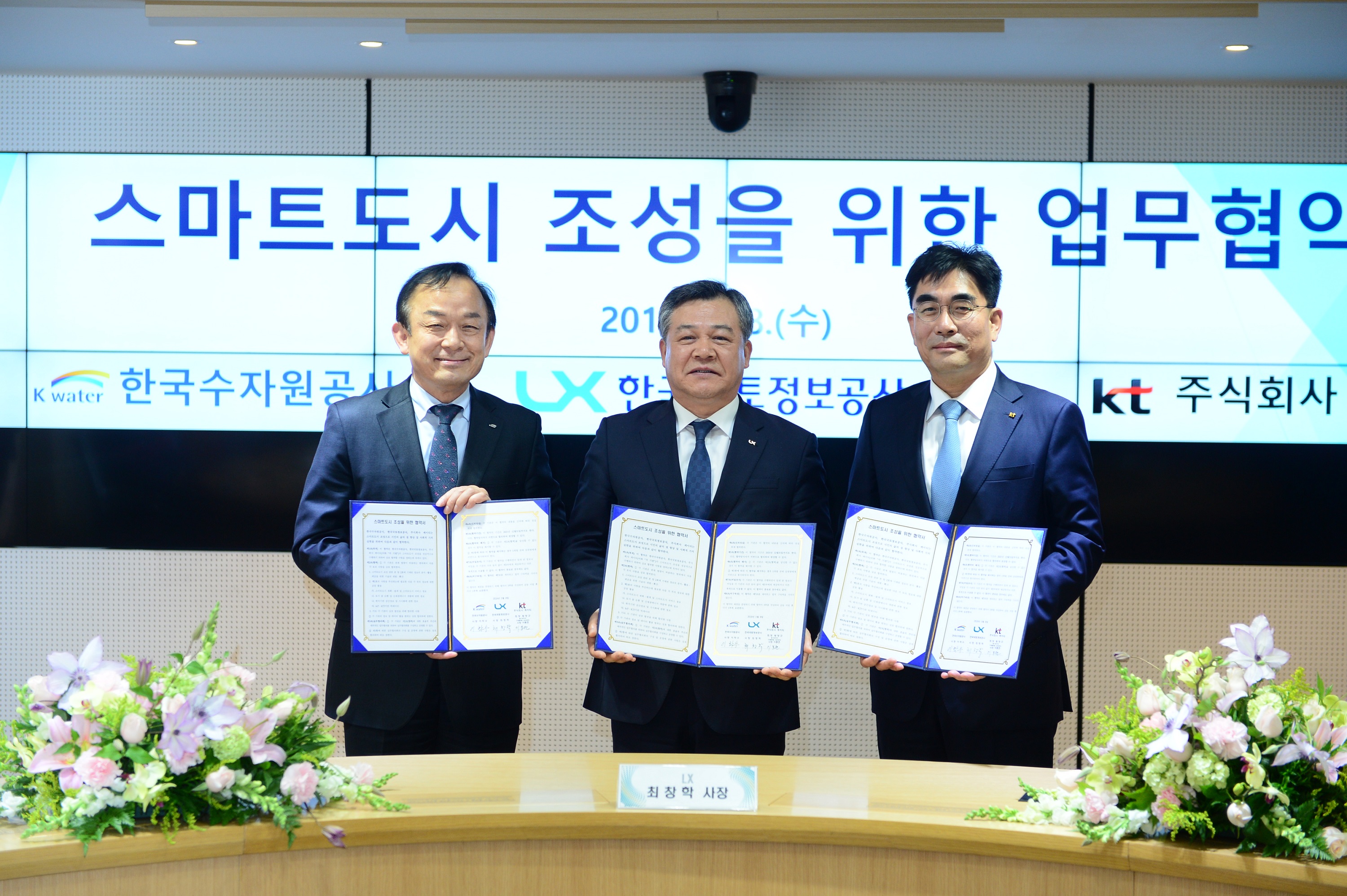 K-water President Lee Hak-soo, LX President Choi Chang-hak and KT President Lee Dong-myon pose at LX's Seoul regional headquarters in Gangnam-gu on May 8 after they signed an agreement on a smart Eco-Delta City project K-water is implementing.