Under agreement, KSA will provide assistance in Korean companies who want to obtain CCC Mark and export their goods to China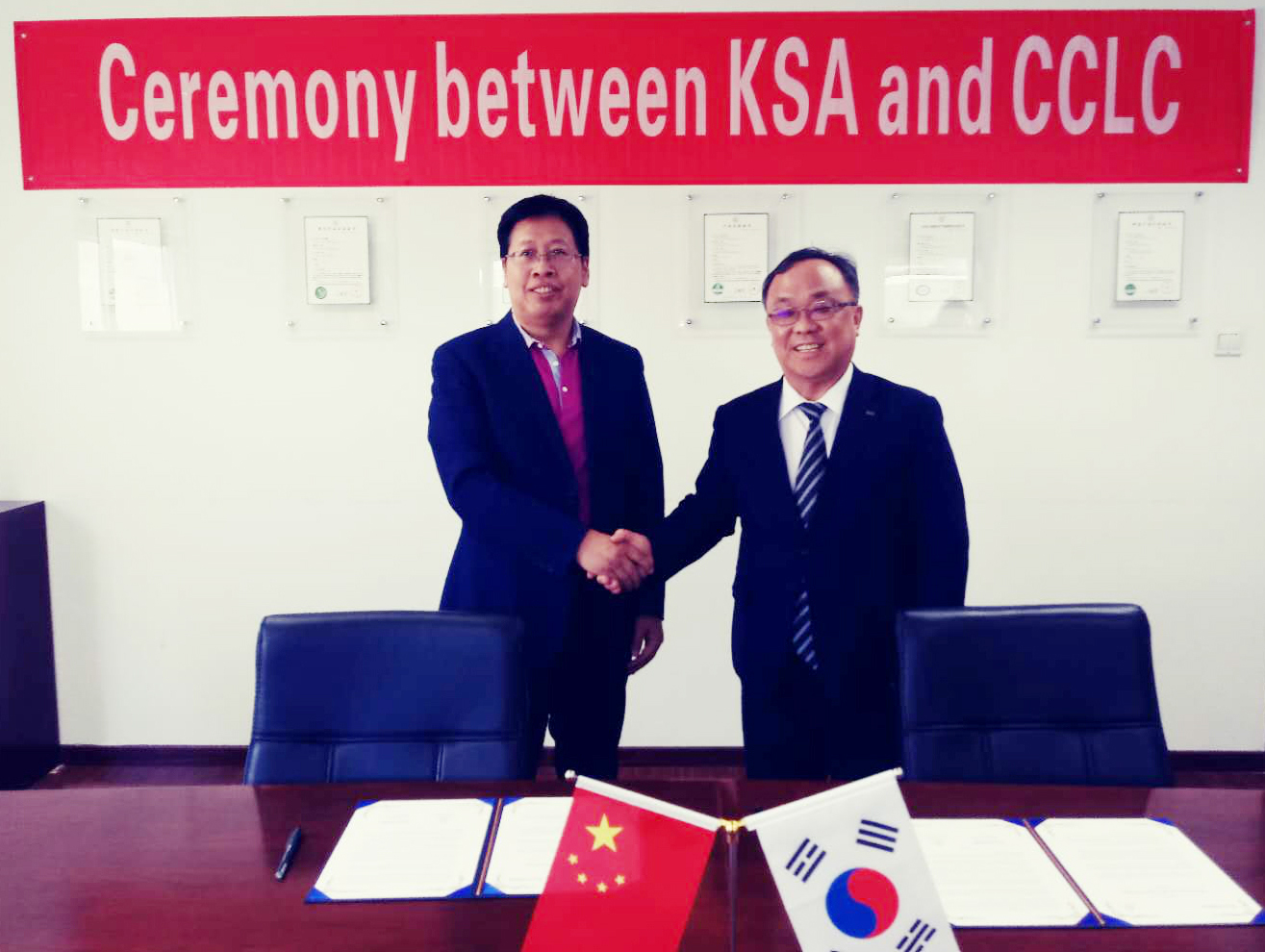 Chairman Lee Sang-jin of the Korean Standards Association (KSA) shake hands with CCLC head after they signed an MOU on cooperation in the China Compulsory Certification (CCC) Mark with the Certification Center of Light Industry Council (CCLC) on May 27. (Photo: KSA)
The Korean Standards Association (KSA) signed an MOU on cooperation in the China Compulsory Certification (CCC) Mark with the Certification Center of Light Industry Council (CCLC), a Chinese certification assessment institution, on May 27.

Under the agreement, KSA will provide assistance in Korean companies who want to obtain CCC Mark and export their goods to China. The CCC Mark is mandatory for all products being produced and distributed in China. It is required for products and parts imports into China. They cannot be sold there without the CCC Mark.

The two institutions plan to build a cooperative regime to share and use information and continue to explore new businesses. KSA and CCLC will cooperate each other in areas such as certification, building of global network, mutual publication and marketing.

In November 2018, KSA singed an MOU on CCC Mark in the electric/electronics area with China Quality Mark Certification Group. The latest certification agreement allows KSA to expand the scope of its CCC Mark certification services from electric/electronics sectors to toys and home appliances. KSA Chairman Lee Sang-jin said, "Under the agreement, (KSA) will be able to provide assistance to Korean companies which want to explore Chinese markets and obtain CCC Mark."

KSA plans to devote itself to providing one-stop services on Korean and foreign certifications, including CCC Mark, JIS, KS and greenhouse gas certifications, he added.

KSA Chmn. Lee Wins Global Quality Manager Grand Prix

KSA Chairman Lee received the Global Quality Manager Grand Prix at the 2019 Korea Quality Convention held at The-K Hotel in Yangjae-dong, Seoul, on May 31.

Chairman Lee, who took office in March 2018, has been credited with developing education programs on smart factory, AI and blockchain to cope with the advent of the 4th Industrial Revolution, smart factory buildup and diagnosis.

Under the stewardship of Chairman Lee, KSA is spearheading efforts to reflect Korean standards in making international standards.

About KSA

Since the KSA's foundation in 1962 in line with the Industrial Standardization Act, it has served as a pioneer for Korean standards and their quality. It has contributed to the improved competitiveness of Korean companies by educating them on industrial standards and quality management, enhancing the methods of KS/ISO certification and quality/management innovation, publishing and distributing local and overseas standards, and holding different training programs and seminars.

Moreover, we at KSA are devoted to creating preemptive responses to a new change - the Fourth Industrial Revolution - such as the development and operation of data science-based management innovation programs and the creation of new business models. The Fourth Industrial Revolution is no longer the upcoming future; it is the matter of the present. Thus, more efforts must be put into adapting to changes and linkage between our accumulated expertise and new business models.

In this context, KSA says it will its best to further advance the innovation of industrial standards and quality.

"In addition to the development of standards, we will fulfill our role as a professional global standards/quality knowledge service provider," KSA said. "In particular, we will connect R&D, patents, and technological criteria; lead group standards; engage with more policy authorities and CEOs to achieve global quality competitiveness; and construct the Asia Quality Center to support companies in their innovative growth."

"Moreover, as a standards leader, we will aggressively respond to global competition in conjunction with the establishment of a local community to secure a share of standardization.
The competition for standards is expected to get more intensive all around the world in the era of the Fourth Industrial Revolution. We will put forth a great deal of effort for Korean standards that will be reflected in the fields of the Fourth Industrial Revolution such as a smart factory, a smart city, the Internet of Things (IoT), and big data."

In particular, the diversification of KS/ISO certification policies has recently resulted in the rapidly changing certification market environment. Against this backdrop, KSA says it will not only provide customers with high-quality certification services but also continue to advance the existing ones.

In addition, standards and quality are the fundamentals and the orientation of products and services. "We at the KSA spare no effort in suggesting new standards and expertise in quality management by accepting a shift toward a new paradigm."