The oil company to add hydrogen feuling and lithium ion charging facilities to its 5,000 existing servic stations across the country to transform the original gas station into a multi-fuel service station by the year-end this year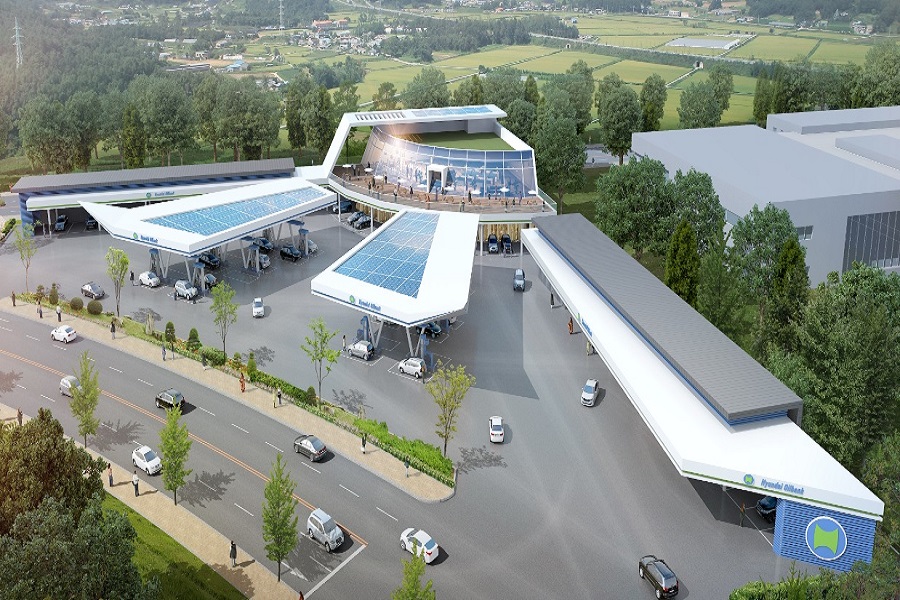 A bird's eyeview of Capital-area Multi-fuel Service Station in Koyang, Gyeonggi Province that Hyundai Oilbank is to set up around the country by year-end this year. (Photos: Hyundai Oilbank)
Hyundai Oilbank, a major Korean refiner, will open the country's first multi-energy station that offers all types of fueling options, ranging from traditional gasoline to electric battery.

The company said recently that it will add a hydrogen fueling station and a lithium-ion charging station between its existing 5,000 square meter traditional gasoline and diesel station and liquefied petroleum gas (LPG) station to transform the original gas station into a multi-fuel station.

It aims to open the upgraded fueling station in Yeonnam-dong, Buk District in Ulsan in June. Hyundai Oilbank has already embarked on the installation of a hydrogen fueling station and is currently in last-minute negotiations to add a charging facility for electric batteries, the company said.

Once the hydrogen fueling and EV battery charging stations are added to the current Hyundai Oilbank station in Ulsan, it would be Korea's first gas station that will sell all types of vehicle fuels in a single location. Until now, traditional gas stations have been offering gasoline and diesel together with LPG or LPG with hydrogen fuel.

An unnamed official from Hyundai Oilbank said the new multi-energy station will help improve convenience for drivers of vehicles that run on alternative fuel and also boost the supply of future vehicles such as hydrogen-fueled cars and electric cars.

The company will open more multi-energy stations in major cities across the country after reviewing demand and business feasibility. The latest move by Hyundai Oilbank is part of a follow-up measure from the industry after the Ministry of Land, Infrastructure, and Transport announced plans to supply 350,000 electric cars and 15,000 hydrogen-fueled cars in Korea by 2020.

Ulsan Metropolitan City has been one of the most active regional governments in expanding alternative fuel charging infrastructures in line with the government's policy to expand the supply of green vehicles.

Hyundai Oilbank had announced back in April that it would building the first energy supply complex in South Korea where gasoline, diesel, LPG, hydrogen and electric vehicles can be refueled at the same time.

The government is planning to increase the numbers of electric and hydrogen, however, infrastructure expansion is still slow.

A total of 19 hydrogen charging stations are planned to be built by the end of this year, but five are located in Ulsan, which is regarded as much more active than the others in building charging infrastructure.

"We are going to build more multi-energy stations in major cities in view of demands and profitability." Hyundai Oilbank explained, adding, "We are planning to work closely with local governments, automobile companies, and so on in doing so."

The Saudi Arabian Oil Company (Saudi Aramco) has signed an agreement to acquire a 17% stake in South Korean refining company Hyundai Oilbank from Hyundai Heavy Industries for around $1.25 billion.

The investment in Hyundai Oilbank by the oil giant will be made through its subsidiary Aramco Overseas Company (AOC).

It is expected to support the crude oil placement strategy of Saudi Aramco by giving a dedicated outlet for Arabian crude oil to South Korea. Established in 1964, the South Korean refining company has a refining capacity of 650,000 barrels of oil a day.

The company is engaged in oil refining, base oil, petrochemicals and retailing.
A view of the Multi-fuel Service Station in Ulsan being operated by Hyundai Oilbank.