Bank paid SME expenses that created jobs and helped them learn hiring skills to find talented employees at the same time; job found for 125,000 youth since 2009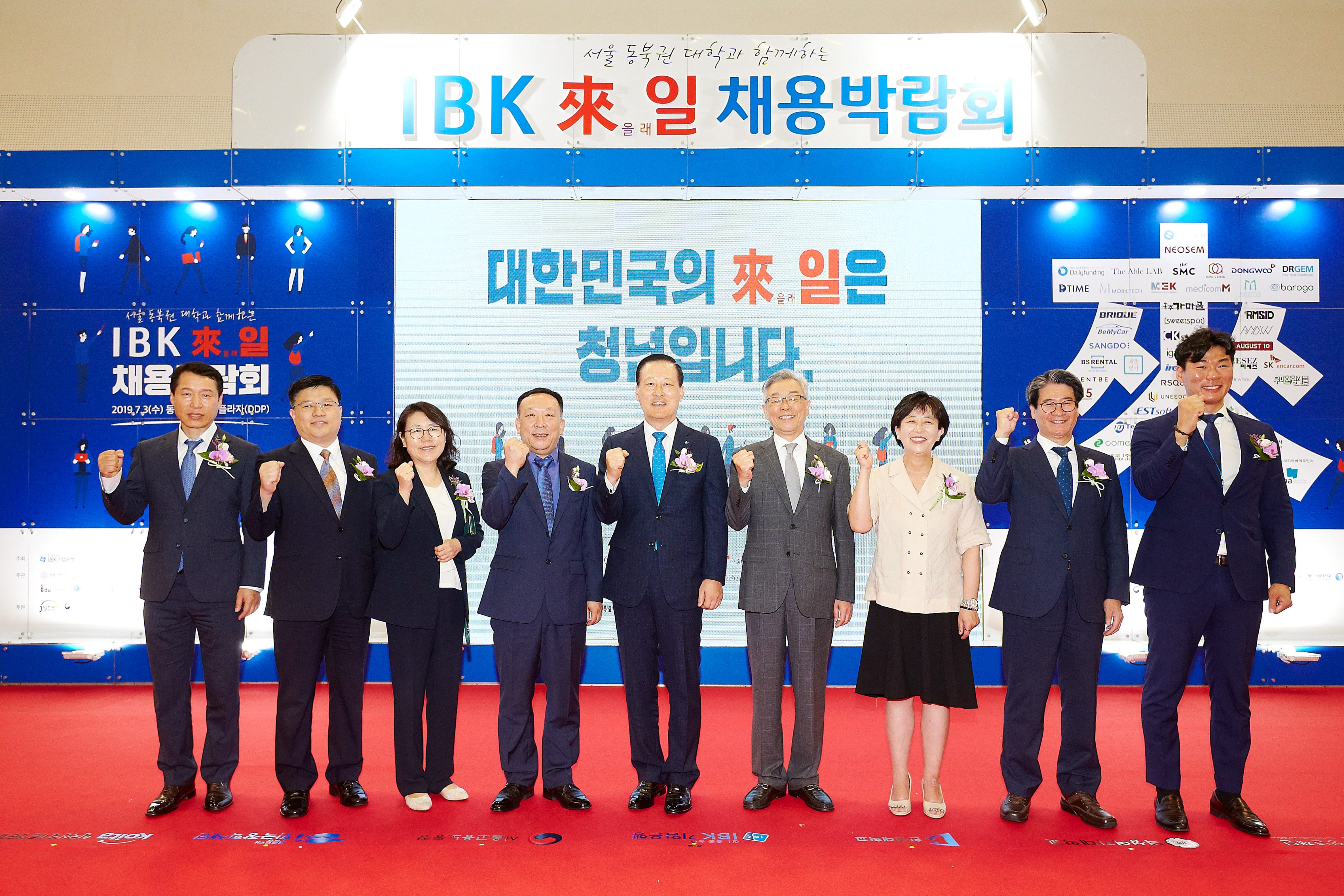 President Kim Do-jin of the Industrial Bank of Korea, 5th R, leads a group of the partipants who represented the 12 universities, the Korea Scholarship Foundation, and the Youth Foundadtion, to name some, at the IBK Topmorrow Employment Expo held at Dongdaemun Design Plaza on July 3, to cheer for the success of the event with some 300 youths finding jobs.(Photo: IBK)
The Industrial Bank of Korea (IBK) has been working on a project to create 100,000 new jobs by 2022 and is helping SMEs find the right people to work for them by improving their skills to find talented employees.

IBK has been holding a number of expos designed for youth employment around the country as well as helping SMEs hire the right people. The bank paid the expenses to the companies that created jobs to do whatever it can to help the business firms to create jobs and SMEs to find talented personnel to work for them.

IBK held the IBK Tomorrow Employment Expo at Dongdaemun Design Plaza near East Gate on July 3 with 12 universities, the Seoul Regional Employment and Labor Office, the Korea Scholarship Foundation, the Youth Foundation, and the Korea Industrial Technology Promotion Association joining as the co-sponsors for the event.
The participants included the Startup Nurture Platform, the "IBK Clear Sky," and some 50 business firms. Altogether they wooed some 300 new employees to work for them.

IBK has done everything it can to help the employment expo be a successful event. The bank let job seekers participate in the counseling sessions with artificial intelligence based personal history statements and job interviews conducted with the help of 4th generation technologies.

The bank also held employment explanation sessions and a number of lectures by mentors. IBK found jobs for 125,000 youths with SMEs thru its job creation projects held since 2009.
In September, last year, the bank introduced the "i-one Job," the only job platform for SMEs in Korea. That's not all IBK is doing. IBK is putting forward a new role in finance that proactively and creatively resolves various problems facing SMEs as they grow.
Going beyond a one-sided financial supporter, IBK is realizing "Co-up Financing" that actively engages in development and growth of SMEs.

IBK Co-up Financing consists of Scale-Up, which strengthens incubating programs to help startups survive; Level-Up, which boosts competitiveness of SMEs by helping them advance into the global market, pursue digitalization and secure talented workers; and Cycle-Up, which prevents SMEs from going out of business through recoupment of investments, M&As, and liquidation.
Appreciating both financial value and intrinsic value of SMEs, IBK is committed to actively promoting SME's entrepreneurial pursuit for growth.

According to a survey of about 720 exporters and foreign importers of Korean products conducted by the Korea Trade-Investment Promotion Agency in January, the country's shipments abroad were projected to grow 3.4 percent on-year to US$512.5 billion this year on the back of a recovery in advanced economies and big emerging markets.

But some experts caution that external conditions for Korean exporters may be tougher in the year, as U.S. President Donald Trump carries out his protectionist policies and China maintains retaliatory steps against Seoul for its hosting of an advanced U.S. anti-missile system.

What is needed to overcome this unfavorable circumstance is to induce more SMEs to ship their goods to more diversified markets overseas, they say.
Small firms' proportion of Korea's exports has remained below 20 percent over the past years, with their overseas shipments amounting to $92.9 billion, or 19.8 percent of the total, in 2016.

Less than 1 in 10 local SMEs have a record of shipping their goods abroad, according to data from the Small and Medium Business Administration. The amount of exports hovers below $100,000 for 40 percent of SME exporters.