Lotte Chemical and GS Energy Agree to Jointly Set up Chemical Compound Plant in Yeosu
The two partners agree to share funding for 800 billion won chemical plant by year-end thru a j.v. named Lotte-GS Energy Co. to turn out BPA and C4 fraction with Lotte holding 51-percent stake and GS Energy 49-percent stake in the new venture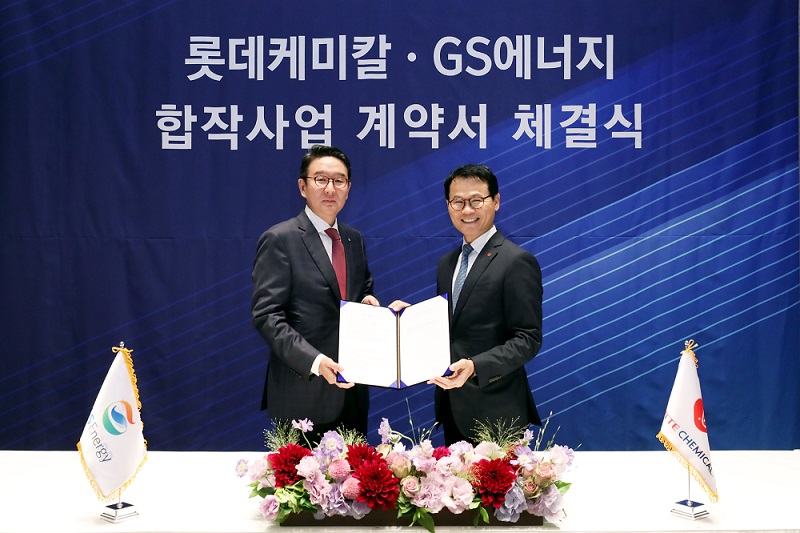 President Huh Yong-soo of GS Enegy, L, and his counterpart, Lim Byung-yeon,at Lotte Chemical hold a copy of the MOU they signed on July 15.
(Photo:Lotte Chemical)
Lotte Chemical Corp. is adding a compound plant in its petrochemical complex in Yeosu, South Jeolla Province, by the end of the year in a joint venture with GS Energy Corp. at a cost of 800 billion won ($678.7 million).

The two Korean companies signed a deal on July 15 to create a joint venture, tentatively named Lotte-GS Energy Company, which would specialize in producing chemical compounds like bisphenol A (BPA) and C4 fraction. Lotte Chemical would hold a 51 percent interest in the new entity, with GS Energy to own the rest.
The two firms plan to jointly invest 800 billion won through 2023 to build a plant capable of producing 200,000 tons of BPA and 210,000 tons of C4 fraction products a year.

They expect the joint venture to generate 100 billion won in annual operating profit and 1 trillion won in sales, as well as create 7,700 new jobs.

BPA is used in making polycarbonate plastics whose applications range from electronic devices, medical equipment to auto headlamp cases.
C4 fraction is a hydrocarbon compound used to produce butadiene, a material for making synthetic rubber, and tert-butyl alcohol, which goes into engineered marble.

The two companies expect the joint venture to help sharpen their competitive edge in their respective businesses.
Lotte Chemical is seeking to attain BPA supplies from the joint company to make its polycarbonate products more price competitive. It is also reportedly mulling an expansion of its C4 fraction business.

As for GS Energy, its refining unit GS Caltex would provide a steady source of supplies like propylene, benzene and C4 fraction, which are key materials needed for production at the new plant.
It is also seeking to use the joint venture to bolster its petrochemical business.

"We will continue rationalizing our portfolio to respond more swiftly to changes in the petrochemical market and boost our competitiveness," said Lotte Chemical Chief Executive Lim Byung-yun.

GS Energy CEO Huh Yong-soo also saw the joint venture as an opportunity to, "strengthen its competitive edge in the energy sector and broaden its business portfolio."

Lotte Group is expected to resume its stalled push for governance reform as group chairman Shin Dong-bin has recently been named as the CEO of Lotte Holdings, the holding company of Lotte companies in Japan.
Shin restored his control of Lotte's Japanese operations as he resumed the CEO post of Lotte Holdings in a year. The Japanese holding company's board of directors elected Shin as CEO on Feb. 20.

By becoming Lotte Holdings CEO, Shin has solidified his control over Lotte's entire operations in Korea and Japan.

Shin could restore his top post at Lotte Holdings due to the company's strong business performance under his control.
Facility investment swelled by 70 percent and Lotte enjoyed an average growth rate of 108 percent in the confectionery business in Japan in one year since Shin began to manage Lotte Holdings in 2015.

Lotte Holdings in Japan virtually controls Lotte's operations in Korea via Hotel Lotte, which controls many of Lotte Group affiliates in Korea. However, as Shin seized control of Lotte's operations in Japan, Lotte Group in Korea is expected to resume the process to separate itself from Lotte Holdings.

Lotte Group is pushing for an initial public offering of Hotel Lotte, while Lotte Holdings is promoting an IPO of Lotte Co., the confectionery unit in Japan.
Shin is expected to speed up the two IPOs. Hotel Lotte is a key affiliate in Lotte Group's corporate governance structure as it holds a majority stake in Lotte affiliates, including Lotte Property & Development, Lotte International and Lotte Rental.
For this reason, listing Hotel Lotte is essential to creating a new governance structure with Lotte Corp., the group's new holding company, at the top.