The rolling stock maker develops EMU-250 High-speed trains with max. speed of 260 km/h; so far has delivered 42,982 electric rolling stocks to 37 countries around world thanks to its competitive power
A view of EMU-250 High-speed Train developed by Hyundai Rotem.
Hyundai Rotem's Changwon Plant is busy turning out electric cars, trams and high-speed rail and locomotives from 14 different projects the plant has been working on at its 100,000 pyeong complex.
Director Kim Jae-woo of the plant said, "cities that get the deliveries of those cars make history.
We have been making history all over the world as we deliver cars and trains that we made to various cities around the world."

He said the company has delivered 42,982 electric rail cars to 37 countries around the world help create a new future in those cities, thanks to its competitive power in turning out high quality, tailor-made products in the shortest possible time.

The Changwon plant that produces trains has a five-section production process, including ones for bodies, designing, painting, assembly and testing.
The latter is the final stage of the process, similar with automobile production plants. The only difference is that auto plants are designed for mass production, while the train plants are not.

The plant has been engaged in turning out EMU-250, a power dispersion type of high-speed train with a maximum speed of 260 km/h, which Hyundai Rotem developed for the first time.
The company got an order from Korail for 114 of the high-speed trains in 2016, and the company is getting more orders from overseas as the popularity of the train spreads.
TAIWAN Railway Administration (TRA) has awarded a 909.8 billion won ($850 million) contract to Hyundai Rotem for 52 10-car 130km/h EMUs to be delivered by 2024.

This is Hyundai Rotem's first order in Taiwan in 19 years. It supplied 56 trains to Taiwan in 1999.
This is also the first rolling stock order following Taiwan's recent announcement that it would invest $NT 975 billion ($32.7 billion) over the next eight years to bring its ageing railway up to modern standards.
Hyundai Rotem, a train-making subsidiary of South Korea's Hyundai auto group, agreed to unveil the prototype of low-floor electric trams powered by hydrogen fuel cells next year.

Hyundai Rotem said recently that it has signed a memorandum of understanding with Hyundai Motor on the development of fuel cell electric trams with a low-floor design that improves accessibility and provides larger windows and more airspace. They would also team up to develop fuel cell electric locomotives.

Hyundai Motor will provide fuel cells and related technology, while Hyundai Rotem will develop a system interface between trams and fuel cells.
They aim to develop trams capable of traveling up to 200 kilometers at a top speed of 70 kilometers per hour with a single charge. Production of a prototype will be completed next year.

Because of its eco-friendly characteristics, fuel cells are considered the next-generation renewable power source.
Fuel cells produce heat, electricity and water through a thermochemical reaction between hydrogen and oxygen.
The Ministry of Land, Infrastructure and Transport has called for the commercialization of hydrogen-powered trains after 2025.
The Hyundai auto group leads a government campaign to replace combustion engines gradually with hydrogen fuel cells and electric batteries.
South Korea has unveiled a roadmap to secure its firm leadership in the global market by producing 6.2 million fuel cell vehicles by 2040.

Betting big on hydrogen fuel, Hyundai Motor Group aims to unveil electric trains powered by fuel cells hopefully by the end of next year.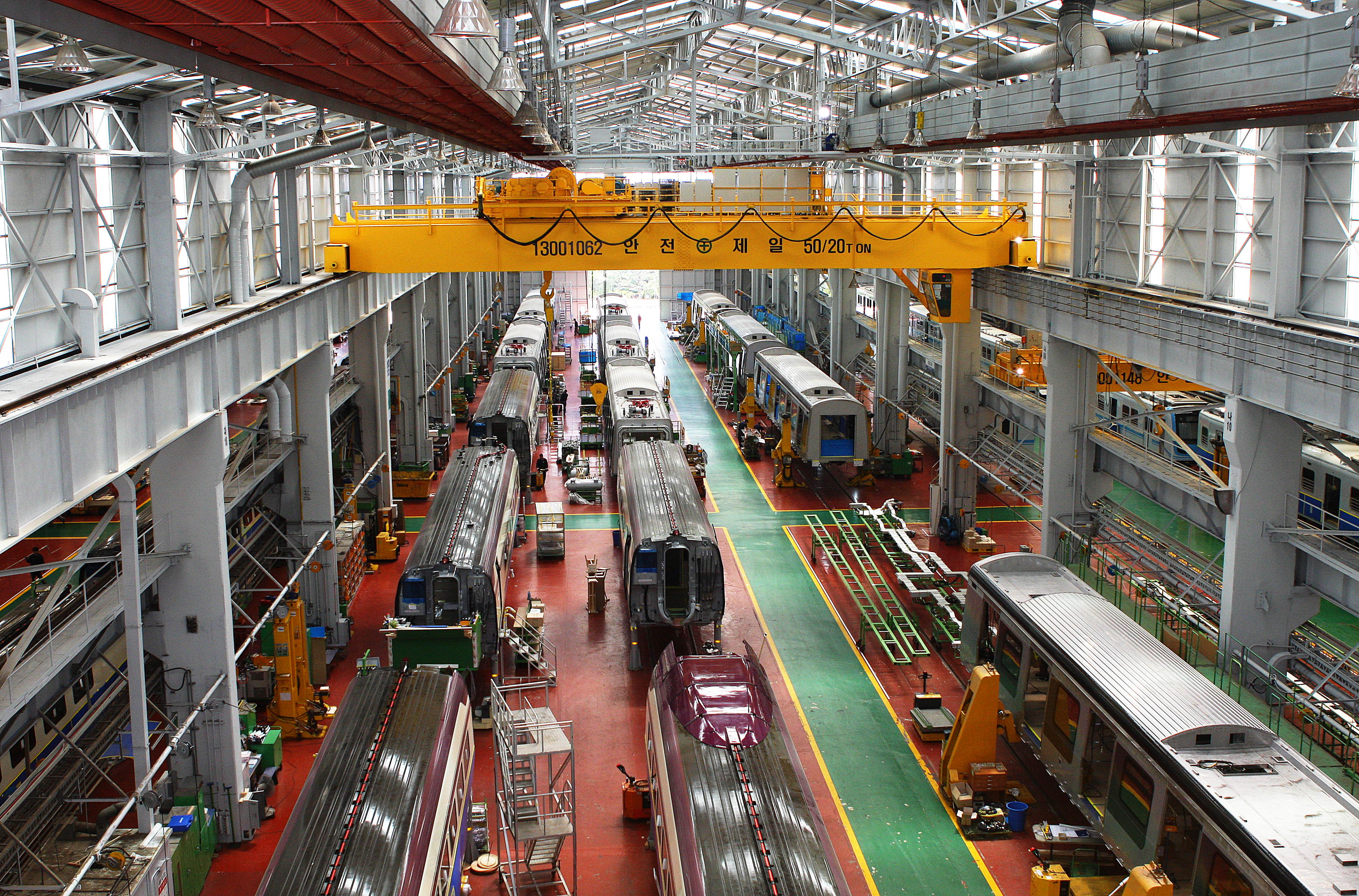 A scene from Hyundai Rotem's Changwon plant, which produces the bulk of rollilng stock from electric trams, high-speed rail cars, and locomotives under the 14 different projects that the plant has been working on at its 100,000 pyeong complex. (Photos: Hyundai Rotem)