Apartment complex first to be built with premium apartment brand 'Prugio Summit'concept before a tender was offered

A bird's eye view of the sky lounge of the Gwacheon'Prugio Summit' Apartment. (Photos: Daewoo E&C)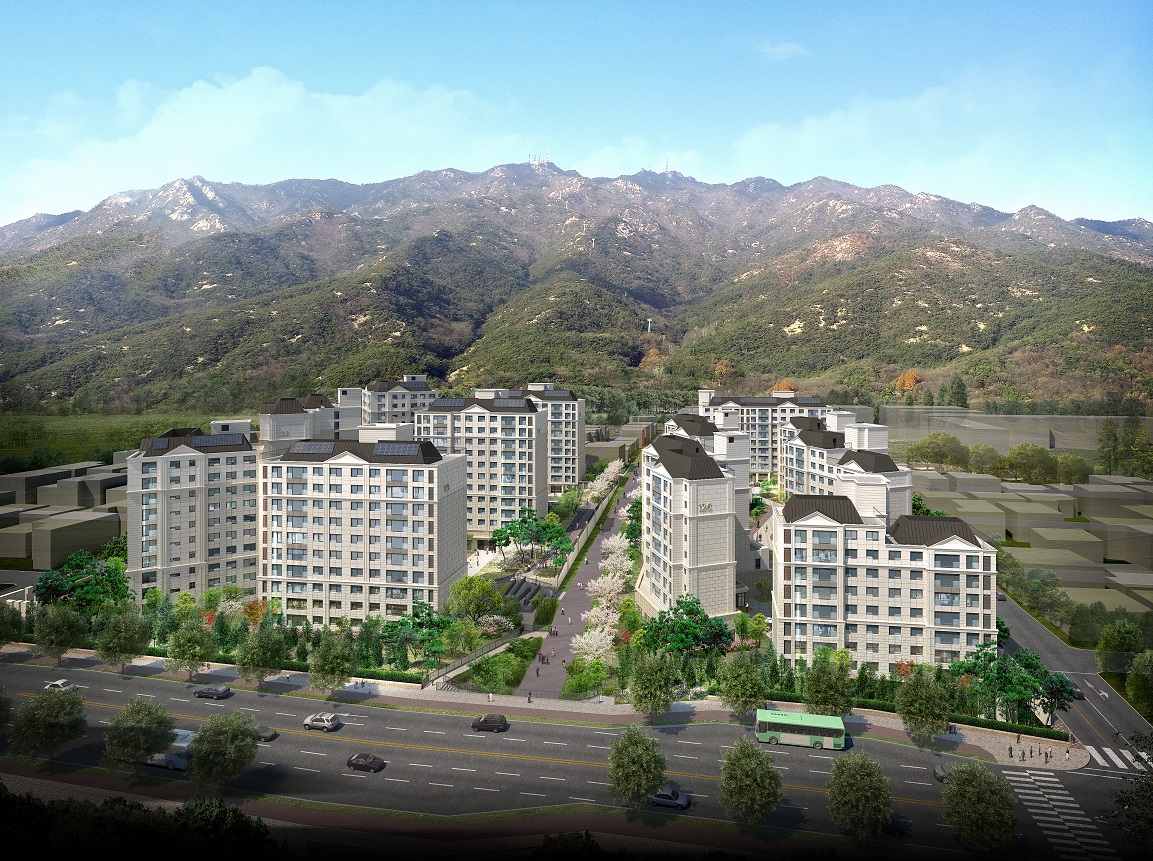 An artist conception of row houses of the Gwacheon'Prugio Summit' Apartment Complex.
Daewoo E&C will open a model home to promote apartments to be sold at the 1st Gwacheon LH apartment complex reconstruction site in Jungang-dong, Gwacheon City, under its premium brand "Prugio Summit."

The Gwacheon Prugio Summit apartment complex has been a subject of public attention as it a "post-sale" apartment construction case in which apartments are put up for sale with a joint surety by two registered businesses, not by the usual Korea Housing & Urban Guarantee Corp. (HUG).

Construction kicked off in August 2017, and the skeletons of two-thirds of the ground floors have been completed.
Dedication is scheduled for April 2020.

The complex, with 1,571 apartment units, will have 32 buildings, each 28-storeys with three basement floors. Out of the total units, 506 apartments are available for sale to ordinary buyers. By size, there are 254 units each measuring 59 sq. meters; 96 units each measuring 84 sq. metes; 33 units each that are 111 sq. meters; 11 120 sq. meter units; 27 that are 126 sq. meters; 68 units that are 131 sq. meters; and 17 that are 151 sq. meters in size.

The Gwacheon Prugio Summit apartment complex has a good geographical location, being close to the popular Gangnam area. The selling point of the location of the complex is its proximity to Gwacheon Subway Station and Gwacheon Government Complex Station.

The Seoul metropolitan area's upcoming high-speed rail network GTX-C route is scheduled to pass through the area, enhancing its proximity to the Gangnam area.

The complex emerges as one of Gwacheon's representative school clusters as Gwancheon Primary School, Gwacheon Middle School, Gwacheon Foreign Language School and Gwacheon Girls High School are within walking distance, along with myriad other educational institutions, which are about 700 meters away.

It has close access to facilities such E-Mart Gwacheon outlet, Gwacheon City Hall, Gwacheon Grand Park, Gwacheon National Science Museum, and National Museum of Modern and Contemporary Art.

The average apartment selling price is expected to be set at 39.98 million won per 3.3 sq. meters. A lottery for the first and second-category subscription buyers will take place from July 30 to Aug. 1, and winners will be announced on Aug. 8.

A model unit for the complex will be set up on the 3rd floor of the Summit Gallery in Yeongdongdae-ro, Gangnam-gu, Seoul.

The Gwacheon Prugio Summit apartment complex will be the first to be built with its premium apartment brand "Prugio Summit" concept before a tender was offered. The conventional Prugio Summit apartments have the brand's characteristics through design changes after each order was landed.

Now that Gwacheon Prugio Summit apartment complex is designed with a focus on the Prugio Summit from the stage of a tender, it will exude luxury.

The complex will be divided into four blocks - 1BL, 4BL, 5BL and 6BL - each with differentiated design features. High-rise apartments in the first block along the Jungang Street stress sophistication and modern feelings. The façade is outfitted with curtain wall looks, LED landscape lights.

Rooftops of main apartment buildings have been designed with motifs of the features of Mt. Gwanak. Apartments on the 4th, 5th and 6th blocks along the Gwanmun Street have classical design features with deluxe villa motif, in keeping with its surrounding nature environment.