With the event entiled, "InsureTech: Future of Insurance," to be ready for changes to come under 4th Industrial Revolution with Chairman Choi of Financial Services Commission among guest speakers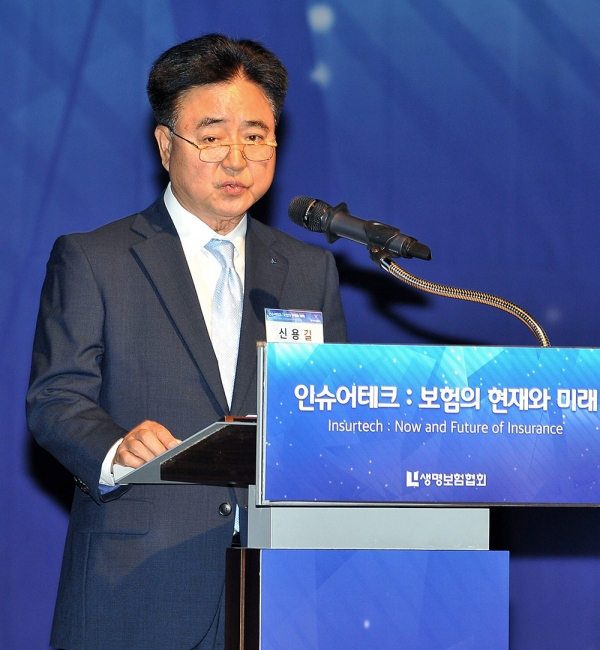 Chairman Shin Yong-kil of Korea Life Insurance Association. (Photo: KLIA)
Korea Life Insurance Association held a seminar on July 8 at the International Conference Room of the Korea Chamber of Commerce and Industry.

Entitled "InsurTech: The Present and Future of Insurance," the event was dedicated to discussions on the changes and reform to be introduced with the arrival of the 4th Industrial Revolution, along with checkup on the current status of the life insurance industry.
Some 400 participants included high-ranking government officials and key executives of life insurance firms and those related organizations.

Chairman Choi Jong-gu of the Financial Services Commission and Professor Kim Chang-gyong of Hanyang University gave keynote speeches on the 4th Industrial Revolution and the role of the life insurance industry.

Various experts made statements on such current issues as artificial intelligence, the insurance industry's future, InsurTech startups and others in the diverse issues concerned with the future of the life insurance industry.
Panel discussions also took place to take up those issues.

In his keynote speech, FSC Charirman Choi jong-gu said that InsurTech development has so many advantages such as boosting in the number of consumer benefits, new market participants,
the development of digital reform, but also has negative aspects like reductions in the number of insurance salesmen, an increase in the number of senior citizens not knowing how to use digital equipment,
and security problems from the use of the 4-G technologies such as Big Data presenting tough problems for setting up policies.

Professor Kim, a former 2nd deputy Minister of the Science and Education Ministry, said InsurTech would provide customers with new experiences such as those thru the automation of insurance businesses by using AI in underwriting, the automatic payment of insurance premiums,
and an active use of blockchain P2P insurance, calling for the introduction of the regulation "sandbox," citing the examples of reform in foreign countries.

As one of the largest underdeveloped re/insurance markets globally Asia remains a key growth region with demand forecast to grow as natural catastrophes become more frequent and intense.

Willis Towers Watson's second annual Asia Insurance Market report highlighted the potential for Asia to become an InsurTech hub and drive global re/insurance demand growth as disaster risk outpaces the United Nations Economic and Social Commission for Asia and the Pacific.

Commenting on market conditions and key trends shaping the re/insurance industry across Asia, Willis said countries with larger natural catastrophe exposure, namely China, Philippines, Japan, Thailand, Taiwan, Indonesia and Vietnam, show growing evidence of "tighter placements such that buyer options and future flexibility are reducing,
but not yet to the extent of a hard market." Whereas for countries with limited natural disaster exposures, such as Korea and Singapore, buyers have continued to increase retentions to control reinsurance costs.

The underdeveloped re/insurance market in Asia means it presents an opportunity to InsurTech startups, offering a clean slate for successful implementation of emerging technologies "due to the relatively limited suite of current products in the market and the region's high rate of e-commerce penetration."

Currently the Asian InsurTech ecosystem remains relatively small with activity mostly centered on Singapore, Hong Kong and China, however, Willis said that recent regulatory provisions in Malaysia, Indonesia, Thailand and Vietnam have opened up the countries further to development and growth of local InsurTechs.

These developments mean the region could serve as a starting off point for InsurTechs that could see swift uptake in the area and then spread across the globe to transform more developed markets.

On the political front, the market remains dynamic with a mixture of markets opening up further to the international reinsurance industry and others becoming increasingly protectionist and closed.

In China, management changes within the Insurance Regulatory Commission (CIRC) led to many initiatives previously devised being put on hold, and Willis said license issuance to reinsurance and internet insurance companies could slow down as the regulatory body may adopt a more conservative approach.

The Indian insurance regulatory body revised the reinsurance framework last year and announced in January that all Indian insurers are required to cede business to reinsurers according to a prescribed order of preference.
Willis analysts said this has started to impact the amount of Indian reinsurance business placed offshore; at the same time, the IRDAI has granted new licenses to nine foreign insurance companies to open branches in India.