U.S. President Trump Has Historic Encounter with NK Leader at Panmunjom
Both sides agree to resume working-level talks on North Korea's denuclearization, ending the stalemate that started in the Hanoi summit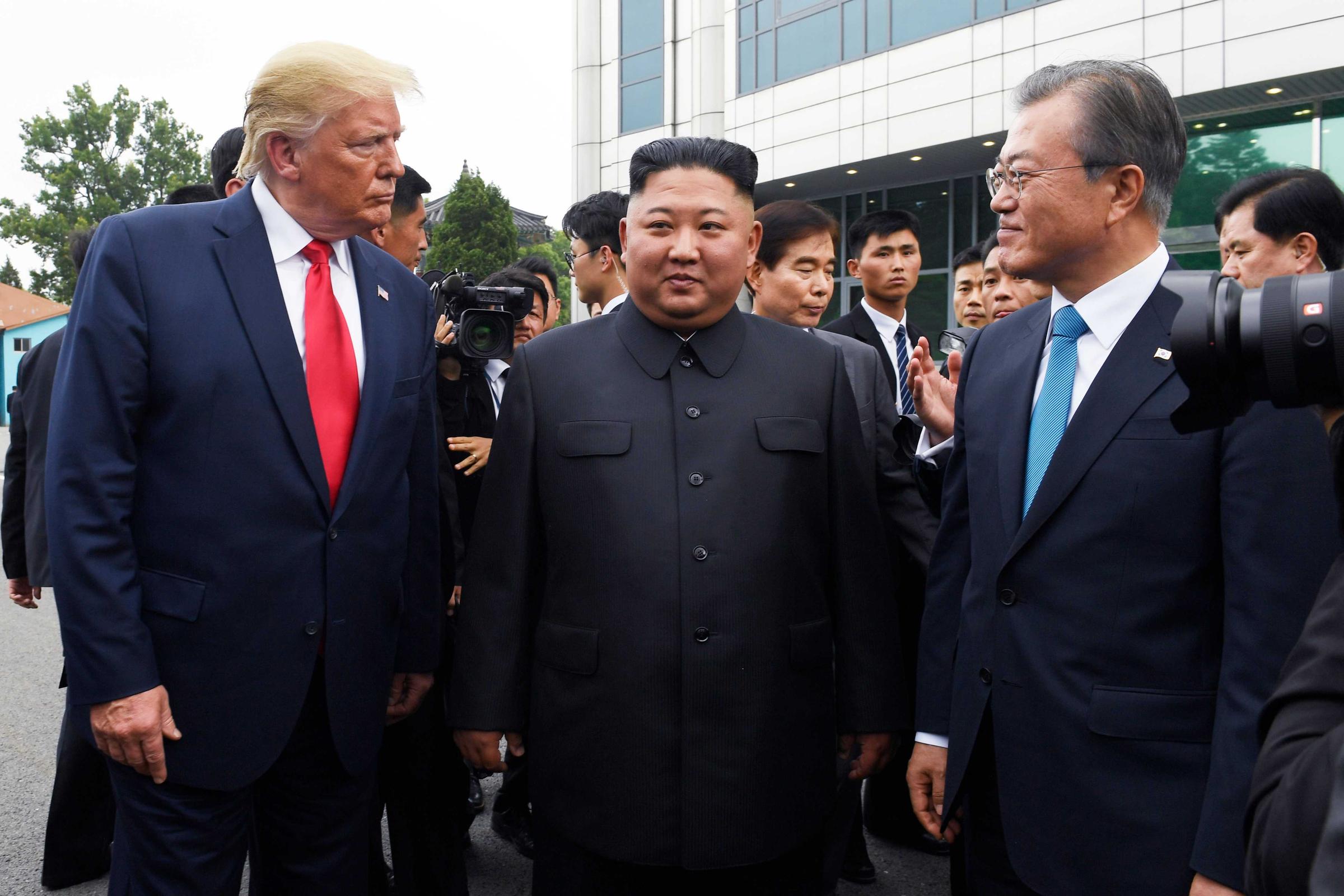 U.S. President Donald Trump, South Korean President Moon Jae-in and North Korean leader Kim Jong-un have a tripartite meeting at Panmunjom on June 30. (Photos on the courtesy of Cheong Wa Dae website)
U.S. President Donald Trump's impromptu historic meeting with North Korean leader Kim Jong-un at Panmunjom on June 30 was in the spotlight around the world.

Details of exactly what were discussed in relation to denuclearization of North Korea during U.S. President Trump's 53-minute one-on-one meeting with the North Korean leader were not disclosed. But both sides agreed to resume working-level talks amid the stalemate, which began after the "no deal" Hanoi summit last February.

The latest U.S.-NK summit was made possible since President Trump, seeking reelection in the next U.S. presidential election, was on the same wavelength with NK leader Kim, who was trying to make up for a loss of face following the Hanoi meeting, North Korea observers concluded.

President Trump, side-by-side with Kim in the heavily-fortified demilitarized zone, stepped over the Military Demarcation Line that divides the two Koreas, becoming the first sitting U.S. president to enter North Korea. It was the third time that Trump had met with North Korean leader since he took office.

The meeting took place only three days after President Trump proposed meeting with Kim at Panmunjom in a tweet while attending G-20 summit of world leaders in Osaka. North Korea reacted positively.

Trump's initial suggestion to "just shake hands quickly and say hello" turned into a 53-minute one-on-one meeting with Kim. The meeting took place at the Freedom House on the southern side of Panmunjom. President Moon Jae-in also joined them for a brief tripartite summit there. "Stepping across the line was a great honor," Trump was quoted as saying.

Despite the hype of the unprecedented high-profile Trump-style diplomacy, the latest U.S-NK summit failed to yield any major outcomes except for Trump inviting Kim to the White House. What are President Trump's next steps on how to deal with Kim on North Korean nuclear issues?

Many North Korea observers had mixed views over that question. It is true that speculation has abounded following the latest U.S.-NK summit.

In a briefing following his meeting with Kim, President Trump cited the goal of reaching an "inclusive deal" on NK's denuclearization. He said it was not complicated, and it would be known during upcoming working-level talks.

Following his meeting with Kim, President Trump talked about the potential of North Korea prosperity, and he repeatedly said he had a good relationship with the NK leader. He stressed his good ties with the dictator without giving details on the North Korean nuclear issues.
President Trump's emphasizing of good relationships with Kim may be construed as his attempt to silence negative views in the United States that negotiations with North Korea over denuclearization might go awry.

In reality, U.S.-NK negotiations have been in a stalemate following the failed attempt in the Hanoi summit.

Skepticism had grown with no working-level talks being conducted. Trump bloated that much progress had been made compared to two years ago. Some analysts pointed out that he might give up on his top-down negotiations method, citing a focus on working-level talks.

President Trump made it clear that economic sanctions against NK would be in place. "The sanctions remain, but at some point during the negotiations things can happen," he said. President Trump's position is a "little different" from President Moon's view that the dismantling of the Yeongbyeon nuclear facility would be a starting point of North Korea's denucleariztion.
"Denuclearization steps would be implemented faithfully, the international community would ponder how to consider sanctions relief." President Moon said.

U.S. Presidential Security Adviser John R. Bolton, a hawk on North Korean nuclear issues, was companying President Trump in Seoul, but was dispatched to Mongolia while U.S. President Trump held a one-on-one meeting with NK leader Kim. Bolton's absence during the summit spawned a variety of speculation on what Trump's future actions against NK would be.

In particular, some critics said Trump might hurry a watered-down a deal on North Korean denuclearization than originally planned. They said President Trump might attempt to exploit any kind of a deal, even a smaller one, to use in the upcoming presidential reelection.

The U.S.-NK summit in Hanoi was ruptured as the United States demanded something extra on top of the dismantling the Yeonbyeon nuclear facilities as a condition for sanction relief.
U.S. President Donald Trump, side-by-side with NK leader Kim Jong-un in the heavily-fortified demilitarized zone, steps over the Military Demarcation Line that divides the two Koreas, becoming the first sitting U.S. president to enter North Korea.

Trump Demonstrates Businessman's Tactics during Meeting with Korean Leaders

President Trump demonstrated his businessman's disposition as he took time out to meet with Korean businessmen at the Seoul Grand Hyatt Hotel on June 30. Trump called the names of Korean businessmen to extended thanks, such as Lotte Group Chairman Shin Dong-bin, who invested 3.6 trillion won in the construction of a plant in Louisiana, and Korean Air's CEO who signed a deal to buy aircraft worth $9 billion from Boeing.

While delivering a speech, President Trump also called Samsung Group Chairman Lee Jae-yong, Hyundai Motor Group Executive Vice Chairman Chung Eui-sun, SK Group Chairman Chey Tae-won, and CJ Group Chairman Sohn Kyung-shik to stand up and extended thanks, saying that they were great businessmen who made many investments in the United States.

President Trump showed special appreciation to Lotte Group Chairman Shin, with whom the U.S. president had a meeting at the White House in May. He asked Chairman Shin to stand near him during a photo session following his speech.

Starting with Hyundai Motor Executive Vice Chairman Chung, who arrived at 8:10 a.m. at the venue, business leaders, including GS Group Chairman Huh Chang-soo, Hanwha Group Chairman Kim Seung-youn, CJ Chairman Soh, and Doosan Group Chairman Park Jeong-won, began to converge.

Despite invitations sent by the U.S. side only three days earlier, most of the invited businessmen attended the meeting. Korean Air CEO Woo was present instead of Hanjin Group Chairman Cho Won-tae. Absent among the top five group tycoons was LG Group Chairman Koo Kwang-mo due to an issue related to Huawei. Instead, LG Corp. Vice Chairman Kwon Young-su, former LG Uplus vice chairman, was present.

Earlier, worry had surfaced that President Trump might ask Korean businessmen to join the U.S. ban on Huawei for security reason, but he did not mention on it.

President Trump exhorted Korean businessmen to proactively make investments, saying that there was never a better time to invest in the United States than now. President Trump said he was greatly surprised to see Samsung buildings, and he was amazed to see Lotte World Tower for the first time, calling it a beautiful tower.

A business community source said the event was a place in which President Trump demonstrated what aspects he has as a businessman's strategic tactics – luring investment he wants them to make by not sparing his praises. Concerning reporters' questions on additional investments in the United States, Lotte Chairman Shin said his group was considering making a few investments. CJ Group Chairman Sohn said CJ plans to make additional investments worth a maximum of $1 billion with a focus on the food and logistics sector.

The event was in sharp contrast to anti-business sentiment engulfing Korea. Some business sources said they were very envious of U.S. President Trump calling out the names of foreign investment companies and businessmen, and praising them with words such as "great person" and "genius."
They also felt unhappy to have had insufficient communication with President Trump, including no opportunity to speak about U.S. investment in Korea.