POSCO Group Chairman Choi Jeong-woo receives the Innovation of the Year prize from Vice Chairman Kosei Shindo of the World Steel Association at the 10th Steelie Awards ceremony held in Monterrey, Mexico, on Oct. 15. The Korean steelmaker won the award in recognition of its advanced resolution printing technology, dubbed PosART. (Photos: POSCO)
POSCO has made a remarkable achievement of producing 1 billion cumulative tons of crude steel. The milestone comes 46 years after the steelmaker began producing crude steel.

POSCO said the steelmaker surpassed 1 billion tons of crude steel production as of 2 a.m. on Oct. 3. It took 16 years to log 100 million tons of crude steel production, 16 years to raise the cumulative figure from 100 million tons to 500 million tons and another 14 years to top 1 billion tons - a sharp rise in production and production speed, it said.

"The crude steel POSCO has so far churned out is used in areas such as shipbuilding, automobile, architecture, and bridge, a foundation to catapult the national economy to such an extent," POSCO said. If the steel industry and steel demand industries are combined, they account for about 40 percent of the nation's gross domestic product.

If 1 billion tons of hot-rolled coil, each 2.5 mm in thickness and 1.219 mm in width, are lined up, it equals 54 round trips between the Earth and the moon. The figure is also equal to the production of 1 billion mid-size sedans - 1 ton for each unit, or building 20,000 Lotte World Towers, the nation's highest skyscraper in Seoul.
POSCO executives and staff members shout hurrah over the historical moment in June 1973 when POSCO's Pohang No. 1 blast furnace produced its first molten iron.

POSCO has moved from strength to strength to surge to a global mammoth steelmaker based on a single steelworks. The steelmaker underwent numerous hardships before it began to produce crude steel, however.
A steelworks production plan was foiled five times between 1958 and 1967, but it was in April 1968 that Pohang Steel Mill, predecessor of POSCO, was established. The steelworks had no money to build a furnace. At that time, Korea was sustaining hardly with exports of plywood, sweater and wig.

A steelworks construction plan was in danger of being scrapped once again as the World Bank and the United States refused to extend a loan, citing it unripe market conditions for a steelworks.
Compensation then-President Park Chung Hee received from Japan in return for normalizing ties was used as seed money to build the steelworks.

Ex-Chairman Park Tae-joon and POSCO's founding members were faced with the possibility of a "Right Turn" to the East or a do-or-die spirit in launching the project to build the first furnace for Pohang Steelworks. Finally, on June 9, 1973, the furnace began to produce crude steel, dubbed "Rice or Gem of Industry."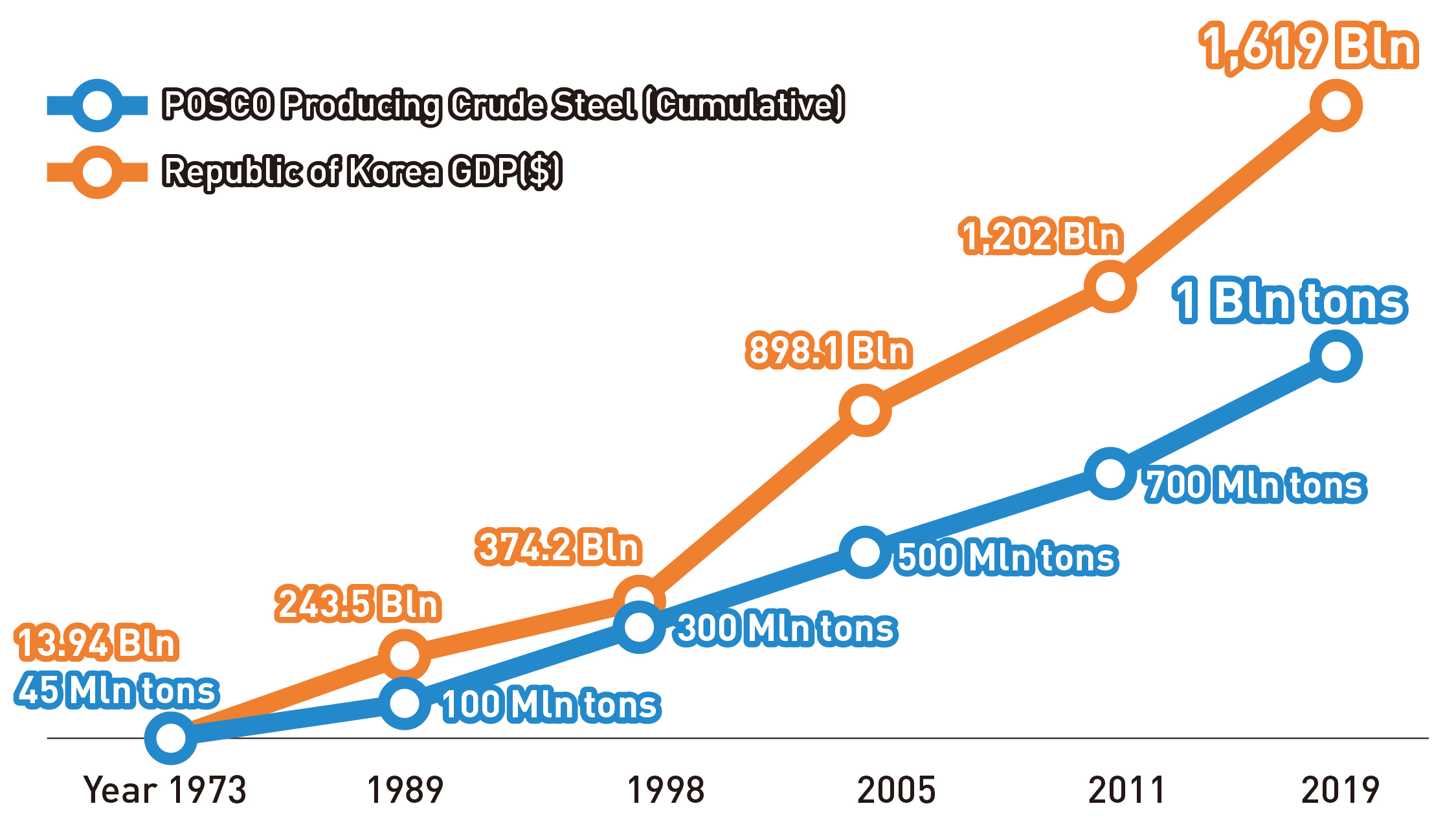 Steel industry officials shared the view that crude steel, produced by the furnace, led to Hyundai Heavy Industries' embarking on shipbuilding and Hyundai Motor's production of the homegrown brand Pony.
The birth of the construction and machinery industries was made possible because of the production of crude steel.

POSCO was capable of producing 1.03 million tons of crude steel in 1973 when the steelmaker began producing crude steel. At that time, Korea had the shipbuilding capacity of 12,000CGT (compensated growth tonnage) and 25,000 automobile units.

But as of last year, POSCO's crude steel production capability surge to 42.86 million tons, shipbuilding capacity jump to 7.7 million CGT and automobile production capacity soared to 4,029,000 units. The nation now has companies in the top five globally in the steel, shipbuilding and automobile industries.

POSCO's stock market capitalization stood at $16.08 billion (about 19.3 trillion won) as of Oct. 2, ranking it 2nd in the global steel industry. POSCO placed fifth in the world in terms of crude steel production as of last year. The steelmaker has nine furnaces.