The new engine can burn LNG and Diesel alternatively reducing nitrogen oxide and sulfuric acid oxide targeted to earn 1 trillion won in exports in 2023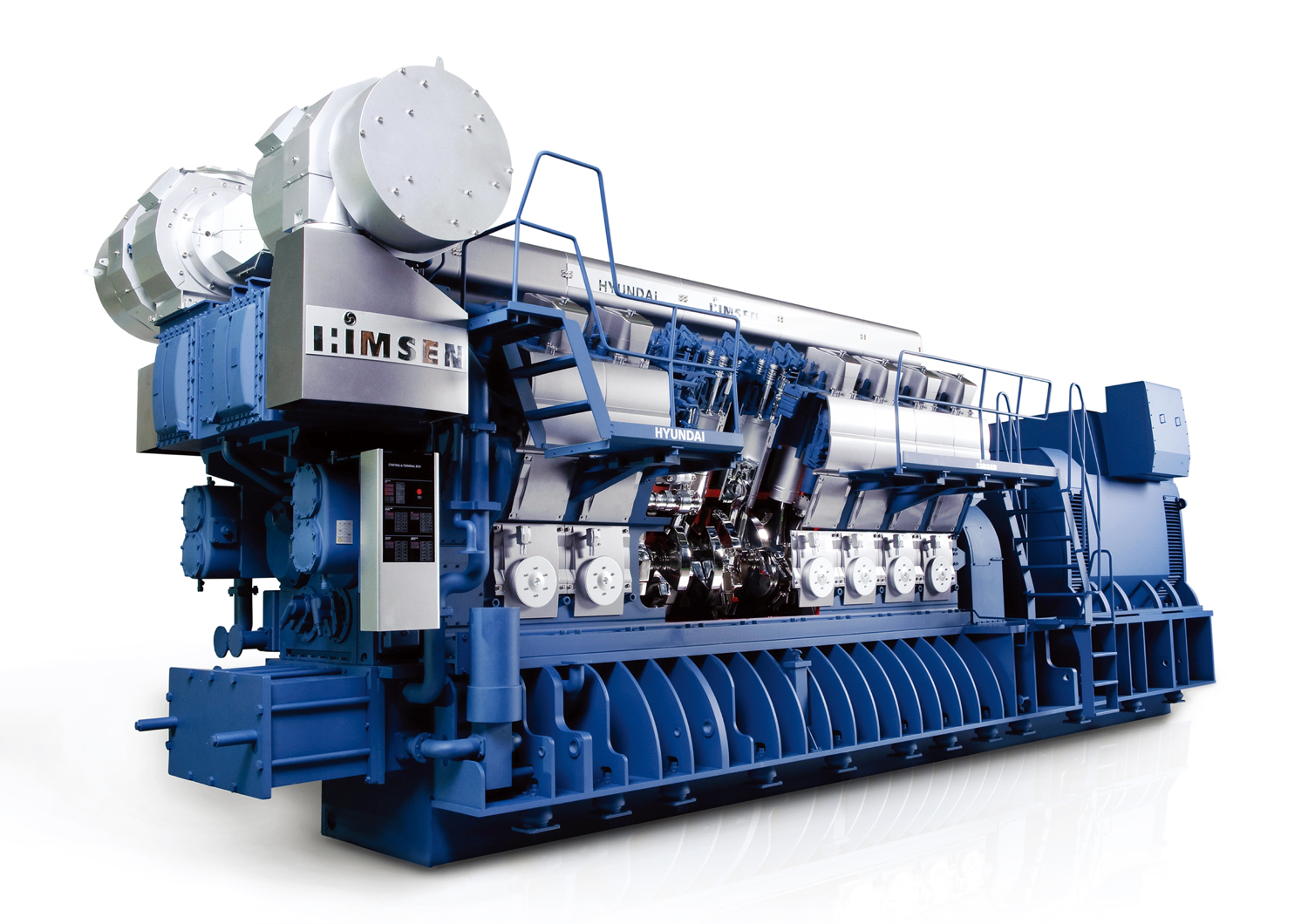 A view of Himsen Engine(H54DF) developed by Hyundai Heavy Industries and expects to earn 1 trillion won in exports in 2023. (Photo: HHI)
Hyundai Heavy Industries has developed the most powerful engine for power generation inside ships, a new model of Himsen Engine (H54DF) capable of generating 36,000 horse power, which is far bigger than the company's previous Himsen Engine (H35DF)'s 10,000 horse power.
The new model can utilize diesel or LNG alternatively, thus able to reduce nitrogen oxide and sulfuric acid oxide, and is capable of generating power three times more than the engines burning two fuels.

HHI developed the Himsen Engine, a four-stoke engine, 10 years ago thru its own research and thus far exported 12,000 of them to some 60 countries, taking up around 25 percent of the mid-sized engine market in the world. The company is working to boost its exports to around 1 trillion won annually by 2025.

In the meantime, HHI has been boosting its investments in environmentally friendly technologies and in R&D activities under its strategy to overcome the current slowdown with new technologies.

HHI launched the development of LNG-powered ships in 2009, and successfully developed the main propulsion engine fueled by LNG (ME-GI engine) in 2014 in partnerships with global engine makers such as MAN Diesel and Wartsila Engine.

Along with it, the FGSS (Fuel Gas Supply System) feeding evaporated LNG which was in liquid state into the engine at high or low pressure will be developed and applied mainly to large-scale LNG carriers along with the main engine.
As for advantages and features of the system, an official revealed that "if the LNG-powered system is applied to LNG carriers, not only GHG reducing, better energy efficiency but also utilizing evaporated LNG as a fuel for the propulsion of ships become possible, so we can minimize the amount of LNG discarded."

In spite of those advantages, due to relatively high prices of the core equipment of LNG propulsion system, it is considered that the system has a weakness of lower economic feasibility in the era of low oil prices.
For this, HHI has devised a measure to minimize such weakness and to maximize the advantages at once. It is the LNG-Ready technology which is going to be applied when the unit prices of manufacturing and oil prices become affordable enough to secure economic feasibility.

After going through a simply retrofit, the LNG-powered system will be activated immediately because the fundamental LNG-powered facility has been already equipped from the outset.
The LNG-ready technology by HHI has obtained the basic approval from DNV-GL Group (the world's largest classification association established by the merger in 2013 of DNV with a 150-year corporate history and Germanischer Lloyds), and this technology was applied to mega-scale containerships that had been ordered in 2013 and 2014 by the Middle East. Since the first delivery of the vessel in Nov. 2014, the rest of them will be delivered subsequently until mid-2016.

In addition to LNG-powered ships, HHI has other eco-friendly ship technologies such as dual-fuel engine technology, manufacturing technology of the ballast water processing system and HI-FIN technology.
The dual-fuel propulsion engine technology is called as hybrid fuel propulsion engine technology meaning a technology that uses two different fuels alternatively. HHI developed the world's first 30MW-scale dual-fuel propulsion engine using oil and LNG in Oct. 2012, and two ships loaded with this engine will be delivered to India and Norway one by one.

Ballast water is one of the representative causes that disturb marine ecosystems, which has been under the spotlight since the zebra mussel incident in the U.S Great Lakes in 1988.
To deal with this problem, HHI devised Eco-Ballast, a ballast water processing device that adopts the ultraviolet sterilization in 2011, and HI-Ballast introducing electrolysis, and it completed the applications and tests of those two devices to actual ships on sail.

If the IMO Ballast Water Management Convention takes effect, un-processed ballast water cannot be discharged into the sea of the countries in which the convention is ratified.
Therefore, all ships sailing around the world must be equipped with the ballast water processing device, which will lead to a new market amounting to $80 billion (93 trillion won) globally.