KIC to Invest in Aramco When Saudi Oil Co. Holds IPO
Saudi Oil Co. announces it will hold IPO on the Riyadh stock exchange next month, offering $2 Tln worth of shares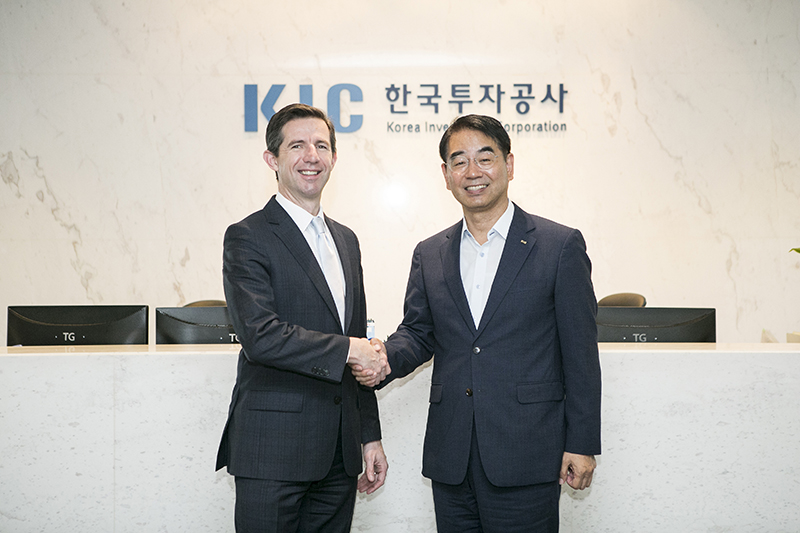 President Choi Hee-nam of Korea Investment Corporation shakes hands with Australian Minister for Trade, Tourism and Investment Simon Birmingham at KIC headquarters on Aug. 5. (Photos: KIC)
Korea's sovereign wealth fund, Korea Investment Corporation (KIC), indicated it could invest in Saudi Arabia's state-owned oil giant Saudi Aramco, the world's most profitable company, once it goes public.

Choi Hee-nam, chief executive of KIC, attending Future Initiative Conference held Oct. 29 in Riyadh, Saudi Arabia, said the fund would study investing in Saudi Aramco "if the company with sound financial health goes public on the Riyadh stock exchange as planned."

It is a rare move for Korea's sovereign fund to make its investment intention public. Market experts say it is part of efforts to bolster the country's network in the Middle East via an investment in Saudi Arabia's major corporate names.

Saudi Aramco aims to go public on the Riyadh stock exchange in December, in what would be the world's biggest initial public offering worth $2 trillion, twice the market capitalization of the world's largest company Apple Inc.

KIC as of the end of last year managed $131.6 billion worth of assets, with 35.3 percent invested in stocks. It had invested only in debts for Saudi Arabian assets, but started increasing the investment ratio for Saudi stocks since the country's inclusion in the MSCI developing economies equity benchmark in August.

Saudi Aramco has confirmed it is planning to list on the Riyadh stock exchange, in what could be the world's biggest initial public offering. The state-owned oil giant will determine the IPO launch price after registering interest from investors.

Business sources say the Saudis are expected to make shares available for 1% or 2% of the firm, and the offer will be for existing company shares. Saudi Aramco is thought to be worth about $1.2 trillion.

The firm said it has no current plans for a foreign share listing, saying long-discussed plans for a two-stage IPO including an offering on a foreign exchange had been put aside for now. "For the (international) listing part, we will let you know in due course. So far it's only on Tadawul," Aramco chair Yasir al-Rumayyan told a media conference, referring to the Saudi stock exchange.

Chris Beauchamp, chief market analyst at derivatives traders IG Group, said: "Investing in Aramco carries risks, of course, and not only that oil prices will struggle to move higher.
Aramco boss Amin Nasser, who called the plans "historic", told a media conference after the IPO statement was published that the firm was still the most reliable oil company globally.

In its launch announcement Aramco said: "The company does not expect the impact of these attacks to have a material impact on its business, financial condition or results of operations."

Saudi Aramco traces its roots to 1933 when a deal was struck between Saudi Arabia and the Standard Oil Company of California, which later became Chevron, to survey and drill for oil, creating a new firm to do so. Between 1973 and 1980, Saudi Arabia bought the whole company.

Saudi Arabia has the second-biggest oil reserves after Venezuela, according to the Energy Information Administration. It is also second in production, after the US. But it gets its prominence because it has the monopoly on all that oil in the country, and because of how cheap it is to extract.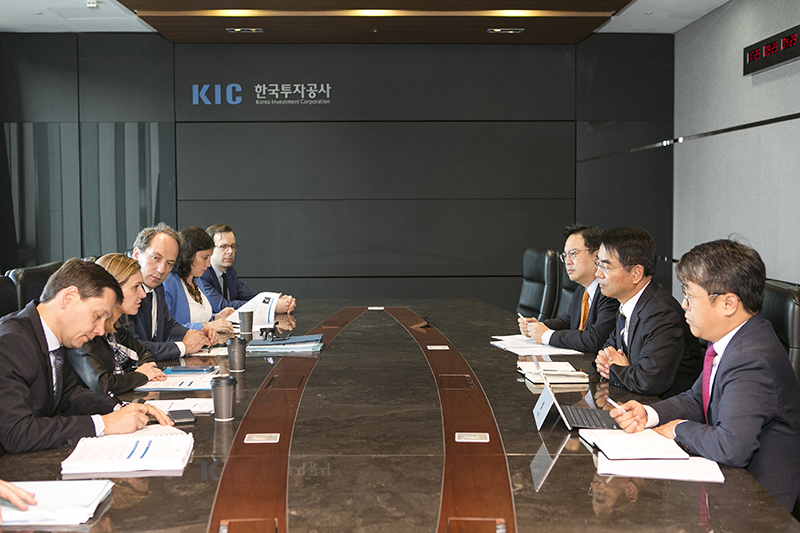 KIC President Choi Hee-nam holds talks with Agnès Pannier-Runacher, state secretary for economy and finance at the French Ministry for the Economy and Finance at KIC headquarters on May. 16.