With establishment of KoELSA, elevator safety management sector is undergoing paradigm shift from conventional post-disaster safety management perspective to prior, preventive safety management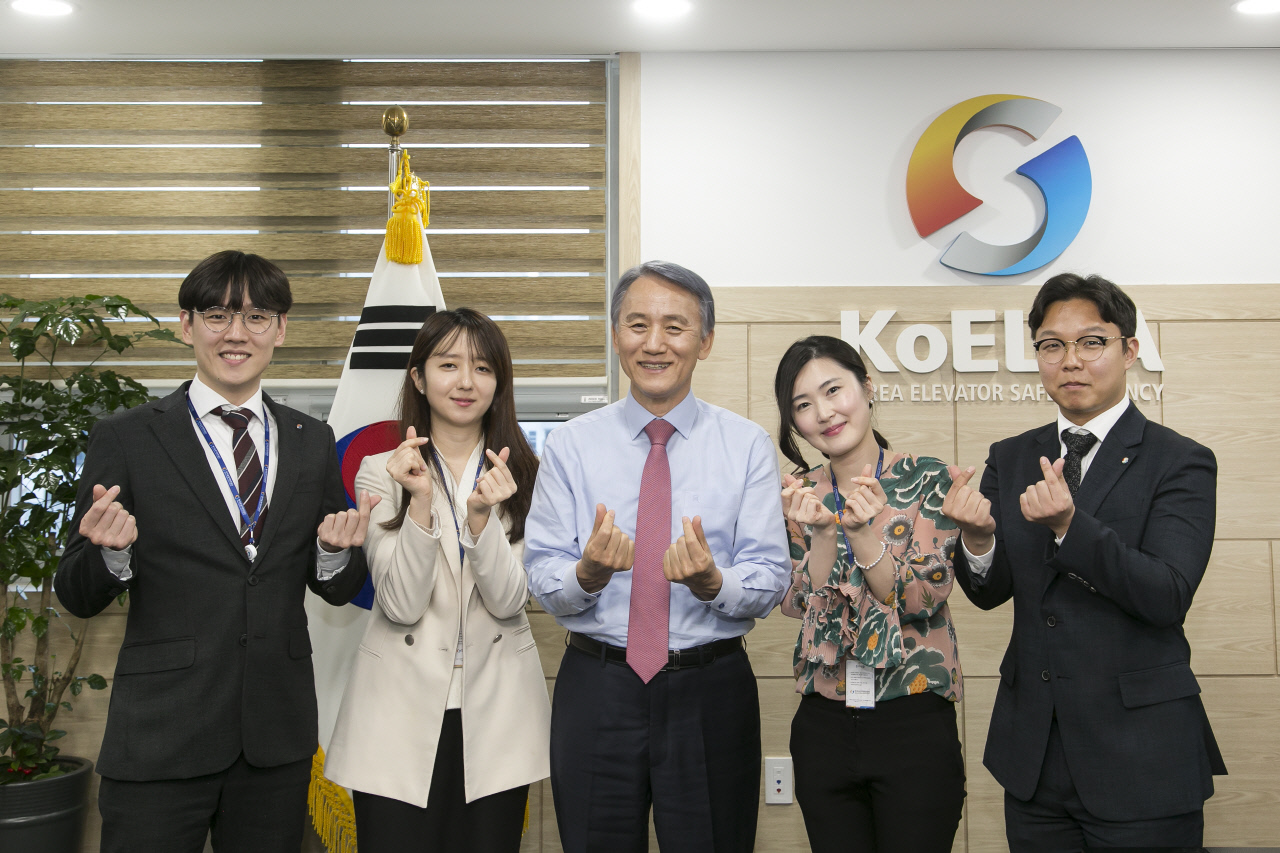 President Kim Young-kee of the Korea Elevator Safety Agency (KoELSA), poses with his staff members.
The Korea Elevator Safety Agency (KoELSA), in its fourth year, is devoting itself to enhancing the reliability of inspections to provide the best elevator safety service and ramp up capabilities to improve the safety technologies of elevator companies.

KoELSA President Kim Young-kee said, "KoELSA executives and staff as well as management and labor join forces in fulfilling the ultimate goal of realizing the safety of elevators and people's happiness."

The KoELSA president made the remarks while appearing at a government audit of the agency by the National Assembly Public Administration and Safety Committee on Oct. 17.
KoELSA has an "integrated elevator information center" in place so all duties, including inspection applications, can be handled in a real-time and one-stop service fashion to strengthen safety services, he said.

The agency implements projects to nurture elevator technology manpower, such as a free technology training, designed to ramp up the competitiveness of technology manpower from elevator SMEs.

KoELSA is conducting nationwide campaigns to elevate public safety awareness toward elevations in cooperation with civic organizations. Elevator experience centers are made available to educate those in vulnerable brackets such as children, the elderly and the physically handicapped, about the safety of elevators.

Special elevator safety inspections have been done to protect people's properties and ensure their safety from a variety of disasters such as earthquakes, typhoons and floods.

The agency is bracing for an emergency situation by operating a prior safety forecasting system corresponding to weather conditions.

With the establishment of KoELSA, the elevator safety management sector is undergoing a paradigm shift from the conventional post-disaster safety management perspective to a prior, preventive safety management mode, President Kim said.

The agency is introducing an elevator parts and system safety certification to ensure the safety of elevators prior to their installation. The move is designed not only to lay an institutional infrastructure to fix safety issues, caused by faulty imported parts.

It is also contributing to forming a virtuous cycle among Korean elevator companies, thus reducing social costs related to accidents and breakdowns and furthering improving public convenience and safety, he said.

KoELSA plans to fulfill its duties such as projects related to elevator safety management and research on safety technologies and their spread. The agency also plans to further strengthen efforts to realize social values to make it an institution trusted and loved by people, he added.
KoELSA headquarters in Jinju, Gyeongsangnam-do. (Photos: KoELSA)