This topic is part of discussions made during the ICT Industry Outlook Conference 2020 that took place in Seoul Nov. 5 to 6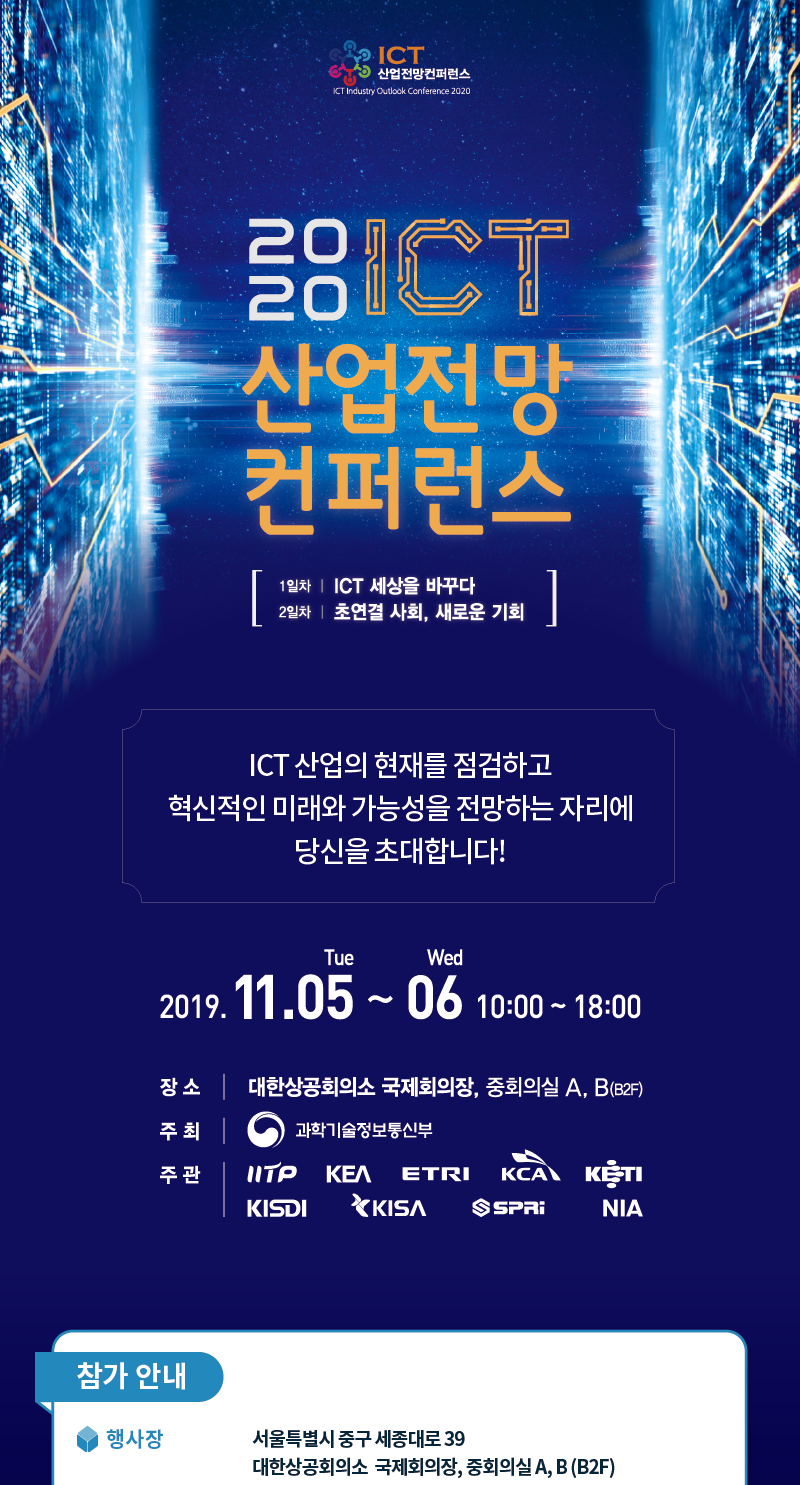 A view of a poster to publicize the ICT Industry Outlook Conference 2020 that took place at the Korea Chamber of Commerce and Industry Building in downtown Seoul from Nov. 5 to 6.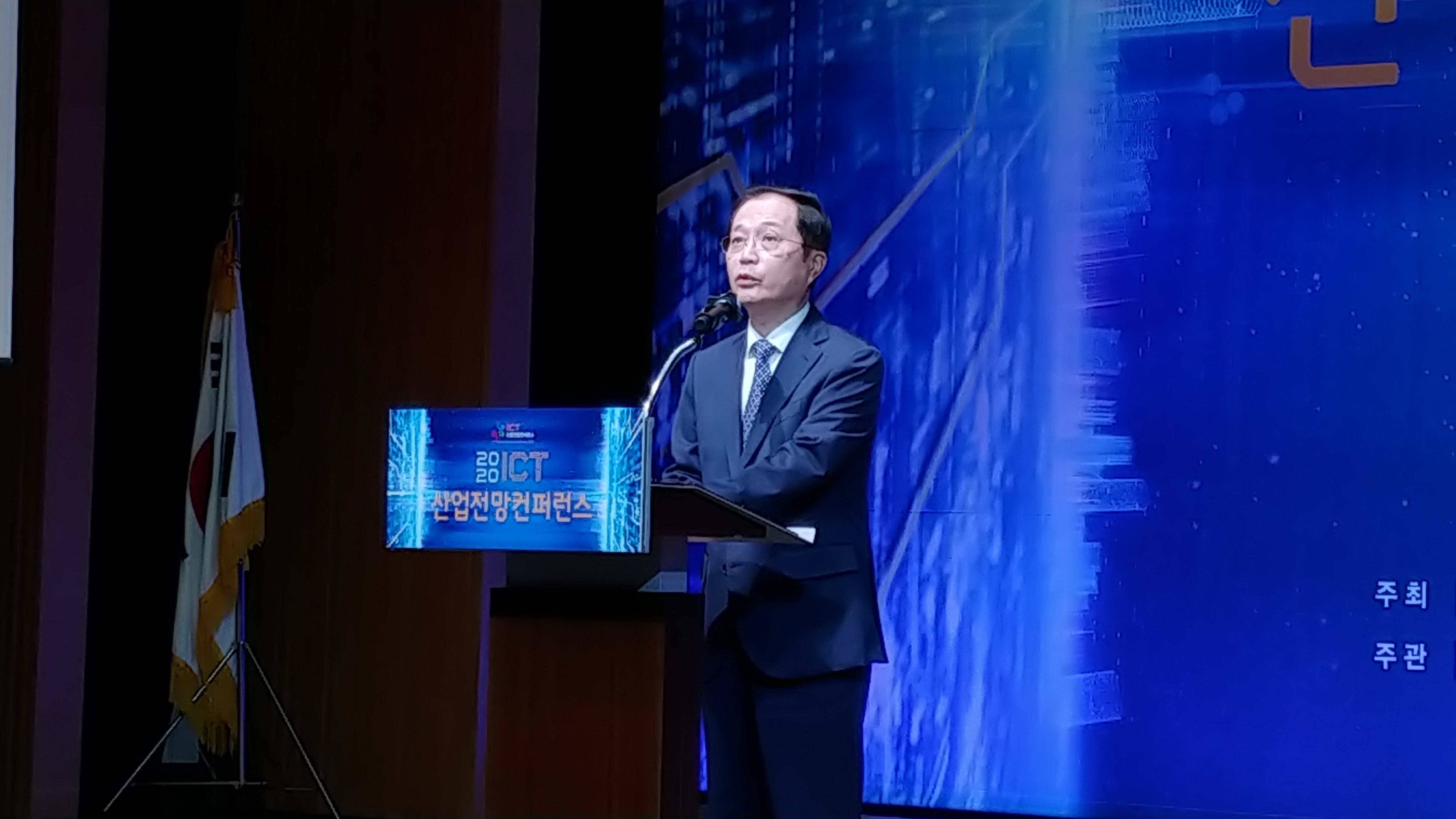 President Seok Jae-bum of the the Institute for Information Communications Technology Planning & Evaluation (IITP) delivers an opening speech at the ICT Industry Outlook Conference 2020. (Photos: IITP)
"The establishment of 5G mobile telecom infrastructure will likely bring about the B2B market in earnest, and global completion will shift from who is the first to do so to who is the best, and network equipment and core parts corresponding to an era of 5G are expected to have growth momentum."

These topics were part of discussions made during the ICT Industry Outlook Conference 2020 that took place at the Korea Chamber of Commerce and Industry Building in downtown Seoul from Nov. 5 to 6.

The conference was designed to explore countermeasures of Korean ICT through domestic and foreign ICT network analyses. It was hosted by the Ministry of Science and ICT (MSIT) and organized by the Institute for Information and Communications Technology Promotion (IITP) and five other institutions.

The theme of Day 1 was "ICT, Change the World" while that of Day 2 was "Hyper-connected Society, New Opportunity."

Speakers of the conference looked at ICT trends for the year 2020. The ICT issues designated during next year included 5G, protectionist move, AI, regulation, mobility, "New South Policy" & "New North Policy" initiatives, semiconductors, labor changes in the era of 4th Industrial Revolution, and eco-friendly ICT.

5G has emerged as the most-talked-about issue. 5G infrastructure buildup is expected to lead to opening of the B2B market, accelerating global completion in top quality management. China introduced 5G mobile telecom on Nov. 1. Three state-backed telecom operators, China Mobile, China Telecom and China Unicom, have already installed roughly 86,000 substations.

5G is to serve as a trigger to spur the development of the IoT industry like drones and self-driving cars based on super connectivity. The B2B market is also evaluated to be launched in earnest.

Protectionist moves have become a big issue. U.S.-Chinese trade wars and trade conflicts between Korea and Japan threaten the growth momentum of the ICT industry.
U.S.-Chinese trade strife serve as a threat to Korea, exporting intermediary goods to China, but Korean-Japanese trade dispute is expected to serve as an opportunity to propel the localization of raw materials, parts and equipment on which Korea heavily depends on Japan.

Korea rose to sixth in the global raw material and parts market in 2017. The Korean raw material and parts industry accounted for 50.2 percent of the national's total exports. As such, Korean-Japanese trade conflict is predicted to spur the localization of imports.

AI is a prevailing trend of late. Full-fledged completion is forecast to be launched on "on-device AI," an AI based on hardware without connectivity with cloud. On-device AI is a starting point of discussing on a next-generation AI.
On-device AI is evaluated to have a more advantage as it comes to processing personalized information than AI connected with servers. Earlier, Samsung Electronics unveiled "Exynos 9820," a mobile AP fitted with inside neural processing unit (NPU). The development of AI is predicted to be accelerated in areas essential for processing personalized information like self-driving and face recognition.

Regulatory reform is expected to be accelerated. In particular, the government has already introduced a regulatory sandbox is a regulatory approach, typically summarized in writing and published, that allows live, time-bound testing of innovations under a regulator's oversight.

In March 2018, five laws were passed. In February 2019, the MSIT issued an exemption to verification and a temporary permit on three cases. A homegrown mobility innovation is forecast to be created in Korea.

Chances are high that an integrated mobility platform beyond ride sharing is forecast to make its debut. Mobility companies are scrambling to develop an integrated platform to connect transportation means from the starting point to destination.

Finland's transport app "Whim" is one of the representative integrated mobility platforms.