New Prime Minister Vows Regulatory Reform, Business-Friendly Environment to Revive Economy
PM Chung is evaluated to be a seasoned businessman-turned politician who is well versed in economic issues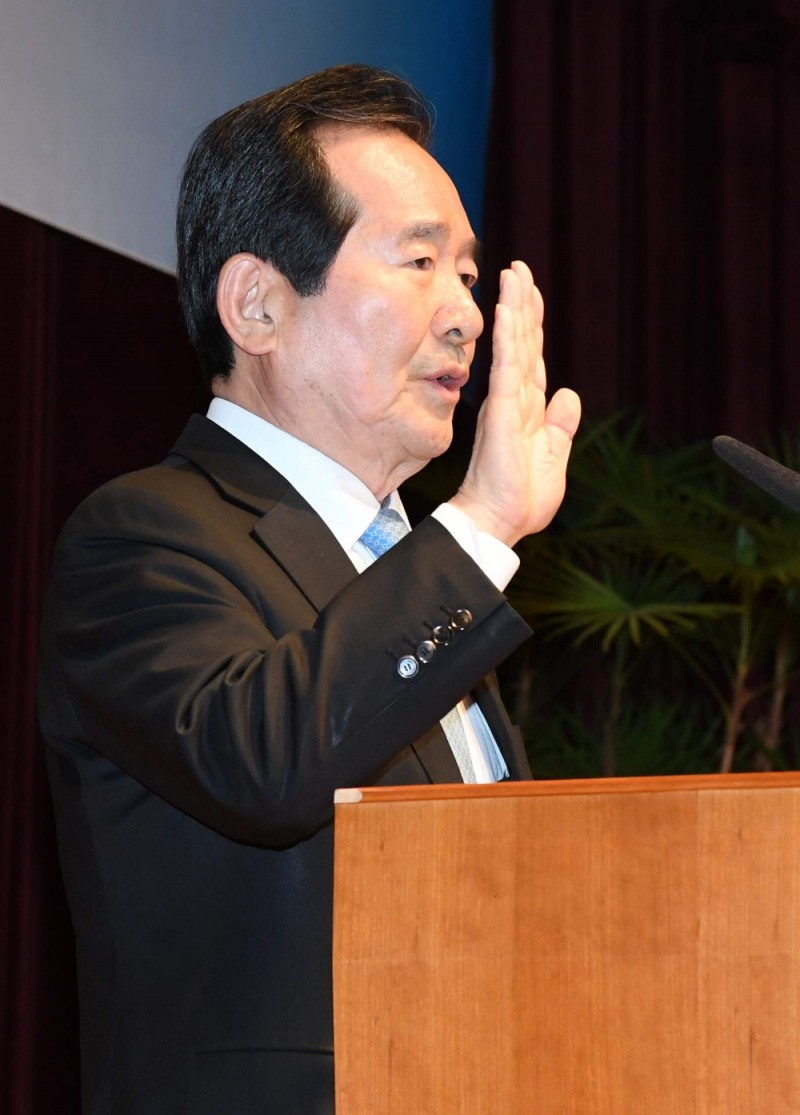 Prime Minister Chung Sye-kyun is sworn in as the nation's 46th prime minister at his inauguration ceremony at Seoul Government Complex on Jan. 14. (Photo: Prime Minister's Office)
Former National Assembly Speaker Chung Sye-kyun took office as the nation's 46th prime minister and the second of President Moon Jae-in's administration on Jan. 14.

At his inauguration at Seoul Government Complex, Prime Minister Chung said, "The power to revive the national economy comes from companies, and the government will boost economic vitality by creating an environment in which companies like to do business."
PM Chung said, "Regulatory reform such as the introduction of an ex post facto regulation regime on new industries will be pursued to reduce uncertainties, and the government will make all-out efforts to boost the spirit of entrepreneurship."

"(We need to) secure sustainable and permanent competitiveness that can go beyond instability of overseas economies," he said.

"The government's all-out efforts to promote innovative growth will be pump-priming for economic vitality." Chung said the government will also ramp up support for SMEs and mom-and-pop establishments.

He is evaluated to be a seasoned businessman-turned politician who is well versed in economic issues. He had been with Ssangyong Business Group for 18 years.
Prime Minister Chung Sye-kyun delivers a speech at a New Year's gathering for those in the broadcasting and telecom industries at 63 Building in Yeouido, Seoul, on Jan. 16. (Photo: NewsWorld)

Chung had stints such as the minister of trade, industry and energy under the late president Roh Moo-hyun administration.
At a parliamentary hearing for the prime minister-nominee, he indicated a priority for high-powered regulatory innovation, saying that he would devote himself to creating an environment in which businessmen like to do business.

The new prime minister promised an integrated society through sincere communication and cooperative politics, saying full-fledged collaboration that goes beyond communication with the National Assembly would be ensured.
He, a six-term lawmaker, is expected to have smooth communication with the parliament since he served as the floor leader and chairman of the ruling party.

Chung is expected to regularize meetings with representatives of parties and people of several walks of life. At the parliamentary hearing, he suggested "Thursday's Club," a Swedish-type tripartite dialogue model among labor, management and government circles.

At a ceremony to present a certificate of appointment to Prime Minister Chung at Cheong Wa Dae before the inauguration, President Moon Jae-in asked the new prime minister to head the Cabinet through cooperative politics and governance.

Prime Minister Chung was quoted as replaying that he would make the most of his experience and expertise to successful lead the second half of the current administration's term.
Chung is predicted to wield more authority than his predecessors. Chung was learned to have asked President Moon to serve as prime minister with more authority, including the ability to recommend cabinet member nominees and the dismissal of cabinet members.

PM Chung said he favored a regime in which the president is charged with diplomacy and national defense while the prime minister is responsible for domestic affairs.

At the parliamentary hearing, he said it is a proper time to revise the Constitution within one year after the upcoming 21st National Assembly is inaugurated.