Chung Chang-wha, head of POSCO China, comes back to Korea to head POSCO's Management Support Headquarters

(from left ) CEO Joo Si-bo of POSCO International,; CEO Han Sung-hee of POSCO E&C,; CEO Jeong Ki-seop of POSCO Energy,; Nam Soo-hee, head of Pohang Steelworks,; and Chung Chang-wha, head of POSCO China, comes back to Korea to head POSCO's Management Support Headquarters.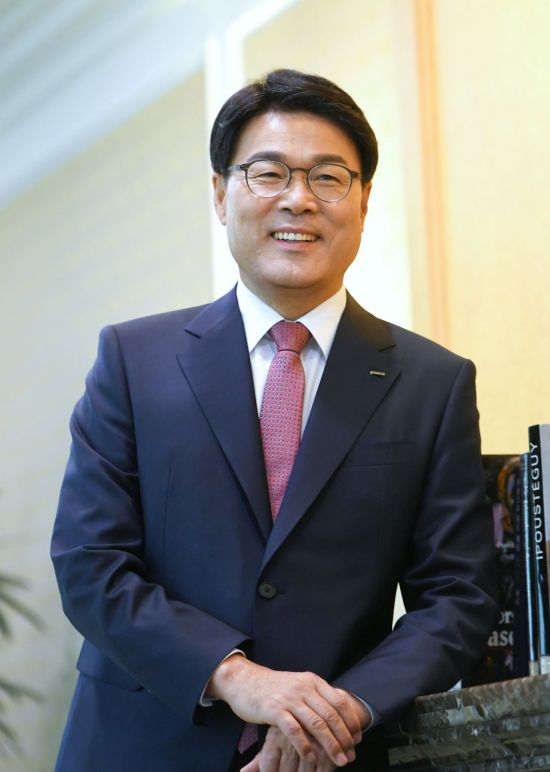 POSCO Group Chaimran Choi Jeong-woo. (Photos: POSCO)
POSCO conducted a huge personnel reshuffle on Dec. 20 involving the promotion of key executives born in the '60s. Joo Si-bo, head of the POSCO Management Support Headquarters, has been named the head of POSCO International; Han Sung-hee, manager, the POSCO Management Support Headquarters, has been appointed to head POSCO E&C; and Jeong Ki-seop, manager of the POSCO Energy Planning Support Headquarters, has been named to run POSCO Energy.

The personnel reshuffle is the second under Chairman Choi Jeong-woo since his inauguration last July. POSCO International's new CEO Joo, came up thru various key positions including manager of POSCO International's Overseas Production Headquarters and head of the Oil and Gas Management Office, among others.

CEO Jeong Ki-seop of POSCO Energy was formerly manager of the Management Office of POSCO Int'l and manager of POSCO Domestic Management Office. He will lead the company to find a new power generation business based on profitability and expand the LNG supply operation so the company can become a leading global integrated energy company.

Chung Chang-hwa, head of POSCO China, has been named head of the POSCO Management Support Headquarters to take an overall charge of personnel, legal affairs, public relations, and information system, among others.

Oh Hyung-soo, head of the Pohang Steel Complex, will take over as head of POSCO China to strengthen the profitable operation of the company in China. Kim Hee, who joined POSCO in 1990 as an engineer, was promoted as senior vice president of a production control and strategy unit, becoming the first female executive in its history.

Starting off with the name Daewoo Corporation in 1967, POSCO International has played a leading role in Korea's economic development through export enlargement. As Daewoo Corporation changed its name to Daewoo Co., Ltd. in 1982, the company started to handle the trade business exclusively.

Separated as an independent corporation with the name Daewoo International Co., Ltd. in 2000, the company mainly operates its business in the fields of international trade, development and management of infrastructure, resource development and so on.

In 2010, the company was incorporated into POSCO Group, gaining solid internal stability. In 2017, through the merge and acquisition of the steel business unit of POSCO P&S, it merged domestic and overseas steel distribution channels of POSCO Group, securing our position as the key subsidiary of POSCO Group. In 2019, it have changed the company name to 'POSCO International,' preparing to take a great leap forward in the future.

Utilizing the international network comprised of more than 80 subsidiaries across the world, POSCO International is establishing value chains in various areas of business including steel, energy, agro-commodities, chemical products, machinery parts, infrastructure, and so on, discovering sustainable business models.

POSCO E&C is a total construction company founded in December 1994, aiming to become a global E&C (engineering & construction) company based on plant engineering technology, know-how and talented human resources accumulated from experience accrued in building the world-renowned top-tier integrated steelworks of POSCO.
POSCO Energy engages in power generation, fuel cell and renewable energy as the energy expert of the POSCO Family.

"We have been responsible for the reliable supply of electricity for the metropolitan area for over four decades since first entering the energy business," according to the company.
"We have also continually taken innovative steps as Korea's largest independent power producer, including the opening of the nation's first off-gas combined cycle power plant and the advancement into the coalfired power generation business."