Exec. Vice Chmn. Chung has been evaluated to have the right stuff to lead a new leadership and concept in the global future mobility sector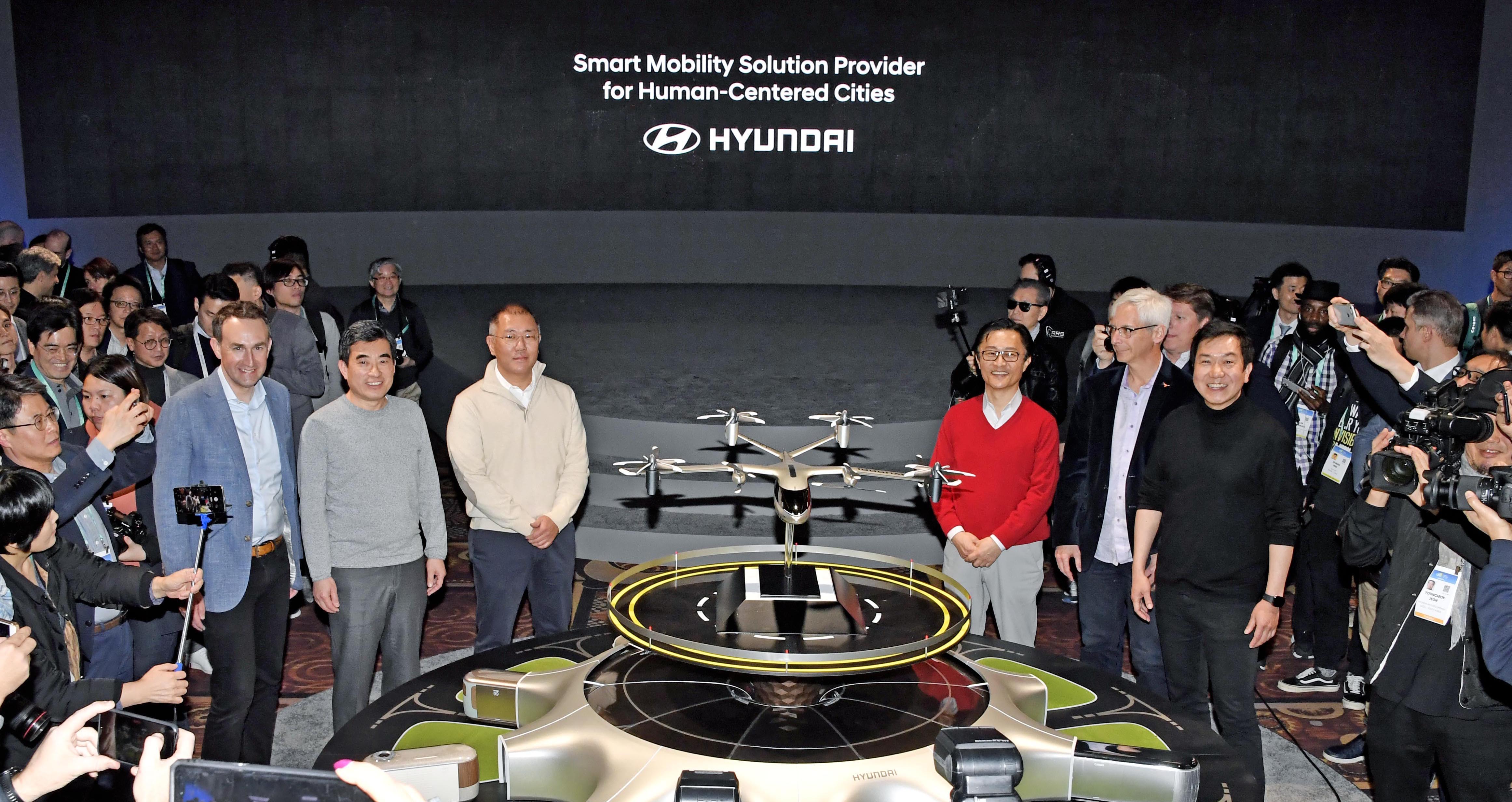 Hyundai Motor Group Executive Vice Chairman Chung Ui-sun unveiled a vision on future mobility on Jan. 6 one day before the opening of CES 2020 in Las Vegas. Executive Vice Chairman Chung, Uber Elevate head Eric Ellison, and other executives of both companies attend the event. Hyundai Motor Group signed an agreement to team up with Uber to develop an urban air mobility business and create "the world's top personal air vehicle." (Photo: Hyundai Motor Group)
The atmosphere of a New Year gathering for Hyundai Motor Group executives and staff members was lighter and participants felt more at ease. No executives sat on the rostrum of the grand auditorium of Hyundai Motor and Kia Motors headquarters in Yangjae-dong, Seoul, on Jan. 2.

Hyundai Motor Group Executive Vice Chairman Chung Ui-sun sat along with staffers and came forward to preside over the meeting, his second such meeting since taking office. He wore a neck-tie since he had to attend a New Year's gathering at the Korea Chamber of Commerce and Industry and said "no problem with a dress code" to make the air more pleasant.
He made it clear to establish a "future car leadership based on horizontal corporate culture."

Executive Vice Chairman Chung said, "A fanciful future has become a reality with the development of technology and network, and this change will be accelerated in the automobile industry." Hyundai Motor Group revealed a plan to plunk down 20 trillion won each year for the next five years for a combined 100 trillion won.
The group plans to pour 10 trillion won each year into future cars for a combined 61 trillion by 2025, he said.

The New Year's gathering served as an opportunity in which Executive Vice Chairman Chung's dream and grit have been revealed vividly. He has been evaluated to have the right stuff to lead a new leadership and concept in the global future mobility sector.

One of innovation sectors selected by Executive Vice Chairman Chung is electrification – electric vehicles, hybrid cars, and hydrogen fuel cell cars. Executive Vice Chairman Chung unveiled a plan to expand electrification line-ups to 44 cars by 2025 – 13 hybrid electric vehicles, six plug-in hybrids (HIEV), 23 EVs, and two fuel cell electric vehicles (FCEV).
Hyundai Motor and Kia Motors have released and sold 24 electrification cars. Exclusive electric vehicles, to make its debut in early 2021, will rise to 23 kinds by 2025.

Hyundai Motor Group, boasting the world's primer hydrogen fuel car technology, will jumpstart in selling both FECVs and fuel cell systems, and the group will lead the expansion of the hydrogen industry ecosystem through collaboration for building related infrastructure.

Hyundai Motor Group aims to sell 200,000 fuel cell system units in Korea and abroad and establish a 500,000-unit FCEV production line-up in Korea by 2030.

Hyundai Motor Group plans to commercialize a full-fledged self-driving car model by 2023, Executive Vice Chairman Chung said. The group signed a $4 billion deal to set a joint-venture with APTIV of the United States to develop a self-driving platform by 2023 and have the self-driving car hit the streets in some areas in 2023.

The group plans to establish a facility to mass produce a self-driving car by 2024, and Hyundai Motor and Kia Motors will sell the self-driving car platforms to other automakers.
Executive Vice Chairman Chung also revealed a plan to expand the mobility service business on a gradual basis as one of the group's future car investment sectors. Chung also called for organizational reform corresponding to the group's future car leadership.

Hyundai Motor showcased its "personal air vehicle (PAV)" at the CES 2020 trade show on Jan. 8. Hyundai Motor Group Executive Vice Chairman Eui-sun Chung revealed a plan to commercialize the "S-A1" before 2028.
A full-sized concept model of the S-A1 was highlighted at Hyundai Motor's CES booth.

Hyundai Motor Group signed an agreement to team up with Uber to develop an urban air mobility business and create "the world's top personal air vehicle" at CES 2020 on Jan. 7.
"Based on the collaboration with Uber, Hyundai Motor will actively seek to develop new technologies and businesses for humanity's freedom of transportation," Chung said upon the deal, according to a press release.