Chmn. Yoon announces management buzzword 'LEAD 2020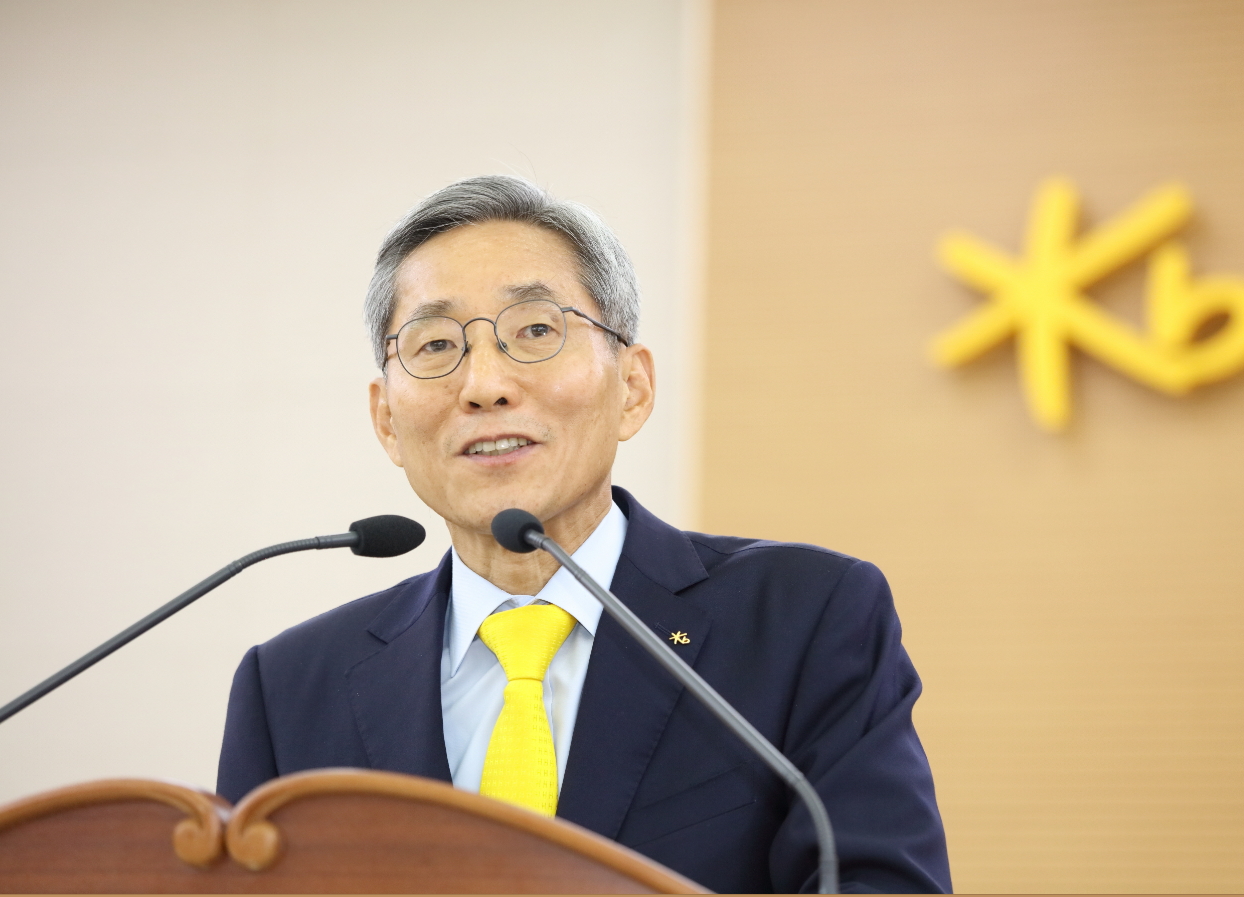 Chairman Yoon Jong-kyoo of KB Financial Group. (Photos: KB Financial Group)
In his New Year's speech on Jan. 2, Chairman Yoon Jong-kyoo of KB Financial Group announced L.E.A.D. as the new strategy for the Group.

He said the new strategy stresses expansion, an active and creative KB, and digital innovation that is customer centric. He called on every officer and staff of the group to collect their wisdom and capacity to overcome crises. He unveiled a four-point strategy.

KB Financial Group, a major banking group, will be on the lookout for more mergers and acquisitions this year to strengthen its business portfolio, its top executive said Thursday, just a week after its flagship KB Kookmin Bank decided to acquire Cambodia's largest microfinance company.

"We will pursue M&As in a bold and swift manner when the opportunity comes," Yoon Jong-kyoo, chairman and CEO of KB Financial Group Inc., said in a new year message.
The South Korean banking giant has been racing to expand its business portfolio and secure a new growth momentum amid declining margins due to record low interest rates and tough competition in the nearly saturated domestic market.

Last Thursday, KB Kookmin Bank, the group's flagship unit, decided to take over a 70 percent stake in Prasac Microfinance Institution Ltd. in Cambodia for $603 million. KB plans to acquire the remaining 30 percent stake in Prasac within the next two years.
In 2018, KB invested 114 billion won to gain a 22 percent stake in Indonesia's Bank Bukopin in a move to enter the Southeast Asian microfinance markets.

KB Financial Group saw its net profit fall 1.4 percent on-year to 940.3 billion won (US$813.5 million) in the third quarter.

KB Financial's net interest margin - a key barometer of profitability - decreased 0.02 percentage point from three months earlier to 1.94 percent at the end of September.

KB Financial Group has decided to invest in Singapore-based car-hailing service Grab through its venture capital subsidiary, the company said Jan. 3.
KB has been looking to find opportunities to invest in emerging businesses abroad to deal with Korea's saturated financial services market.
In a bid to invest in promising firms, the group established the KB Global Platform fund worth 220 billion won ($190.3 million) last month.

KB solely financed the 220 billion won via its subsidiaries, including KB Kookmin Bank, Card and Capital, without external investors to establish the fund. KB Investment, the group's venture capital unit, will be in charge of the fund's management.

Due to related laws, KB said 40 percent of the fund is expected to be invested in domestic startups. "KB has been seeking new growth engines at home and abroad," said a KB Financial Group official.

"The group will aggressively invest in not only the nation's startups but also promising firms abroad. KB's move will incubate promising startups in Korea while creating jobs for the younger generations.
It will diversify the group's investment portfolio as well." The official added the fund will also contribute to assisting Korean companies' entry to overseas markets.

Grab, which is often dubbed the Uber of Southeast Asia, is a transportation network company founded in Malaysia and currently based in Singapore.
It now offers food delivery and digital payments services via mobile app Grab Pay.

Operating its services in Singapore, Malaysia, Indonesia, the Philippines, Vietnam, Thailand, Myanmar, and Cambodia, its valuation is estimated at over $10 billion.
It opened its office and R&D center in the U.S. in 2016, seeking entry into the North American market.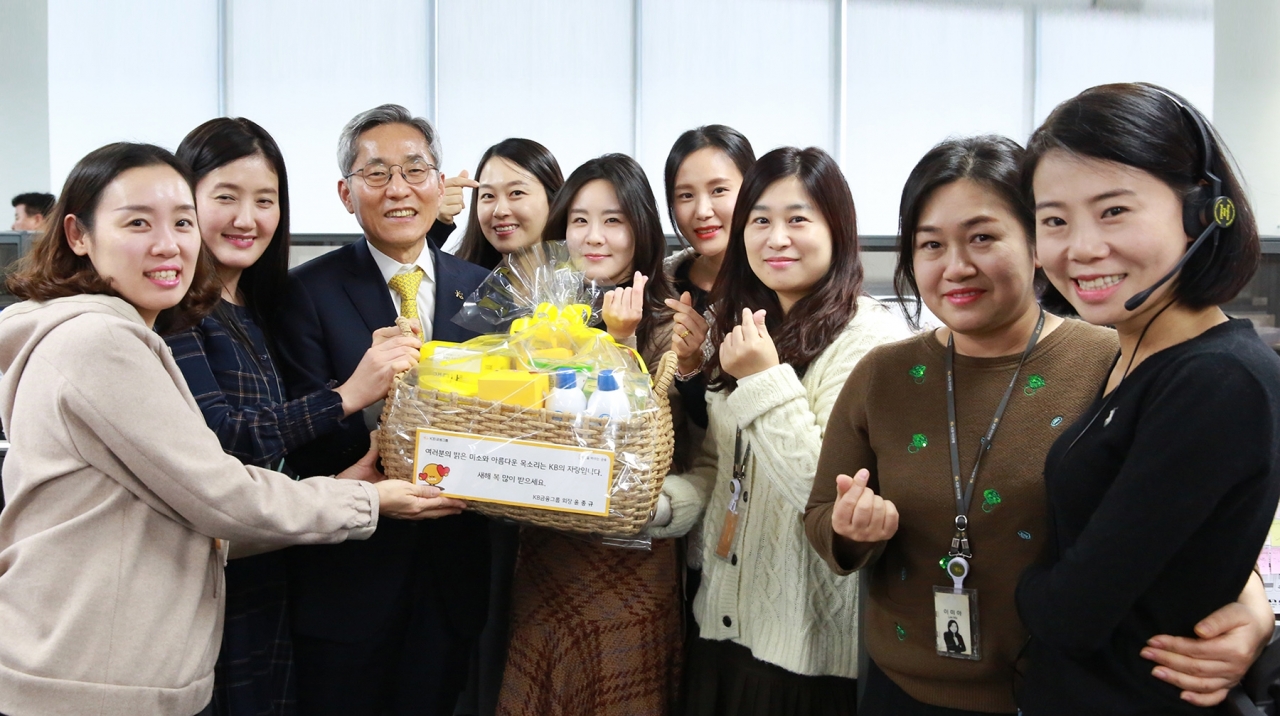 Chairman Yoon Jong-kyoo of KB Financial Group poses with staff members as he makes an inspection tour to the call center of KB Bank on Jan. 2.