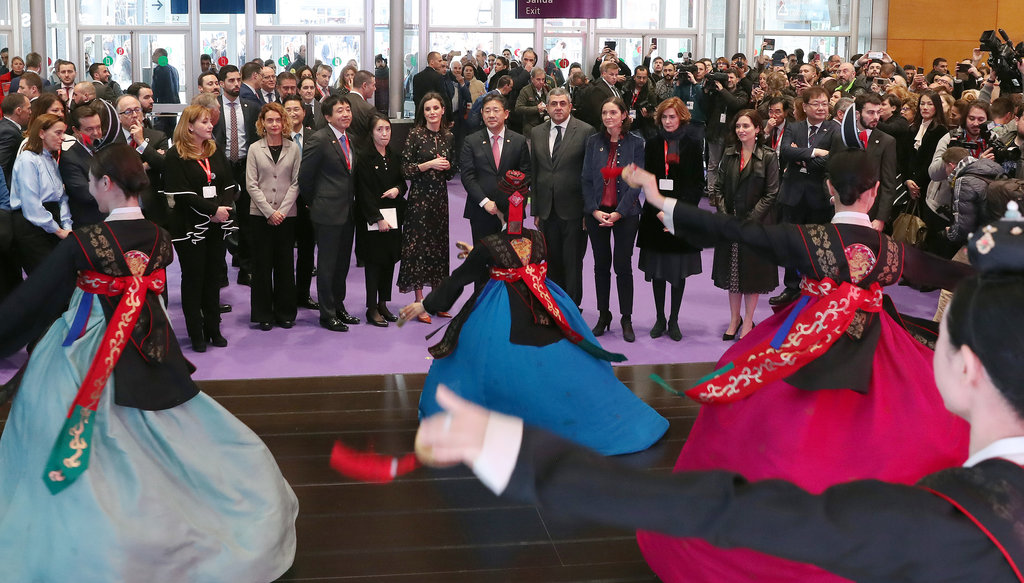 Minister of Culture, Sports and Tourism Park Yang-woo and President Ahn Young-bae of Korea Tourism Organization watch traditional Korean performance "Hyangbalmu" together Spanish Queen Leticia Ortiz Rocasolano who visited the Korean Pavilion during the FITUR, at the IFEMA Center in Madrid, Spain on Jan. 22. (Photo: MCST)
The Ministry of Culture, Sports and Tourism (MCST) and Korea Tourism Organization (KTO) held "Korea Night" reception for those from travel agencies and tourism-related industries to attract inbound tourists at the "FITUR International Tourism Expo."
Minister of Culture, Sports and Tourism Park Yang-woo explained Korean culture and tourism to 10 correspondents active in Spain at Intercontinental Hotel in Madrid, Spain on January 23.

"Since Korea joined the Ibero America Community in 2016 as an observer country, Korea has been endeavoring to promote cooperation with Ibero America," Park said.
"We hope that the attractiveness of Korean tourism will be widely spread not only in Spain but in Ibero America. We look forward to expanding tourism exchange between Korea and Ibero America in the future."

"Korea and Ibero America have been forging friendly partnership based on cultural similarities, even though they are geographically far apart," Park added.
"In particular, as the Korean Cultural Wave has been fueling people's interest in Korean culture and tourism in Ibero America, two cultures will be exchanged between Korea and Ibero America, making Korean people more familiar with Ibero American culture in the future."

In a related development, the Seoul Metropolitan Government and the Seoul Tourism Organization (CEO Lee Jae-sung) participated in the "FITUR International Tourism Expo" that ran at the IFEMA Center in Madrid, Spain from Jan. 22 to 26.

The FITUR in Spain is one of the world's top tourist fairs along with the London World Travel Fair and the Berlin International Tourism Fair.
The FITUR is the global meeting point for tourism professionals and the leading trade fair for inbound and outbound markets in Latin America.
In 2019, FITUR broke all previous participation records with 10,487 companies from 165 countries and regions, 142,642 trade visitors and 110,848 visitors from the general public.

In particular, this year marks the 70th anniversary of Korea-Spanish diplomacy. Korea participated in the event as a partner country. Korea is currently the third-largest issuing market in Asia for Spain.

Korea is an attractive and safe destination, with modern and high quality infrastructure as well as a good public transport network.

The Seoul Tourism Organization publicized Seoul, the capital of Korea and the center of Hallyu, also known as Korea's cultural wave, by running the Seoul PR Center, mainly focusing on contents utilizing global K-POP stars.
In particular in Spain, where K-POP is quite popular, the Seoul PR Center garnered much attention from visitors by putting up cover dance performances by a Madrid dance team and opening the K-POP Photo Zone.

In addition to contents related to Hallyu, it also offered experience-based or do-it-yourself programs that showed various attractions of Seoul tourism to individual European tourists.
The programs included "My Seoul Curating" in which participants created Seoul trip albums by picking up cards about hot spots in Seoul, "My Seoul Coloring" to paint Seoul and "Cafeteria de Seoul" where participants enjoyed Korean snacks and foods among others.

The "My Seoul Counseling" Program for buyers and visitors who want to get more information about Seoul tourism ran from Jan. 22 to 24, the B2B period.

In addition, the Seoul Tourism Organization held a variety of events to give booth visitors various gifts.
The events include "Stamp Rally Event" where participants completed missions given to them by participating in experience-based programs in the booth, "SNS Subscription Event" to promote subscriptions to SNS channels about Seoul tourism and "Roulette Event" and "Quiz Event" held twice a day. Participants and winners received various Seoul souvenirs including K-Pop star CDs and posters.
The Seoul Tourism Organization actively promoted the attraction of Seoul as a destination for tourists by running ads in the entire venue during the event period and had a discussion about tourism cooperation between Seoul and Madrid with the Ministry of Tourism of Madrid and the Tourist Office of Spain.

"Spain ranks first in terms of tourism competitiveness in 2019 and is one of the most influential countries in the tourism industry in the world," said Hong Jae-sun, head of the Global Marketing Team at the Seoul Tourism Organization. "The FITUR served as a golden opportunity to inform local tourism experts of Seoul's attractiveness."