President Han stresses need for adding LNG infrastructure/gas power generation segments to its core business portfolio and nurturing convergence environmental facility projects into future growth engines in conjunction with POSCO O&M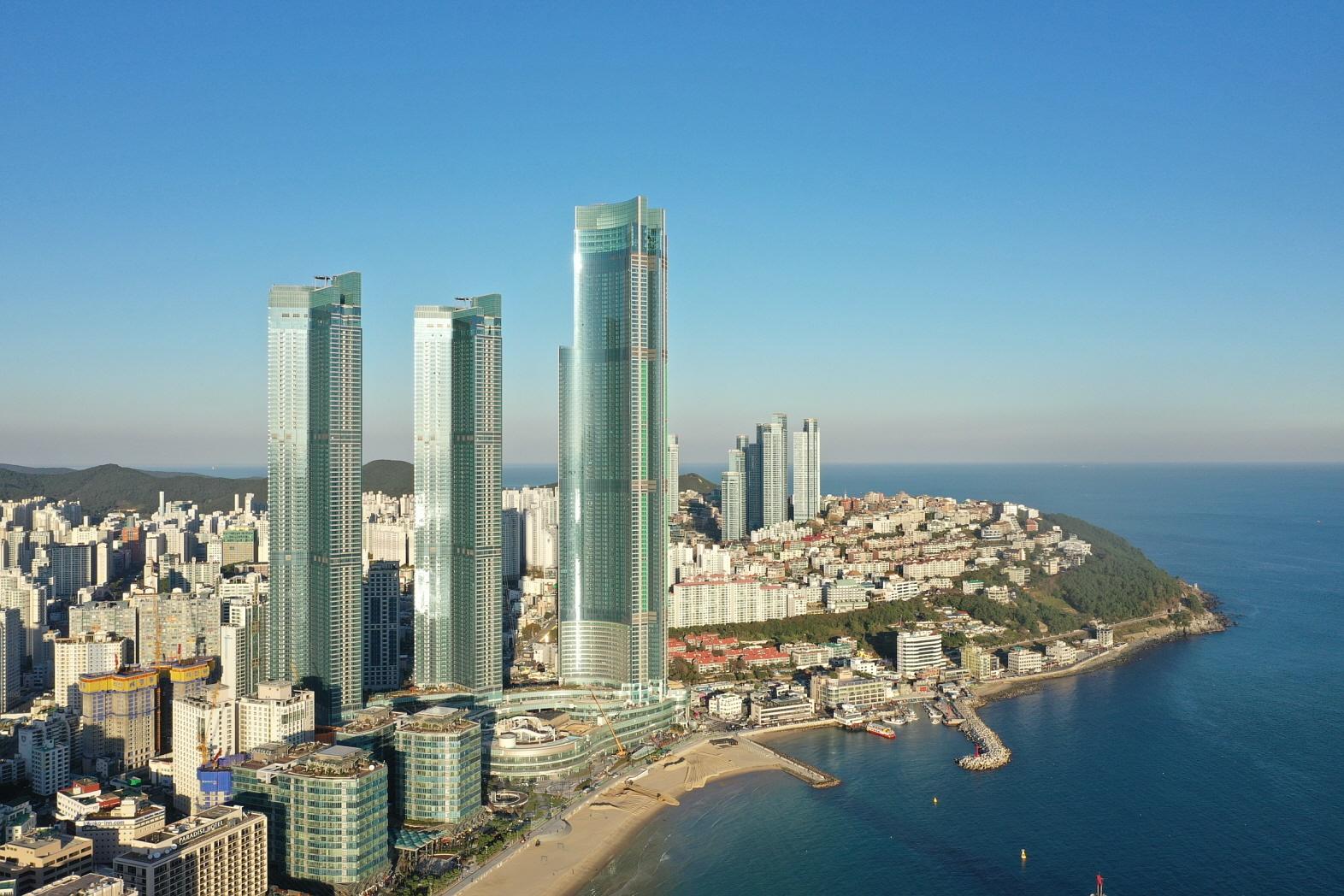 A panoramic view of the landmark "Haeundae LCT The Sharp" in Busan, the nation's tallest multi-purpose residence building at 85 floors, built by POSCO E&C. (Photo: POSCO E&C)
POSCO E&C had made tremendous achievements last year since it was founded 25 years ago. The contractor is accelerating efforts to lay the groundwork for continued growth.

POSCO E&C successfully distributed an office building complex in Songdo International Business District in Incheon and launched the long-standing Shinansan Line and Seobu Inland Expressway projects.
By dedicating the landmark "Haeundae LCT The Sharp" in Busan, the nation's tallest multi-purpose residence building at 85 floors, POSCO E&C became the contractor to build the biggest number of high-rise buildings with 50 floors or more.

If Choengna City Tower in Incheon, whose construction was launched last year, is completed in 2023 as planned, it will be the second tallest building in Korea after Lotte World Tower in Jamsil, Seoul.

Lotte E&C will be the contractor to build the nation's second to fifth tallest skyscrapers across the nation, not including Lotte World Tower.
Thanks to improving financial soundness, the contractor saw its credit rating outlook improve, and construction execution capability evaluation rose to sixth, one notch upward.

In his new year's message, new POSCO E&C President said 2020 will be the first year in which the contractor's business portfolio and organizational capabilities will be rebuilt.
He stressed the reinventing of work processes tailored to specific site needs in advance, and the shoring up of fundamentals to make management substantial.

He also emphasized the need to add LNG infrastructure/gas power generation segments to its core business portfolio, and nurture convergence environmental facility projects into future growth engines in conjunction with POSCO O&M, which has been incorporated as the contractor's subsidiary.

President Han declared that of rebuilding is getting "smart," adding that the day has come in which companies need to turn to "smartfication" for survival. He also brought home the significance of safety.

POSCO's top management priority is the reorganizing of its business portfolio to focus on eco-friendly, high-profit businesses.

The contractor whose conventional focus turned on steel and coal-fired power plant businesses, plans to nurture LNG infrastructure/gas power generation segments into global core products and prioritize into high-profit, large-scale BOT projects and development projects.
POSCO E&C plans to expand the O&M segment on top of the EPC sector in cooperation with POSCO O&M, which was established as a property management subsidiary of the contractor and boost convergence environment facility sector.

POSCO E&C plans to ramp up brand differentiation and competitiveness. To this end, the contractor intends to further develop smart contracture technology designed to enhance quality and safety while reducing construction period to shore up its leadership.
The contractor plans to develop eco-friendly solutions while making the most of the strengths of POSCO, the top producer of steel and construction materials.

POSCO E&C will open "The Sharp Gallery," a model house designed to publicize the high-end apartment brand, in Gangnam area this year. One of POSCO E&C's 2020 management tasks is improving the profitability of overseas businesses.

The contractor devotes itself to verifying the feasibility and ensuring risk management of overseas businesses, prone to incur huge losses.
POSCO E&C plans to focus on areas in which the contractor can do well out of orders, placed by companies and public entities with which POSCO E&C has teamed with and worked together.

POSCO E&C aims to realize POSCO Group's management tenet "corporate citizenship developing together with POSCO" in the construction sector.
To this end, POSCO E&C makes joint efforts to develop smart construction technology and promote shared growth with its cooperative companies while fulfilling its social responsibilities by reorganizing its business structure in the perspective of environment, social responsibility and governance.