KITA Inaugurates Trade Support Center, Nation's 1st Think Tank Specializing in Trade
Chmn. Kim says vision of the Trade Support Center is establishing system of predicting and preventing trade risks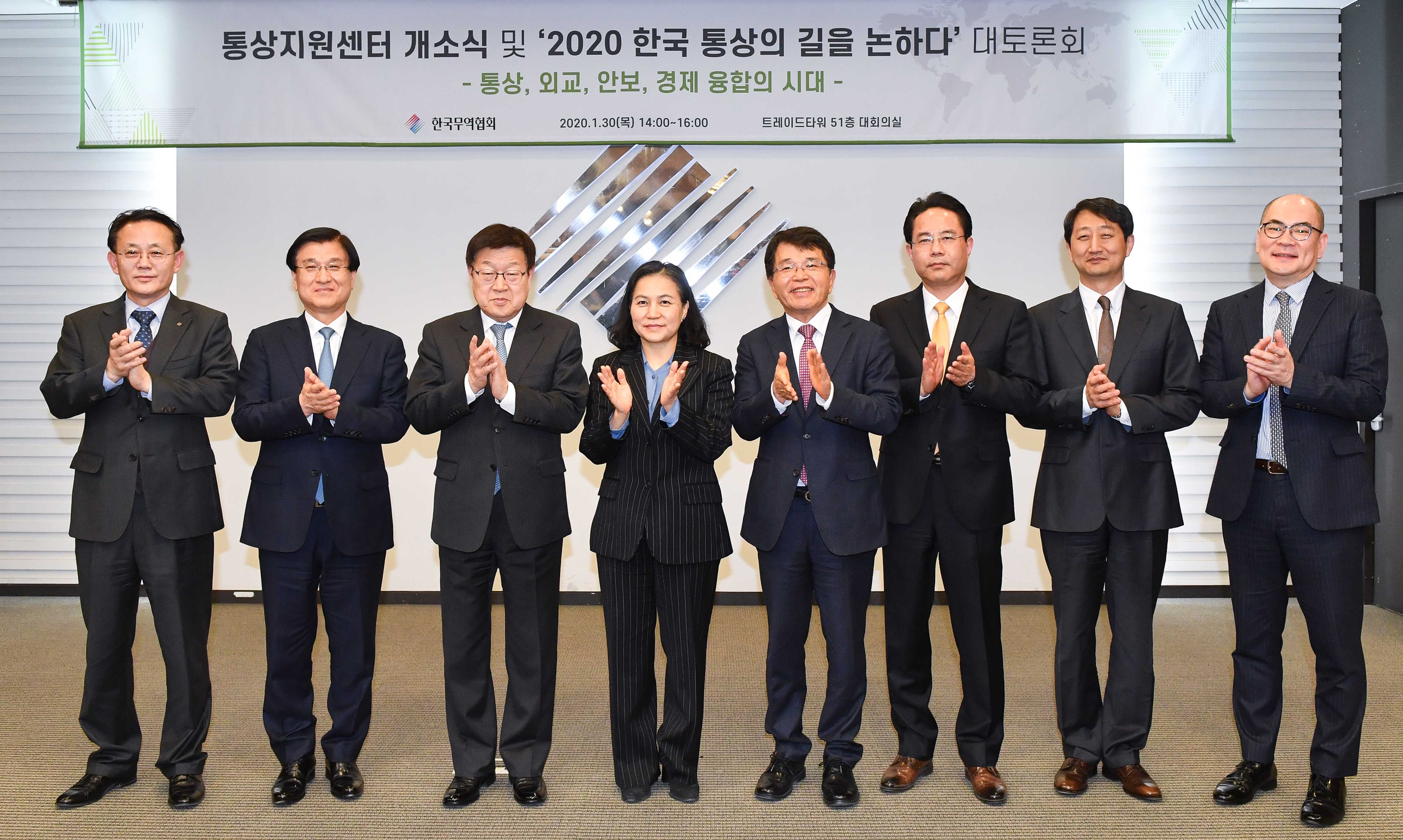 KITA Chairman Kim Young-ju (third from left), Minister for Trade Yoo Myung-hee (fourth from left) of the MOTIE and KITA Vice Chairman Han Jin-hyun (fifth from left) among other VIPs give a round of applause during the opening ceremony of the Trade Support Center held at Trade Tower on Jan. 30. (Photo: KITA)
Korea International Trade Association (KITA) opened the Trade Support Center, the nation's first think tank specializing in trade, at the World Trade Tower in Samseong-dong, Seoul, on Jan. 30.
The center is intended for the government and private sector to make joint efforts to cope with the rapidly changing trade environment, such as U.S.-Chinese trade conflicts and Brexit.

The Ministry of Trade, Industry and Energy (MOTIE) and KITA held a ceremony to open the Trade Support Center. Among about 150 people on hand at the event were Minister for Trade Yoo Myung-hee of the MOTIE, KITA Chairman Kim Young-ju, Park Tae-ho with the International Trade Research Institute of law firm Lee & Ko, Prof. Lee Hae-min of Seoul National University Graduate School of International Studies, KITA Vice Chairman Han Jin-hyun, and Vice President Lee Sung-woong of Korea IBM.

The Trade Support Center is responsible for in-depth analysis and research on the pending trade issues, data base buildup and provision of information, outreach to the private sector in Korea and abroad, the hosting of joint seminars, and participation in conferences in cooperation with the World Trade Organization (WTO) and other major international institutions.

Minister for Trade Yoo said, "The government will provide support so that companies can carry out best business activities on the global stage by expanding economic cooperation base with emerging markets, coping with global digital trade, and proactively pursuing trade policies with a focus on the contribution to the restoring of WTO multi-lateral regimes."

KITA Chairman Kim said the vision of the Trade Support Center is designed to establish a system of predicting and preventing trade risks, departing from the past method of ex-post factor consequence management of trade issues.

The center will implement a variety of projects, such as the hosting of international events to ramp up Korea's trading standing to the outside, the undertaking of joint studies with foreign think tanks, and internal in-depth study on trade, education and consulting services.

Trade experts had in-depth discussion on Korea's trade path in 2020, which followed the opening session of the Trade Support Center. They spoke of the evaluations of the initial deal on U.S.-Chinese trade conflicts and future outlooks, Korea's roles amid the weakening of WTO's functions, and digital trade and Korean companies' responses.

Guests from trade business, government, and academic circles participated in the discussion and showed a keen interest in the future global trade environment.

Prof. Lee of Seoul National University's Graduate School of International Studies delivered a keynote speech on the trade environment surrounding Korea in 2020 and response strategies at a discourse that followed the opening session of the Trade Support Center.
Prof. Lee predicted that U.S.-China conflicts will persist amid the United States' unilateral trade protectionist moves and China's state capitalism.
Korea will have to proactively address trade environment changes such as Korean companies' reviewing of their export strategies in the wake of digital trade, the revision of WTO subsidies pact and the Brexit, Lee added.

Prof. Ahn Duk-geun of Seoul National University said Korea will have to proactively participate in talks on the reforming of the WTO, being discussed by a trilateral regime of the United States, EU and Japan.

President Chun Byung-suh of the China Economy and Finance Research Institute said the initial U.S.-Chinese trade deal, inked recently, amounted to agreeing to just stop-gap policies complying with mutual political interests.

Prof. Chung said the trade war is predicted to be followed by technology and finance wars, so Korea needs to watch China's investment environment changes and explore new business models designed to maintain technology gaps with China, he said.

KITA Executive Vice President Shin Seung-gwan, who was appointed to be president of the Trade Support Center, said the center will offer close services that help each company establish companywide trade strategies amid the complicated trade environment.