FSC Vows to Tackle COVID-19 Outbreak by Uniting with 5 Financial Holding Companies
Eun Seong-soo, chairman of FSC, joins forces with chairmen of Korea's 5 major financial holding companies in tackling COVID-19 fiasco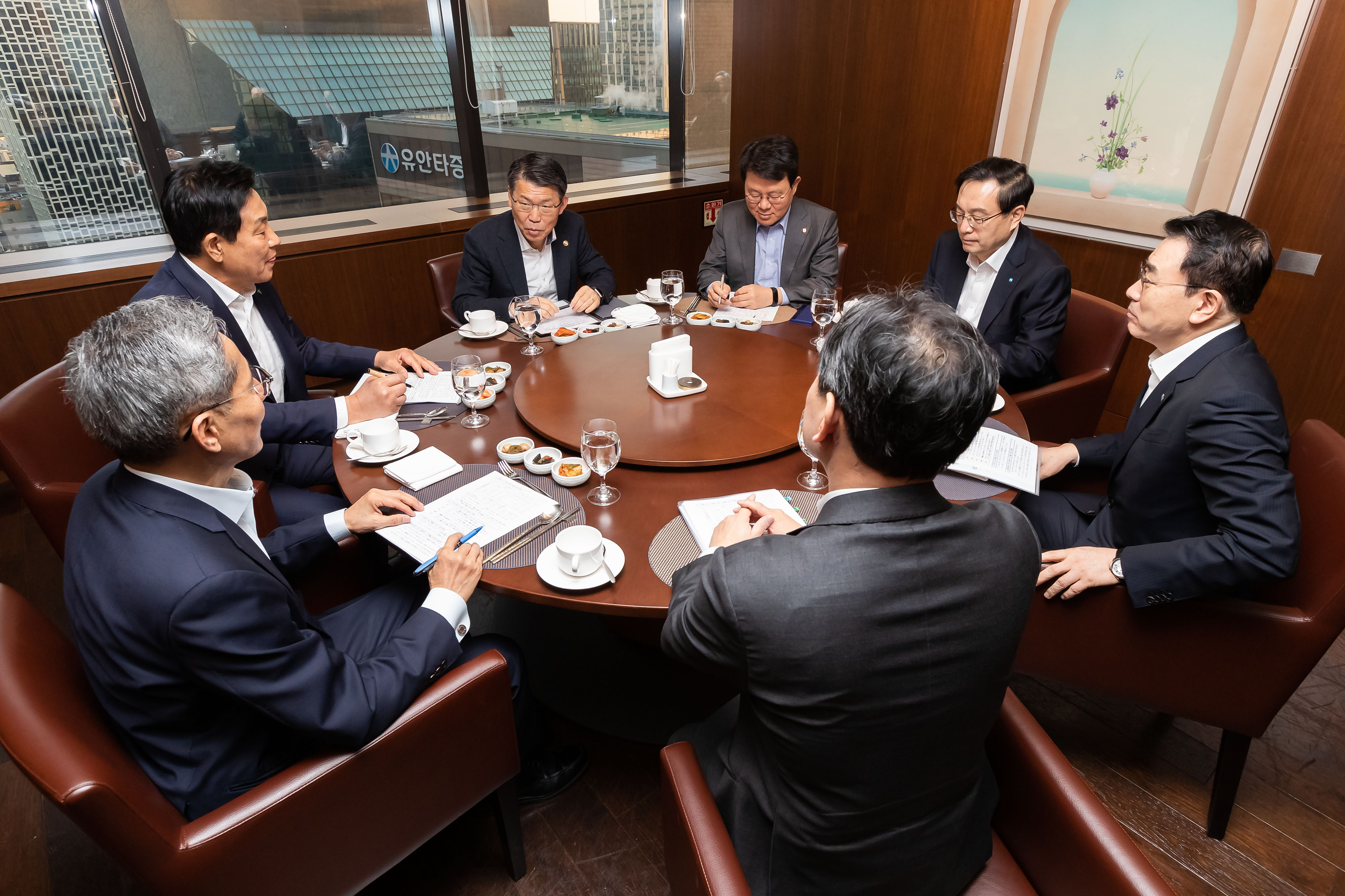 Eun Seong-soo (center), chairman of FSC, has a breakfast meeting on giving support to those who suffered damage due to the spread of the novel coronavirus at the Banking Center in Jung-gu, Seoul, on March 2. In attendance were Cho Yong-byung, chairman of the Shinhan Financial Group, Yoon Jong-kyoo, chairman of the KB Financial Group, Kim Jung-tae, chairman of the Hana Financial Group, Sohn Tae-seung, chairman of the Woori Financial Group and Kim Gwang-soo, chairman of the NH NongHyup Financial Group. (Photo: FSC)
Eun Seong-soo, chairman of the regulatory Financial Supervisory Commission held a breakfast meeting with the chairmen of Korea's five major financial holding companies to discuss the COVID-19 crisis on Mar. 2. All the participants agreed to actively come up with solutions.

In particular, they resolved to take more active measures, such as automatically extending loan maturity via "non-face-to-face" methods in the hardest-hit area, Daegu-Gyeongbuk.

The chairmen of the financial holding companies said that during this time of crisis, the five largest financial holding companies will be devoted to helping people and companies overcome their difficulties.

"We will support the whole nation's efforts to cope with damages from the COVID-19 outbreak by providing low-interest-rate loans to SMEs and small business owners and donating preventive kits to the marginalized," said Yoon Jong-kyoo, chairman of the KB Financial Group.

"The Shinhan Financial Group is pursuing 'heartwarming finance' to fulfill its role as a responsible corporate citizen," said Chairman Cho Yong-byung of the Shinhan Financial Group. "We will seek practical measures to give a helping hand to companies and customers who suffered damage from the spread of the epidemic."

Kim Jung-tae, chairman of the Hana Financial Group, introduced the group's mission of Growing Together and Sharing Happiness.

"The Hana Financial Group will take the initiative in reaching out to individuals, companies, and regions in need like various organizations and medical staff putting their utmost efforts at their positions," he said.

"Based on our nationwide business network, the NH NongHyup Financial Group will place our top priority in local region-friendly financial support for farmers and small business owners," said Chairman Kim Gwang-soo of the NH NongHyup Financial Group.
"We will carry out timely social contribution activities to help farmers faced with difficulties due to the stagnant distribution and falling prices of farming products and foodstuffs."

Chairman Sohn Tae-seung, chairman of the Woori Financial Group emphasized that the company will do its best to provide support to all places where financial services are needed, such as the provision of stable management funds, a reduction of fees such as fees for smart and internet banking services, the deferment of card billing, support for recovery of payments for exported goods, and a good lessor movement.

Eun Seong-soo, chairman of the regulatory Financial Supervisory Commission, thanked the financial groups for their aggressive funding plans, such as extending loan maturity and supplying special loans to small- and medium-sized business owners.

Banks, including those of the five major financial holding companies, drew up a plan to supply about 3.2 trillion won in new loans.

Chairman Eun also asked them to set an example by going to bank branches to make sure funds are properly supplied to those who need them.

"CEOs of financial companies have to monitor financial support records on their own every day," Chairman Eun added. "They also need to give pep talks to those working hard for customers at branches."

Also, Chairman Eun asked CEOs of financial companies not to forget to actively publicize relevant contents so that troubled companies will be able to use such support programs. "Branch employees should understand difficult situations of those who visit and call them,"
Chairman Eun said. "Internal training and education need to be provided to bank employees so that they will be able to serve customers more kindly and professionally."

Chairman Eun also asked them to put into practice win-win growth with local communities and business partners in more various and creative ways.