Incheon Free Economic Zone Authority to Offer IoT Test Field for Promising Companies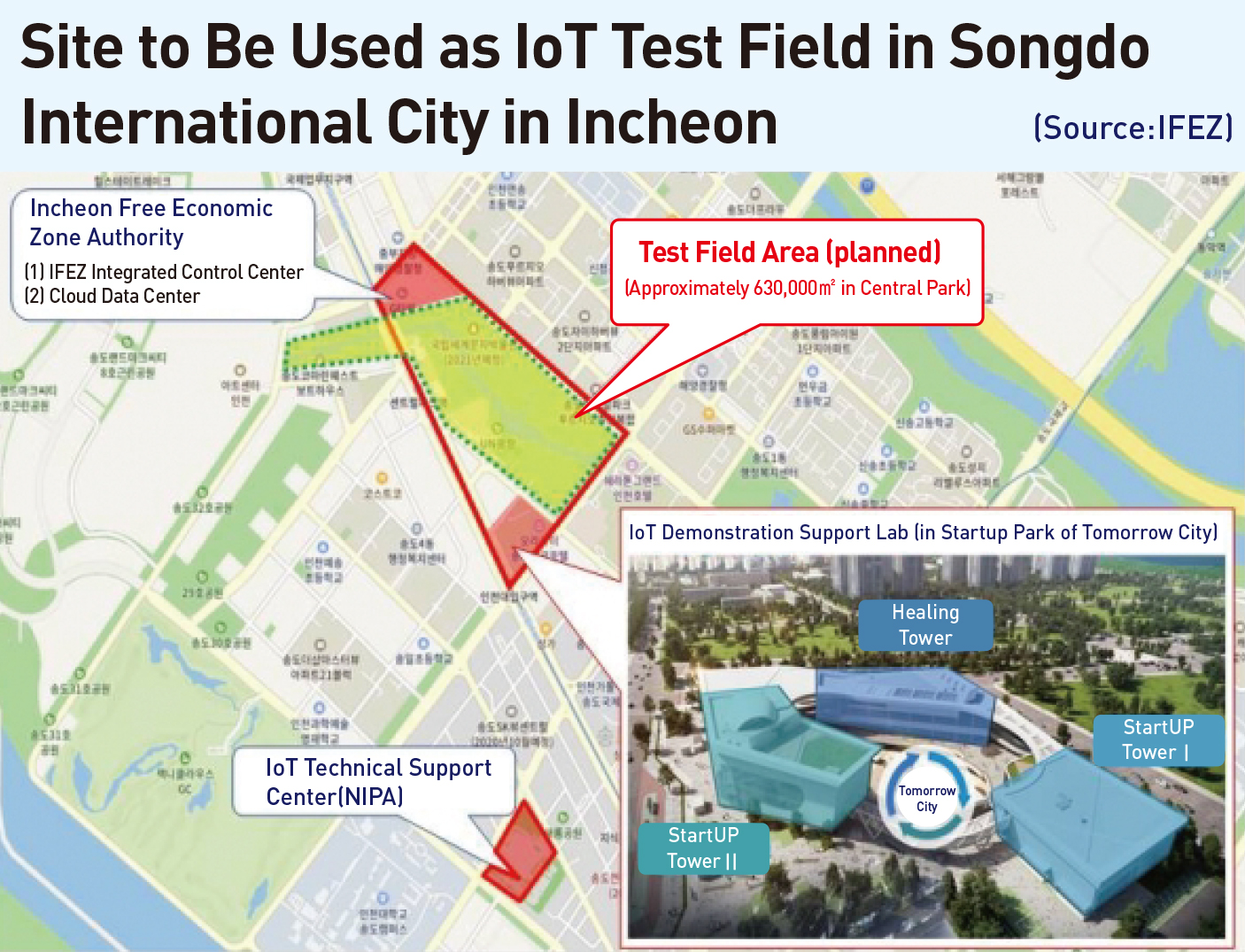 The Incheon Free Economic Zone Authority, the National IT Promotion Agency and Incheon Techno Park (ITP) announced on March 10 that they signed a business agreement on the creation of an internet of things (IoT) test field where promising companies will be able to demonstrate new IoT technology and services in connection with the "Startup, Poom" Project.

The IoT Test Field Project is part of the Ministry of Science and ICT's plan to promote new growth engine items in the IoT sector.
It aims to provide demonstration opportunities for enterprises by securing and providing physical places that are difficult for small and medium-sized ventures and startups to access, and collecting resources for demonstrations and running IoT demonstration support labs.

These organizations agreed to take the initiative in giving support to enterprises in developing IoT services and sharpening their industrial competitiveness under this business agreement.
In particular, they will support enterprises with physical places and resources and costs for demonstrations so that they will be able to remedy problems that can stem from the actual use of IoT products and services by means of the IoT Test Field Project.

Indeed, in a process to commercialize new products and services, it is important for startups to identify unexpected problems in the real field and to feed back data from demonstrations.

Accordingly, these organizations will be able to use some roads in Central Park (about 630,000 square meters) of Songdo International City, building in Tomorrow City and new port areas in the Incheon Free Economic Zone as IoT test fields by the end of the year.
In particular, a demonstration support lab will open based on the smart city platform in Startup Park and will run in conjunction with a big data platform based on the smart city.

In the meantime, Incheon Free Economic Zone Authority will put a spur to attracting high-tech parts and material industry, a core business of the 4th Industrial Revolution.
The Incheon Free Economic Zone Authority announced on March 5 that it plans to intensively attract companies and research facilities in the high-tech parts and material industry this year.

The Incheon Free Economic Zone Authority is planning to rev up an industry-academia-research cluster with attracting the Aekyung Group's General Institute of Technology (tentative name) into the Advanced Industrial Cluster of Songdo International City in January as strong momentum. Ground will be broken for the institute next year and the institute will be completed in the second half of 2022.

The institute will be built on land of 28,000 square meters. The institute building will have a total building floor area of 43,000 square meters.
The edifice will be used by about 400 researchers in charge of researching and developing basic, fundamental, and future technologies on high-tech and eco-friendly materials and bio-technology.

The Incheon Free Economic Zone Authority plans to attract global automation companies into the Urban High-Tech Industrial Complex in Incheon Hi-Tech Park (IHP) in the Cheongna District.
The company plans to promote automation technological independence such as the domestic development and production of automation equipment and help small and medium-sized enterprises (SMEs) in the old downtown increase their competitiveness by attracting corporate headquarters and manufacturing and R&D centers.

The Incheon Free Economic Zone Authority actively pursues "untact marketing" to attract investment without directly meeting investors to help stop the spread of the novel coronavirus worldwide, while promoting investment attraction activities.

In this situation, the authority continues to provide investment counseling and prevent network disconnection through continuous phone calls and e-mail communication with potential investors.
It will implement measures such as having video consultation meetings with potential investors, sending investment attraction presentation materials, providing real-time consultation using computer messengers and signing contracts scheduled for this year in advance.