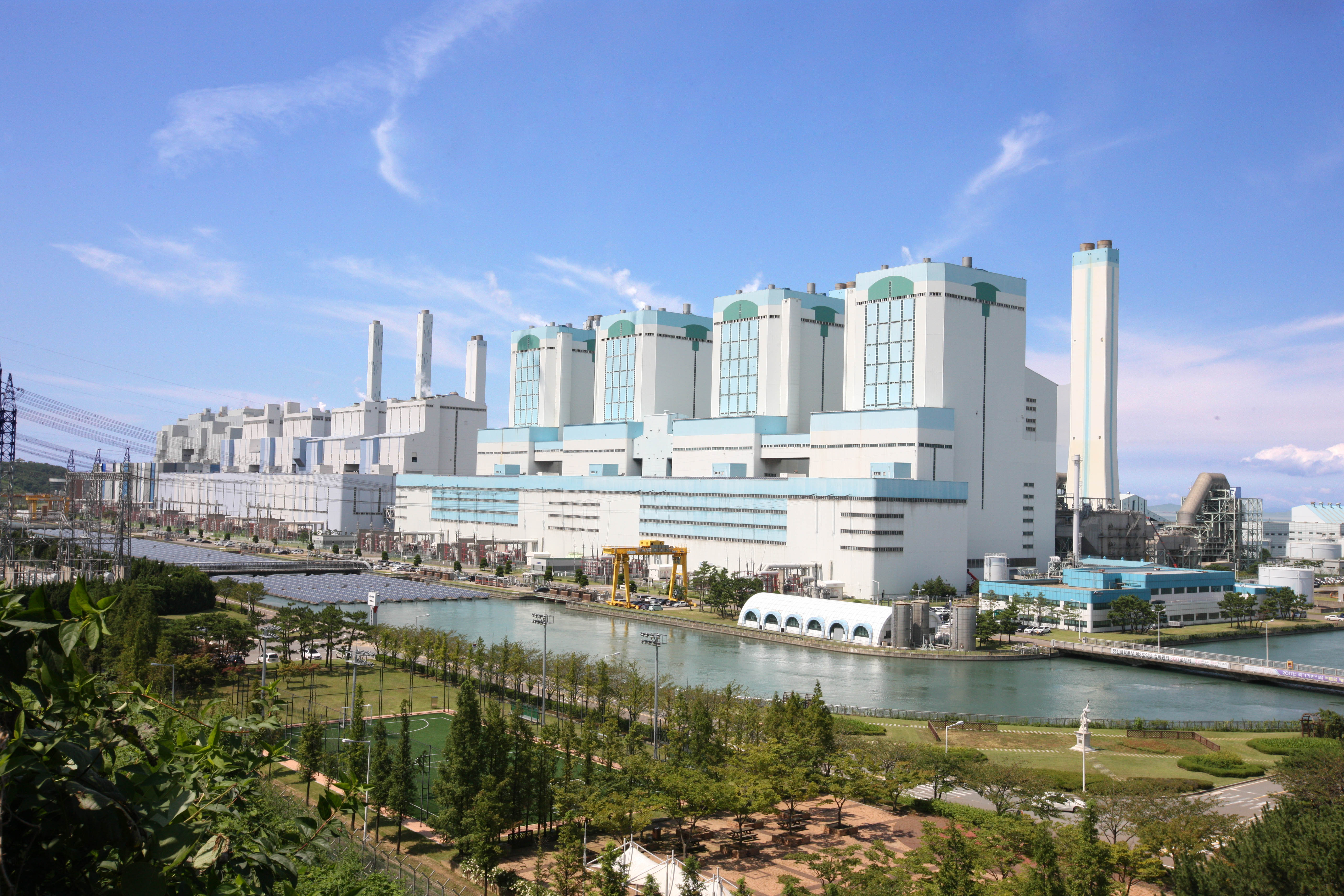 A view of EWP's Dangjin Thermal Power Plant in Chungcheongnam-do.
Korea East-West Power Co. (EWP) is embarking on the localization initiative for a smart monitoring system of the hydro cyclone, a desulfurizer, in cooperation with Fluen. EWP is also providing support for Korean SMEs to pursue technology self-reliance.

The hydro cyclone is a facility designed to eliminate sulfur dioxides using limestone and discharging gases lowered to permissible levels via a stack. It is a facility, which is closely related to the air environment and in a constant operation. The hydro cyclone is dealing with supplying slurry to remove sulfur dioxides and gypsum dewatering to convert limestone byproducts into gypsum.

The R&D tasks include the localization of a sensor designed to sense the overflow and clogging of limestone slurries, the developing of a gadget designed to prevent the pollution of the sensor and attach it exclusively, the localizing of a system designed to monitor the operation situation, and realization of a reserve system automation program.

EWP plans to test-operate the localized smart monitoring system at Dangjin Thermal Power Plant Unit 1 with the goal of commercializing it by 2022.
With the completion of the localization, about 50 power plants and related industry companies are expected to adopt the smart desulfurizer monitoring system, contributing to improving air pollution conditions, EWP officials said. EWP plans to join efforts to provide support to SME's self-sufficiency through localization and lead clean power realization through continued eco-friendly investments, they added.
EWP to Build Additional Indoor Coal Storage Facilities for Dangjin Thermal Units 1 through 8

EWP will launch a 300 billion project to convert an outside coal storage of Dangjin Thermal Power Plant into an indoor facility.

The project is designed to prevent the flying of coal residue from an outside storage facility for units 1 through 8, caused by strong winds, improving the living conditions of neighborhood residents.

EWP now operates an indoor storage facility to pile up 600,000 tons of coal for Dangjin Thermal Power Plant Units 9 &10. The construction of additional indoor storage facilities to pile up coal for Units 1 through 8 is designed to curtail the flying dust of the power plant.

EWP embarked on the design of the project on March 2. An indoor coal storage facility for Dangjin Thermal Units 5 through 8 will break ground in January 2022, and another one for Units 1 through 4 will follow suit, EWP said. On top of the construction of indoor coal storage facilities this time, EWP will comply with the government's eco-friendly steps by reinforcing desulfurizing, denitrification and dust-collector facilities and devote itself in improving environment conditions of the districts, they added.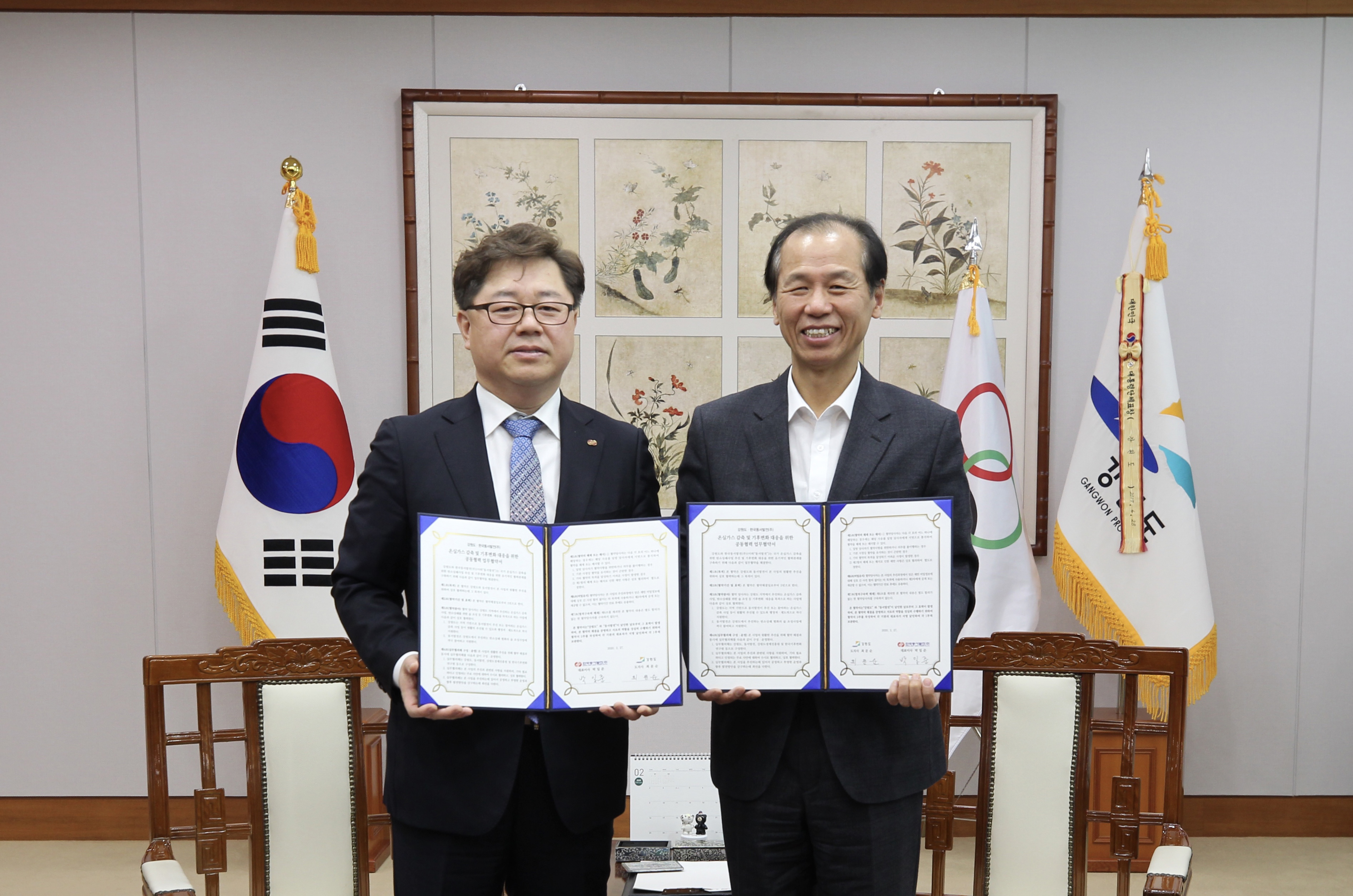 President Park Il-joon of Korea East-West Power Co. and Gangwon-do Gov. Choi Moon-soon pose after they signed an MOU to create a forest to take in carbon dioxide at the provincial government building on Feb. 27. (Photos: EWP)
EWP Signs Deal to Create 'Peace Woods' to Offset Carbon

EWP Struck an MOU with Gangwon-do to create a forest to take in carbon dioxide at the provincial government building on Feb. 27. The project calls for building a forest, stretching 300 km along a coastal area of the province, and it is designed to prevent damage from sea winds and sand flying.

Initially, the project will start with the creation of a forest around Mangsang Beach, which was hit hardest by a mountain fire that took place in April last year.