Delivers 300 boxes of daily necessities for those who are self-quarantined and 300 sets of side dishes to medical personnel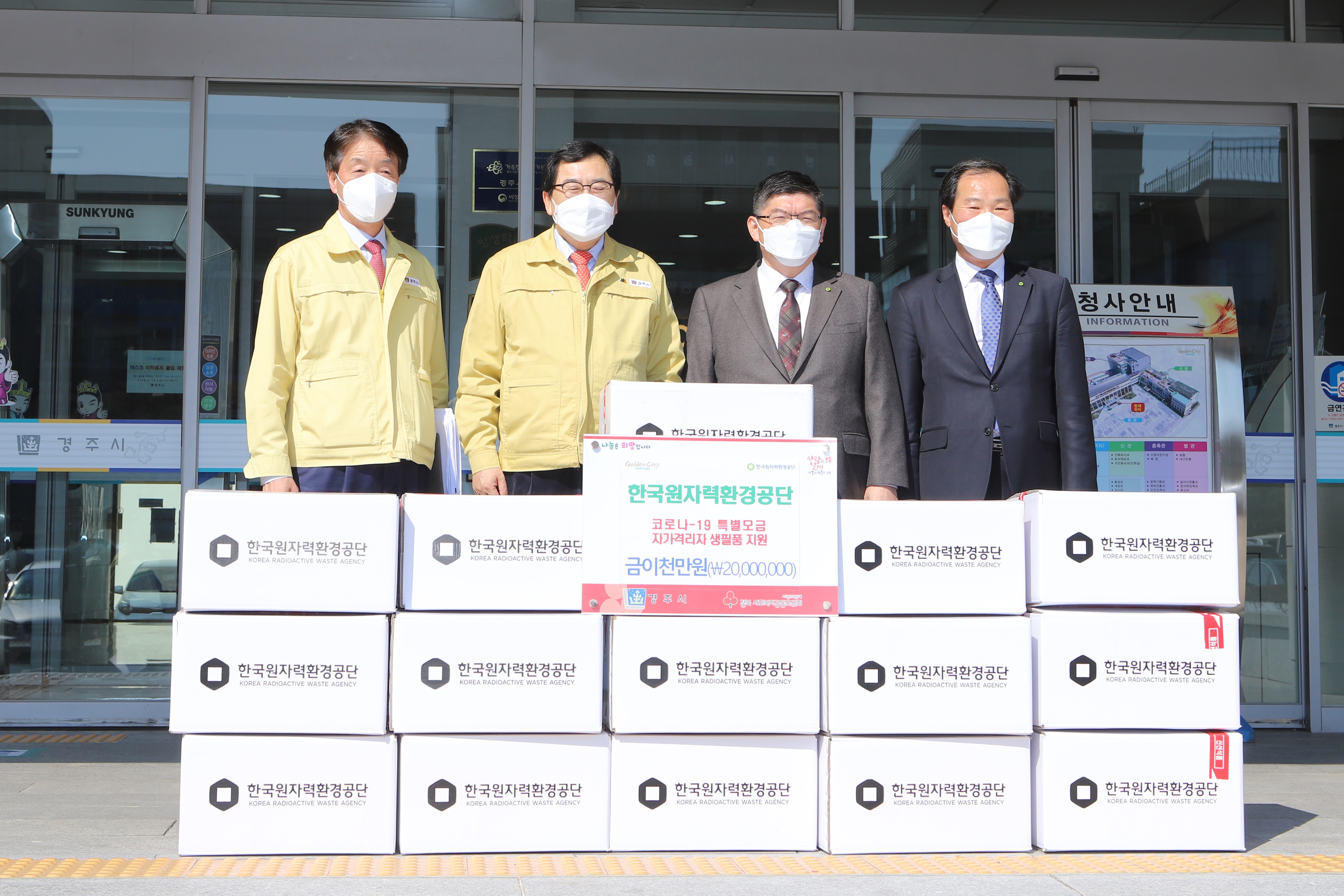 CEO Cha Sung-soo of Korea Radioactive Waste Agency (KORAD) poses with Gyeongju Mayor Joo Nak-young after delivering daily necessities for those who are self-quarantined and side dishes to medical personnel to the Gyeongju City Center for Disease Control on March 14. (Photo: KORAD)
Korea Radioactive Waste Agency (KORAD) delivered 300 boxes of daily necessities for those who are self-quarantined and 300 sets of side dishes to medical personnel to the Gyeongju City Center for Disease Control to help victims overcome difficulties caused by COVID-19 on March 14.

Eighteen kinds daily necessities included bottled water, ramyeon (instant noodles), rice, toothbrushes and toothpaste. KORAD earlier donated 10,000 masks to help primary and secondary schools at the neighborhood of the low-level radwaste treatment facility prevent the spread of COVID-19 on March 13.
In a related development, KORAD is engaged in diverse activities to reinvigorate the conventional markets in the Gyeongju area, which was hit hardest by the spreading of COVID-19.

About 50 KORAD executives and staff members joined forces in touring the Central Conventional Market on Feb. 12 to have lunch and go shopping to give it a leg-up to help them overcome the difficulties, caused by COVID-19.

KORAD CEO Cha Sung-soo said, "KORAD, a district public entity, will actively join efforts to overcome the difficulties, caused by COVID-19 and reinvigorate the sagging regional economy."

Meanwhile, KORAD has been strengthening quarantine activities to prevent the spread of COVID-19 by obligating KORAD staff and visitors to have their body temperature measured and wear masks.
The agency has conducted stepped-up quarantine and disinfection steps at major facilities and preventive education steps such as refraining from making official visits to dangerous areas and holding meetings.

KORAD Strikes MOU on Technology Cooperation with MIRECO signed an MOU on technology cooperation with Mine Reclamation Corp. (MIRECO) at KORAD headquarters on Feb. 19.
The two agencies agreed to collaborate in sharing information, exchanging technology and conducting education in diverse areas such as site and environment surveillance to ensure efficient operation and safety management of large-sized underground structures.

MIRECO is a public entity, armed with expertise to improve the water quality of closed mining areas and restore forest and stabilize ground foundation.

The agency is responsible for the development of related technologies and conducting support projects.

With building a close cooperation regime with MIRECO with expertise related to the improving of water and ground stabilization, KORAD is expected to enhance the safety and efficient operation of the radwaste treatment facility by sharing technologies to scrutinize and analyze underground water ensuring with the operation of large-sized underground structures.

KORAD CEO Cha said, "KORAD will continue to improve the operation and surveillance of the radwaste treatment facilities through continued technology exchanges with not only MIRECO but also related industry, academia and research circles."

Insufficient Spent Nuclear Fuel Storage Facility Threatens to Halt in Operations at Wolseong Nuclear Power Plant

A facility to store spent nuclear fuel is almost at capacity, threatening to halt the operation of the Wolseong Nuclear Power Plant. Wolseong is the only South Korean nuclear power plant operating a CANDU-type PHWR.

The current spent nuclear fuel storage facility for the Wolsong Nuclear Power Plant has surpassed the 95% storage rate, so saturation is expected to occur soon.

The Nuclear Safety and Security Commission (NSSC) gave the green light to the construction of the second-stage MACSTOR dry spent fuel storage system for Wolsong Nuclear Power Units 1 to 4 on Jan. 10.
The approval came four years after Korea Hydro & Nuclear Power Co. submitted a request for the construction of an additional MACSTOR dry spent fuel storage facility.

The construction of the additional spent fuel storage facility is expected to take four years. But even though the NSSC approved it, the launch of the additional facility project is delayed due to divisions over public debate procedures.