Prof. Park of Inje University Takes Office as 15th President of K-water
Calls for K-water to be reborn as water management agency trusted and loved by people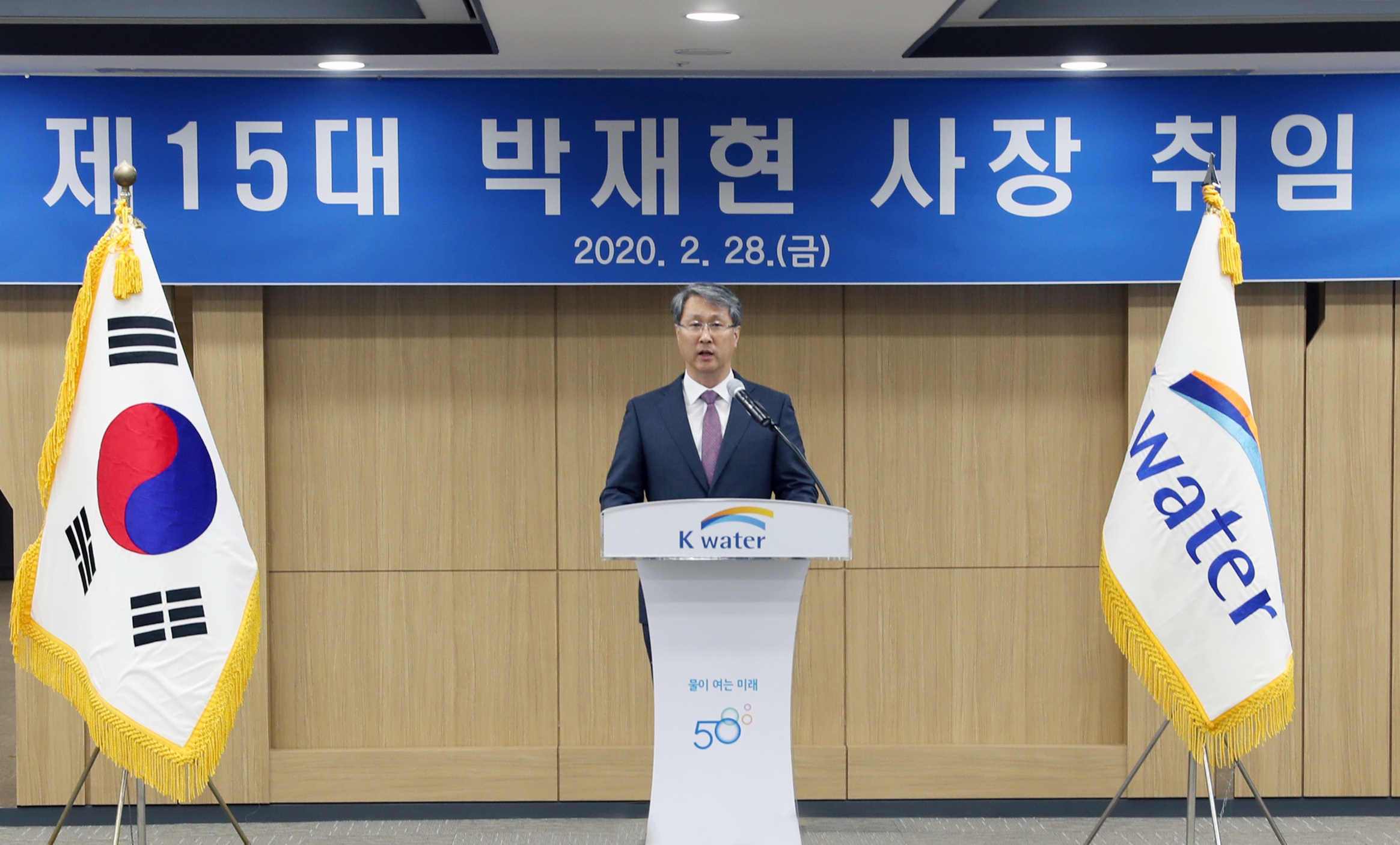 President Park Jae-hyeon of Korea Water Resources Corporation (K-water) delivers his inaugural speech as he took office as the 15th K-water president at K-water headquarters in Daejeon on Feb. 28. (Photos: K-water)
Prof. Park Jae-hyeon of Inje University was inaugurated as the 15 president of Korea Water Resources Corporation (K-water) at K-water headquarters in Daejeon on Feb. 28. His term lasts until Feb. 27, 2023.

Given the stark reality of Korea in which the COVID-19 alert has been raised to the serious level, new K-water President Park delivered his inaugural speech via a on-line message without holding a separate inauguration ceremony.

President Park, born in 1966, obtained a doctorate degree in civil engineering (hydraulic engineering) from Seoul National University.
He is evaluated as a seasoned water resources expert as he has been engaged in water-related diverse activities. He served as chairman of the Nakdong River Integrated Water Management Committee while working as professor of Inje University.

In his inaugural speech, President Park said K-water, a water management institution armed with water management expertise accumulated for half a century, will seamlessly cope with water disasters such as floods and drought and have a virtuous cycle of integrated water management established so that all the people can enjoy a clean, safe water through the advancing of vulnerable provincial area tap water facilities and the improving of water supply welfare in areas with insufficient water supply.

President Park said K-water will overhaul its business portfolio by seizing diverse values of water as new growth engines, push ahead with overseas projects, employing the technologies of the 4th Industrial Revolution, establish international collaboration regimes, prepare for the implementation of inter-Korean projects through international cooperation, invigorate eco-friendly water energies to reduce find dust, ushering in an era of "smart water management" by successfully setting up "Busan Eco Delta Smart City."

He called for pursuing growth and overseas market entry with water SMEs and reinvigorating the national economy through new water industry exploration and creating jobs so that social values can be enhanced through communication with people by setting safety and integrity as top management values.

Park pledged to support and cooperate with the presidential water management committee and the Environment Ministry to establish rational alternatives based on fair and objective data to restore four river dams and estuary weirs to natural conditions.

He also urged his executives and staffers to reinvent work and make achievements by establishing advanced management systems under a corporate culture based on fairness, productivity and efficiency, innovating personnel management based on fairness and transparency, and harmonizing work with home and improving the quality of individuals' life.

Lastly, President Park called for taking preventive and preemptive response steps not to disrupt water management in the national crisis of the COVID-19 and mobilizing all capacities to cope with the crisis in a wise fashion.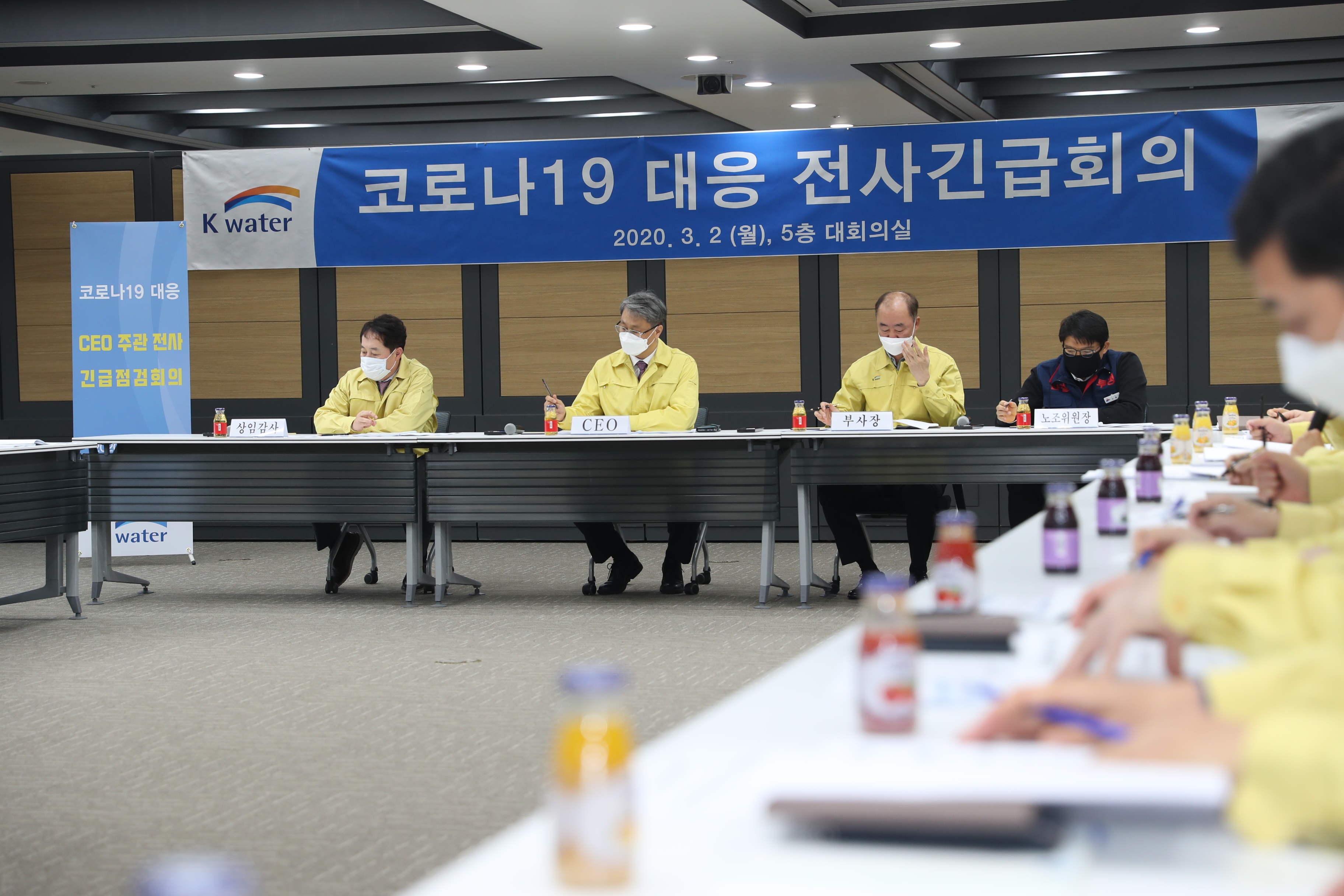 K-water holds an emergency meeting to tackle KOVID-19 outbreak at K-water headquarters in Daejeon on March 2.

K-water Hosts Public Video Contest in Celebration of World Water Day

K-water is holding a public video production contest to publicize the importance of water in celebration of World Water Day, which falls on March 22. World Water Day is an annual UN observance day that highlights the importance of freshwater. The day is used to advocate for the sustainable management of freshwater resources.

The public contest is supported by the Environment Ministry and hosted by K-water. Any one can participate in the public contest, being held under the theme "Water, Climate Change, and Our Future." Participants can submit entries on water-oriented ideas to respond to climate change like water preservation, use of tap water, low-carbon life and energy conversion.