'Corporation will aggressively tap overseas markets to provide Korean civilian companies with opportunities for shared growth'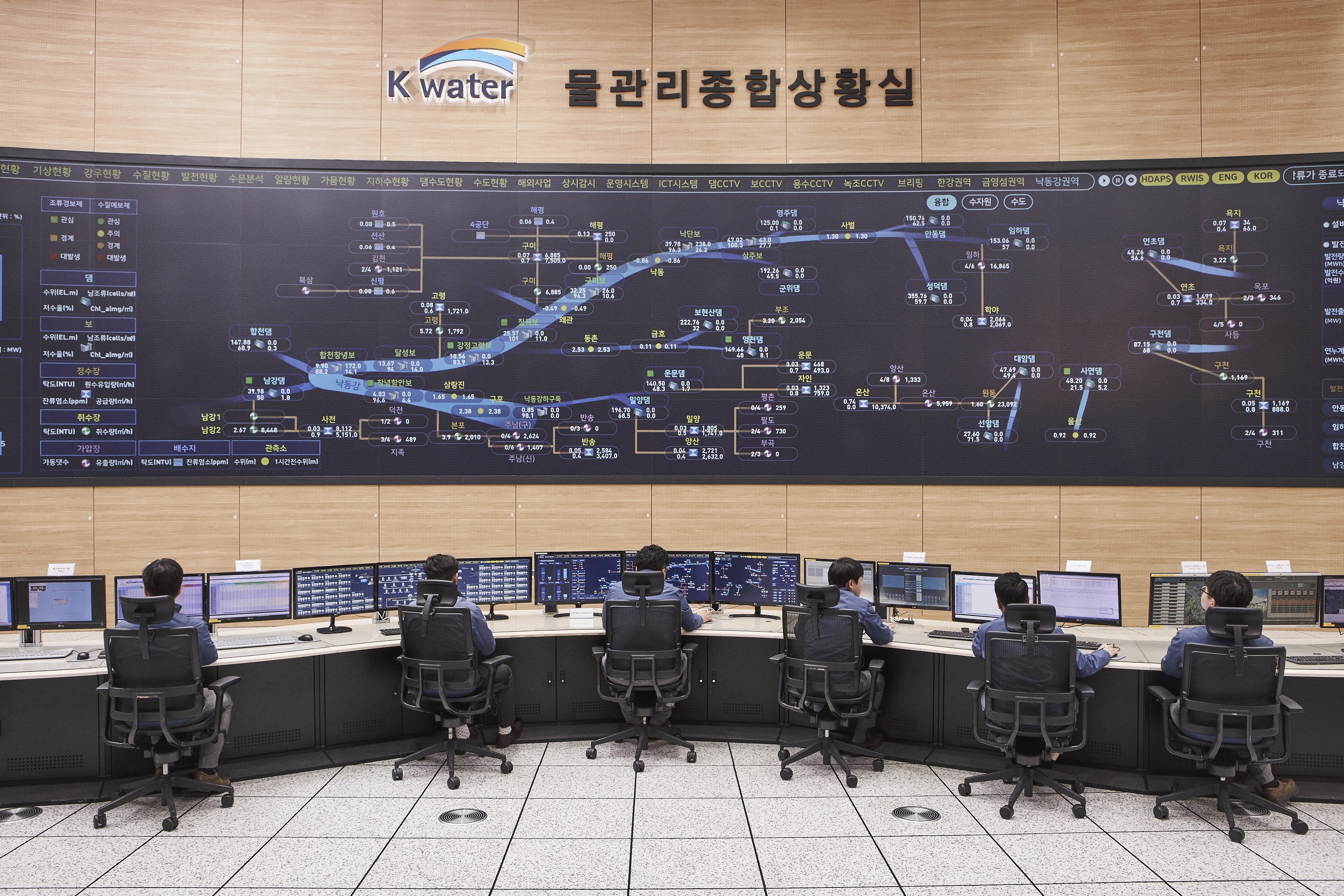 K-water's Water Management Integrated Situation Room checks water quality conditions.
World Water Day 2020 fell on March 22. World Water Day is an annual UN-observed day that highlights the importance of freshwater.

World Water Day, which was launched in 1992, celebrated the 28th anniversary this year. Korea has observed World Water Day since 1995.
The global water market continues to grow since water is one of the essential things of humans' life. The water project survey firm GWI predicted that the value of the global water market, estimated at about $725.2 billion (870 trillion won), will flourish at an average annual growth rate of 4.2 percent by 2022.

Countries are scrambling to compete in the global water market, which has seen a paradigm shift from concept of essential aid in developing countries to investment.

State-initiated projects have been implemented to secure initial funding. The United States, China and Japan account for half of the global water market. Veolina and Suez, French water companies, are front-runners in the global water markets with tends of trillion won in annual sales.

K-water, a Korean public entity, is stepping on the gas to explore the global water market. The corporation has inaugurated a separate division to strengthen overseas project expertise.
K-water has about 120 staff with a division, nine departments, three overseas teams in the Philippines, Cambodia, and Indonesia, and six special purpose companies in Pakistan, Georgia, Solomon Islands, Indonesia and other areas.

K-water embarked on an overseas project to survey a Chinese river in 1994. The corporation has so far completed or has been implementing 101 projects in 33 countries.
The combined value of the projects stand at roughly 2.9 trillion won. K-water was initially engaged in projects related to simply consulting services supported with Overseas Development Assistance (OCA) funds. The corporation, armed with global network and technology prowess, has been expanding investment projects since 2010.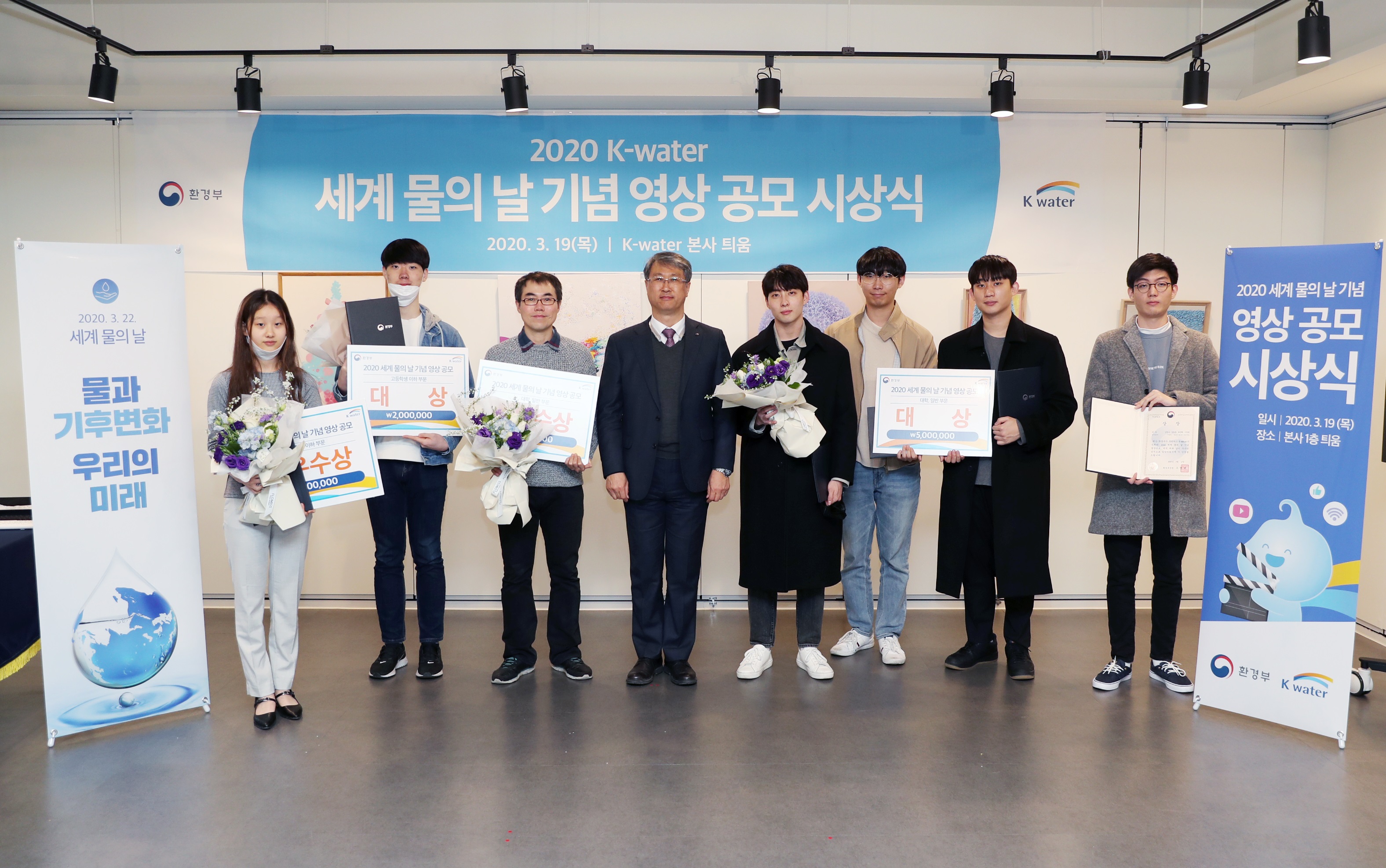 President Park Jae-hyeon of Korea Water Resources Corporation (K-water) poses with prize winners at an awards ceremony for an image contest in celebration of World Water Day. A limited number of person, including the prize winners, were allowed to attend the event to prevent the spread of COVID-19. (Photos: K-water)

K-water carried out the Patrind Hydroelectric Power Plant in Pakistan, the corporation's first overseas investment project. The construction of the plan, designed to ease electricity shortage, took five years to put into commercial operation in November 2017.

It was noteworthy that Daewoo E&C participated in a public-private sector collaboration project. Investment projects are required to take time and bring higher profitability, apart from transient ODA projects.
The Patrind hydroelectric project involving 30 years of operation is expected to yield an average annual dividend of 20 billion won in national wealth, a K-water official said. K-water landed dam construction and operation & maintenance projects from the Philippines and Solomon Islands in succession.

K-water is carrying out a tap water project, the corporation's own business turf, in the Jakarta area in Indonesia. The project is designed to cope with tap water shortages and environment issues, including ground subsidence, in Jakarta and its capital area.

The project is one of projects being implemented by a special committee on the "New Southern Policy Countries" initiative. Korea and Indonesia agreed to select the project as one of major agendas during their Korean-ASEAN infrastructure ministers' meeting and reflected it at a joint statement, adopted following the meeting.

In 2018, K-water was awarded a status of first project proposal, and the Indonesian government gave a nod on facility design last year. If Korea wins the project, it will pave the way for Korean companies to enter the Indonesian market. Korea's 30 years of operation & management would serve as more opportunities for Korean companies to enter the market in full swing.

Kim Duk-jung, head of the Global Cooperation Division at K-water, said, "K-water will aggressively tap overseas markets to provide Korean civilian companies with opportunities for shared growth."
K-water will become a public entity to serve as a platform to promote shared growth with Korean related companies, he added.