Yoon Jong-won, president of IBK, visits companies to listen to their voices in troubled times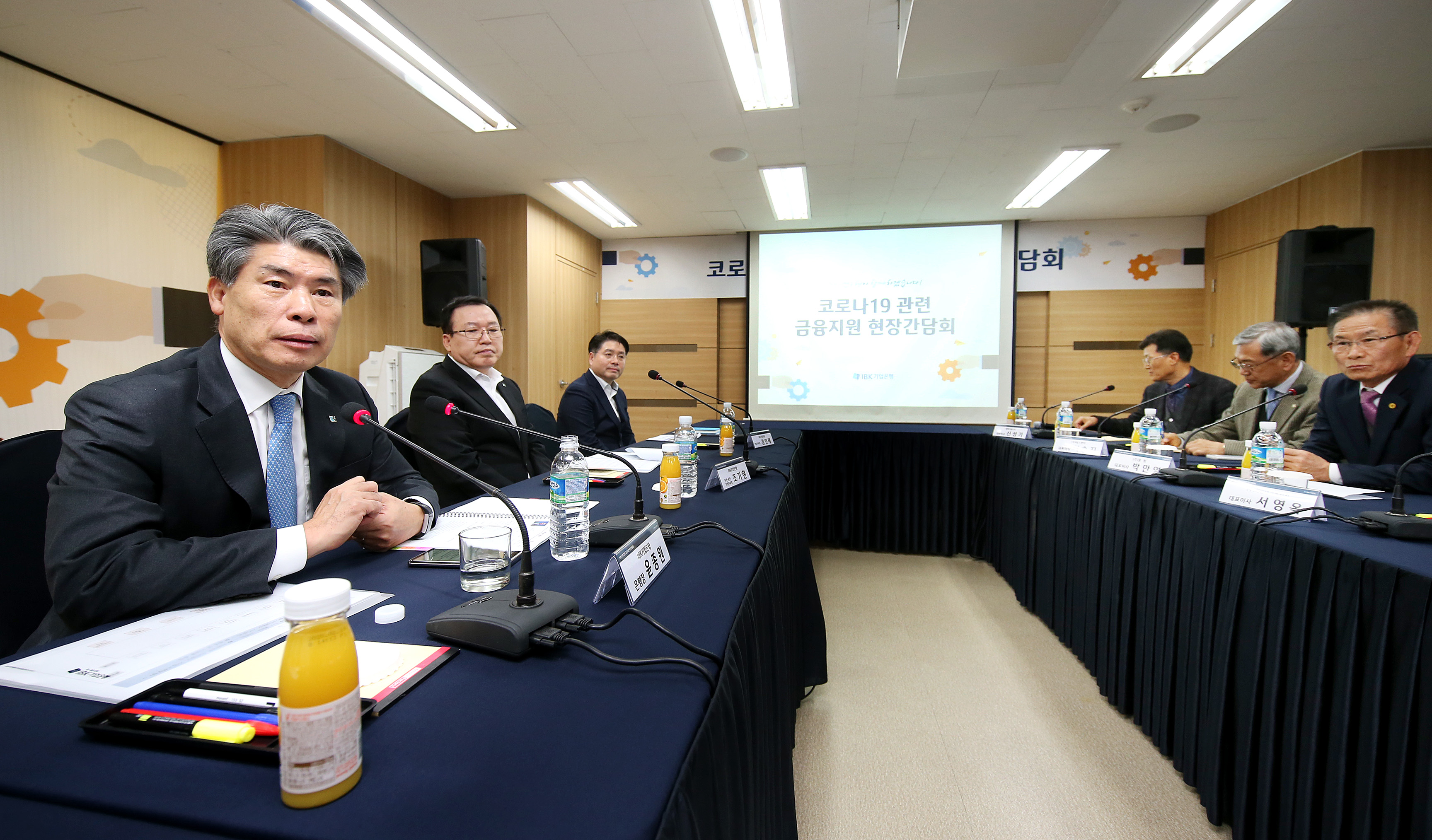 Yoon Jong-won (first from left), president of the IBK, explains the IBK's special financial supporting programs for small and medium-sized enterprises (SMEs) after listening to difficulties facing SMEs in a meeting in Ulsan with representatives of SMEs in Ulsan, Busan, and Yangsan on Feb. 13. (Photo: IBK)
The Industrial Bank of Korea (IBK) announced in the middle of February that the IBK and its affiliates posted 1.627 trillion won in net income on a consolidated basis last year. The IBK alone posted 1,401.7 billion won in net income.

The balance of loans to small and medium-sized enterprises (SMEs) inflated by 11.1 trillion won (7.3 percent) from the end of the previous year to 162.7 trillion won.
Market share stood at 22.6 percent. Interest income assets recorded 256 trillion won, up 17.8 trillion year on year, based on solid loan growth.

"In spite of the tough external environment such as a steep drop in market interest rate, in 2019, the IBK laid the foundation for increasing its strength and profit generation for future growth through the steady expansion of loans to SMEs and systematic soundness management," an IBK official explained.

The delinquency ratio edged down by 0.02 percentage points to 0.47 percent, while its substandard and below loan ratio slid by 0.04 percentage points to 1.28 percent. Its credit cost arrived at 0.67 percent, the lowest in bank history.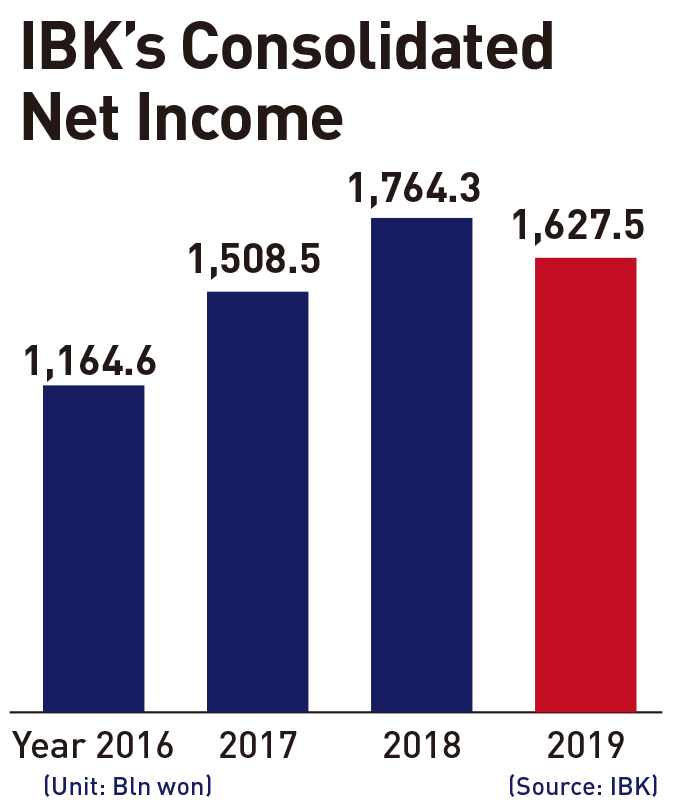 In this manner, the IBK reinforced its profit-making power by making an improvement to soundness indicators.

"Our NIM dropped 9bps per year (1bp=0.01 percentage points) due to a sharp drop in market interest rates, pushing down our net profit on a consolidated basis shrank 7.8 percent year on year," the IBK official said. "We will do our best to boost the IBK's profitability with innovative finance based on financial know-how."

In the meantime, Yoon Jong-won, president of the IBK, visited SME worksites to provide customized financial support for SMEs going through tough time due to the COVID 19 virus.

The IBK announced on March 13 that President Yoon Jong-won visited the IBK's corporate customers suffering from the spread of the COVID-19 virus and held a meeting with representatives of SMEs in Gyeongju and Ulsan. Yoon visited S&B, a car seat manufacturer in Gyeongju.
The automobile industry is one of the major industries that have been going through big difficulties in production due to a disruption in raw material supply from China.

Yoon visited production sites to listen to the opinions of those in the field, and explained the IBK's special financial support for companies hit hard by the COVID-19 fiasco.

Then Yoon headed for Ulsan. In Ulsan, Yoon had a meeting with representatives of SMEs suffering from a drop in sales and business difficulties arising from weak domestic demand or production difficulties and delayed payment due to disruptions in import, from and export to, China.
Representatives of eight companies from Ulsan, Busan, and Yangsan, among others, attended the meeting to talk about their damages and difficulties and made suggestions about financial support.

"These days, situations are so tough that a survey shows that one out of three companies directly suffered from the epidemic," Yoon said in the meeting. "We will fully provide financial support to help your companies overcome difficulties."

"We will carefully review matters discussed in the meeting and provide customized financial support," Yoon said. "We will try to deliver what they suggested to the government and related institutions if necessary, so that they will be utilized in developing policies."
The IBK is providing companies affected by the spread of the virus with special financial support, such as low-cost special support funds and the extension of loan maturity and letter of credit maturity. In addition, since Feb. 4, the IBK has been operating the Financial Consulting Centers at all of its branches to help companies in need deal with financial difficulties.

Yoon also visited the Ulsan Jungang Branch and the Eonyang Branch of the IBK in Ulsan and had dinner with IBK employees in Ulsan and its neighboring areas. During the dinner, Yoon listened to the voices of IBK employees in the field and asked them to actively support corporate customers.