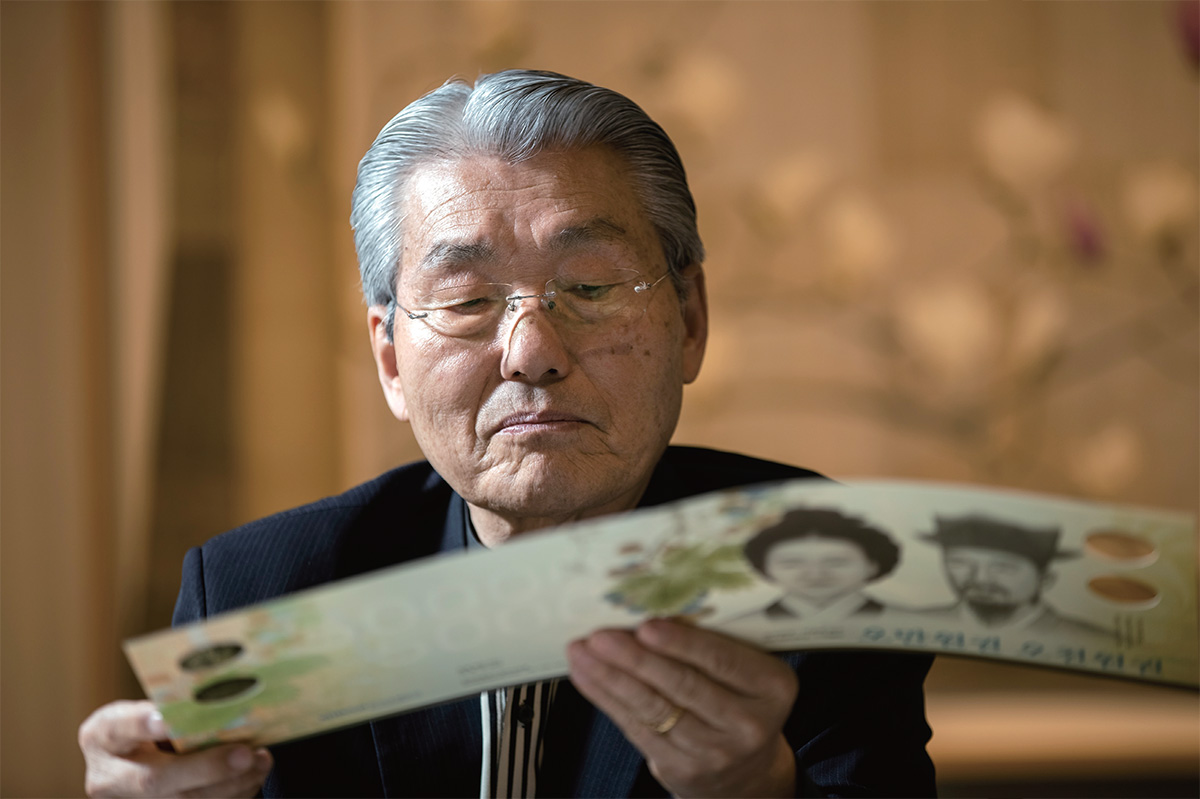 Artist Lee takes a look at an album of portraits of Shin Saimdang and Yulgok Yi Yi printed on Korean banknotes. (Photos: Artist Lee Jong-sang's office)
Artist Lee Jong-sang painted portraits of two historic figures to be used on Korean banknotes. The artist is considered one of the greatest portrait painters in Korean history.

Unlike other great painters, Lee is famous for his love of philosophy. Lee is a doctor of philosophy, as well as being a famous painter. When Lee was a junior at Seoul National University in 1961, he took home a major prize at the Korea Art Competition.

In 1977, the Bank of Korea asked Lee to paint a portrait of Yulgok Yi Yi to be used in the 5,000 won banknote.

"My father, a horticultural scholar, built a small zoo when I was a kid," Lee said. "My father would draw birds and other animals in the zoo. He roughly sketched them. By imitating my father, I was able to naturally develop my painting ability."

In 1961, Lee began to pay much attention to murals of Goguryeo Kingdom, one of the three kingdoms in the period of the Three Kingdoms in Korean history. Lee's search for Goguryeo culture landed him an opportunity to establish himself as a portrait painter representing Korea.

After a long period of study, he drew the national standard portrait of King Gwanggaeto in 1977. The king wears a man wearing a helmet in scale armor and holding a sword. Lee's portrait of King Gwangaeto shows the strong spirit of the king and his kingdom.
Thanks to this connection, Lee was appointed as honorary captain of the Korean Navy Warship Gwanggaeto.

Lee also painted the portrait of Great Korean Monk Wonhyo. To inspire the painting, Lee studied Wonhyo's philosophy at the Graduate School of Dongguk University and received a Ph. D. degree. That made Lee the first Korean painter with a Ph. D.

In 1977, when the design of the 5000-won banknote was changed, he was in charge of making the artwork for the currency.

At the time, Lee was only 36 years old. A bigger honor was that Lee was given an opportunity to paint a portrait of Shin Saimdang, who is hailed as a good wife and wise mother by the Korean people.

"Shin was a good housewife who brought up her children well and an excellent painter," Lee said. "Shin became a model for the Korean banknote with the highest denomination.
This means that Korea has high cultural level." One of Lee's most important activities was to take the lead in the Dokdo Keeper Movement.

"Since I took the first on Dokdo Island in 1977, I completed over 500 works about Dokdo," Lee added. "In 2005, I launched the Dokdo Cultural Army in an effort to culturally defend the island." In 1997, one of Lee's works were exhibited the Louvre Museum in France for five months.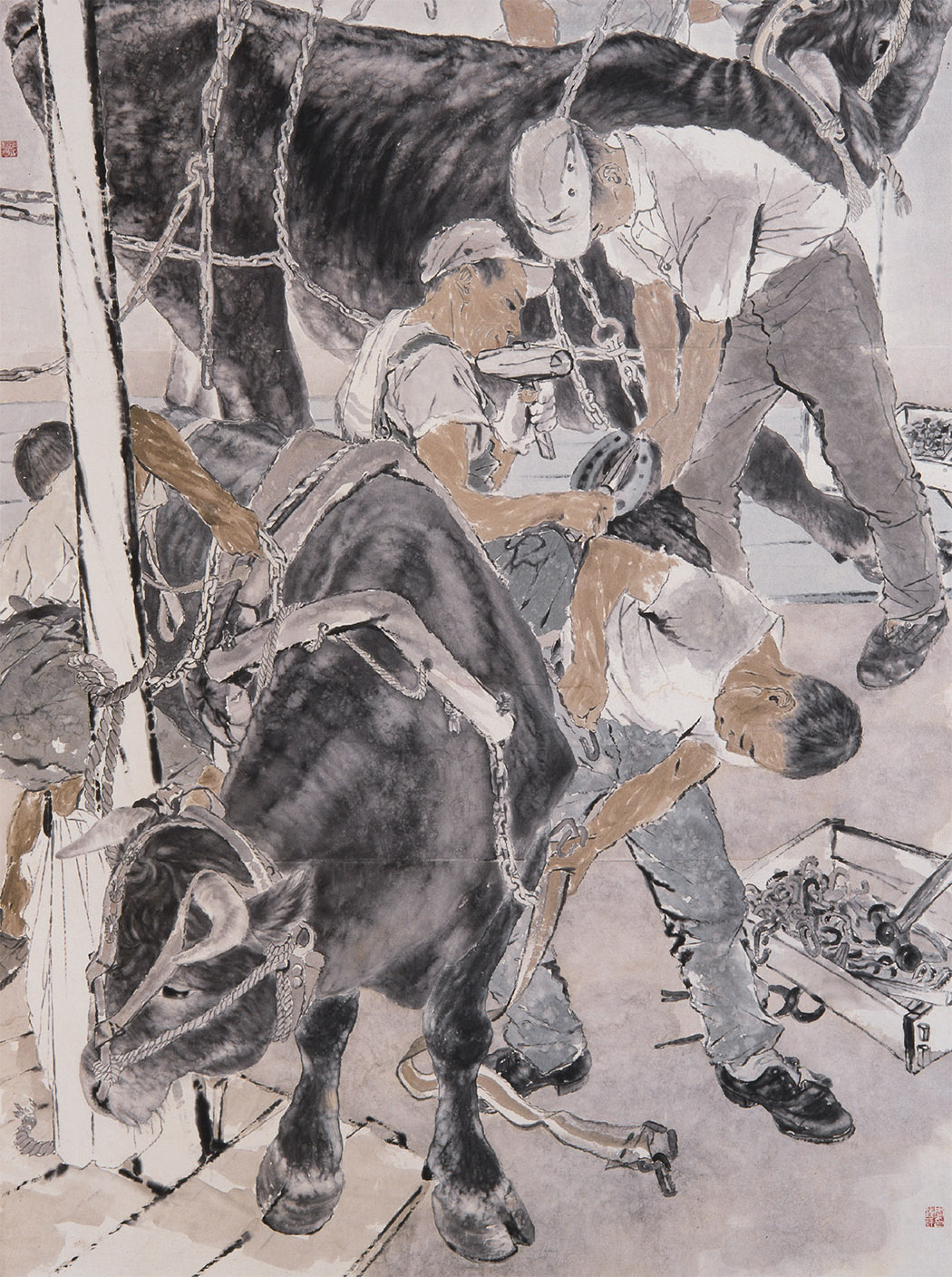 The painting "Jangbi" submitted to the National Art Competition by artist Lee in 1963 shows the dynamics of the people that suggest a second revolution after the March 19 Revolution.

The large mural titled "Marisan" depicts Ganghwado Island when a French fleet invaded the Korean island in 1866. The exhibition recorded a whopping 1.27 million visitors. Lee once lectured for top industrialists in Korea.

"When I was young, I was invited to give a lecture to movers and shakers of the Korean business world by the late Samsung Group chairman Lee Byung-cheol," Lee said. "I think the essence of art and business is the same.
Painters usually calculate the sizes of their drawing boards and minimize the number of their brushing touches. It goes the same for management.

"Management is the law of using minimum resources for maximum results. To be able to do this, we need to be able to utilize a variety of studies.
This is connected to the principle of Great Korean Monk Wonhyo's philosophy, consilience. In a society where consilience is achieved, vigor does not stop coming out. This is because things are in harmony with one another in the society."