Aims to raise portion of renewable energy out of total power generation to 20 percent by 2030 in accordance with the government's 'Renewable Energy 2030 Policy' initiative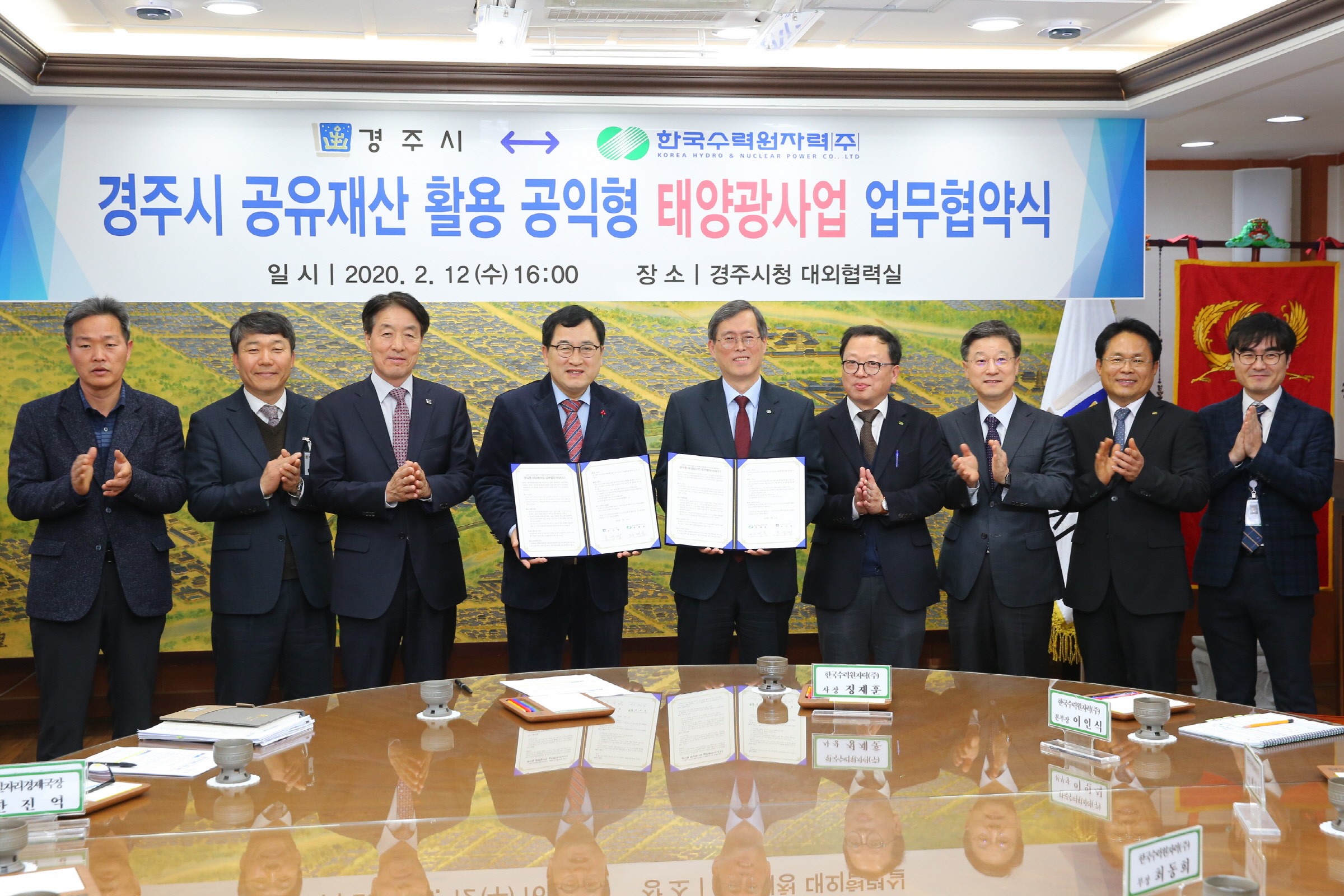 President Chung Jae-hoon of Korea Hydro & Nuclear Power Co. (KHNP) and Gyeongju Mayor Joo Nak-young join others in attending an ceremony in which KHNP and Gyeongju City struck an MOU on photovoltaic power projects using publicly owned properties on Feb. 12. (Photo: KHNP)
Korea Hydro & Nuclear Power Co. (KHNP) plans to expand its new and renewable energy production facility capacity to 7.6GW by 2030. The figure will bring to 8.4GW in terms of new and renewable production capacity secured by KHNP that year.

KHNP is the nation's largest power generation company. It is stepping on the gas to implement new and renewable energy projects under a vision of realizing green energies as social values.
To this end, KHNP is accelerating efforts to develop and implement KHNP-type business models with a focus on projects with less environmental damage and social conflicts, using its own land, and that favored by neighborhood residents and stakeholders.

KHNP is playing a leading part in the implementation of the Saemangeum Photovoltaic Power Project.
The power company completed a basic design of water photovoltaic power projects with a combined capacity of 2.1GW and obtained a green light on the power generation of the project, and an environment impact evaluation of the project is under way.

KHNP aims to raise the portion of renewable energy out of its total power generation to 20 percent by 2030 in accordance with the government's "Renewable Energy 2030 Policy" initiative. KHNP's representative new and renewable energy priority sector is photovoltaic power.

The power company dedicated photovoltaic power production facilities with a combined capacity of 13.3MW last year, bringing to 41.3MW KHNP's total photovoltaic power generation capacity.
Out of the total, 6MW was secured in a joint photovoltaic power project involving KHNP and Hyundai Motor Co. Photovoltaic power panels were installed on the rooftop of structures built over Hyundai Motor's outdoor car storage yard in Ulsan.

They also serve as a form of protection from sunlight and rain. KHNP and Hyundai Motor have teamed up to build additional photovoltaic power plants in lots covering a combined 230,000 square meters, such as car export storage yardage and a proving ground.
If they are completed as planned, the additional photovoltaic power projects will have a combined power generation capacity of 27MW. They would be capable of generation 35 million KWh, or an equivalent to supplying power to about 10,000 households per year.

Of late, KHNP has signed an MOU on the implementation of public photovoltaic power projects with Gyeongju municipal government.

KHNP is headquartered in Gyeongju. Under the agreement, both sides agreed to build photovoltaic power plants with a combined capacity of 7MW by the end of this year.
The proposed public photovoltaic power projects will be implemented in idle lots like public parking lots. They are designed to max out existing space while preserving the natural environment, and gain additional income by operating photovoltaic power plants.

In cooperation with Gyeongju municipal government, KHNP plans to continuously explore locations feasible for the implementation of photovoltaic power projects.

KHNP dedicated a 60MW wind power plant off the Southwest Sea in January, built with domestic design and production technology to gain global competitiveness. KHNP put into commercial operation the Cheongsong Wind Power Plant with a capacity of 19.2MW last November.

KHNP is implementing the 220MW Anma Island Offshore Wind Power Project and the 100MW Yeongdeok Offshore Wind Power Project.
The projects are part of the government's R&D task of developing the design and evaluation technology of offshore wind power plants with a power generation capacity of more than 100 MW.

KHNP is working on developing a new and renewable energy business model to brace for the permanent closure of Kori Nuclear Power Plant Unit 1.
The power company has already finished an R&D task to build a 150MW wind power plant off the sea in front of the nuclear power unit, and it is considering its feasibility.

KHNP is stepping on the gas on the implementation of projects using energy storage system (ESS), designed to promote efficient storage and transportation.
KHNP plans to establish an eco-friendly, virtuous cycle of converting second-hand batteries from EV cars into ones in use for energy storage systems. To this end, KHNP signed an MOU with an MOU on the project.