Opens intelligent digital power plant build up center at KEPCO Research Center in Daejeon to conduct joint research with the KEPCO Research Institute and counterparts from power companies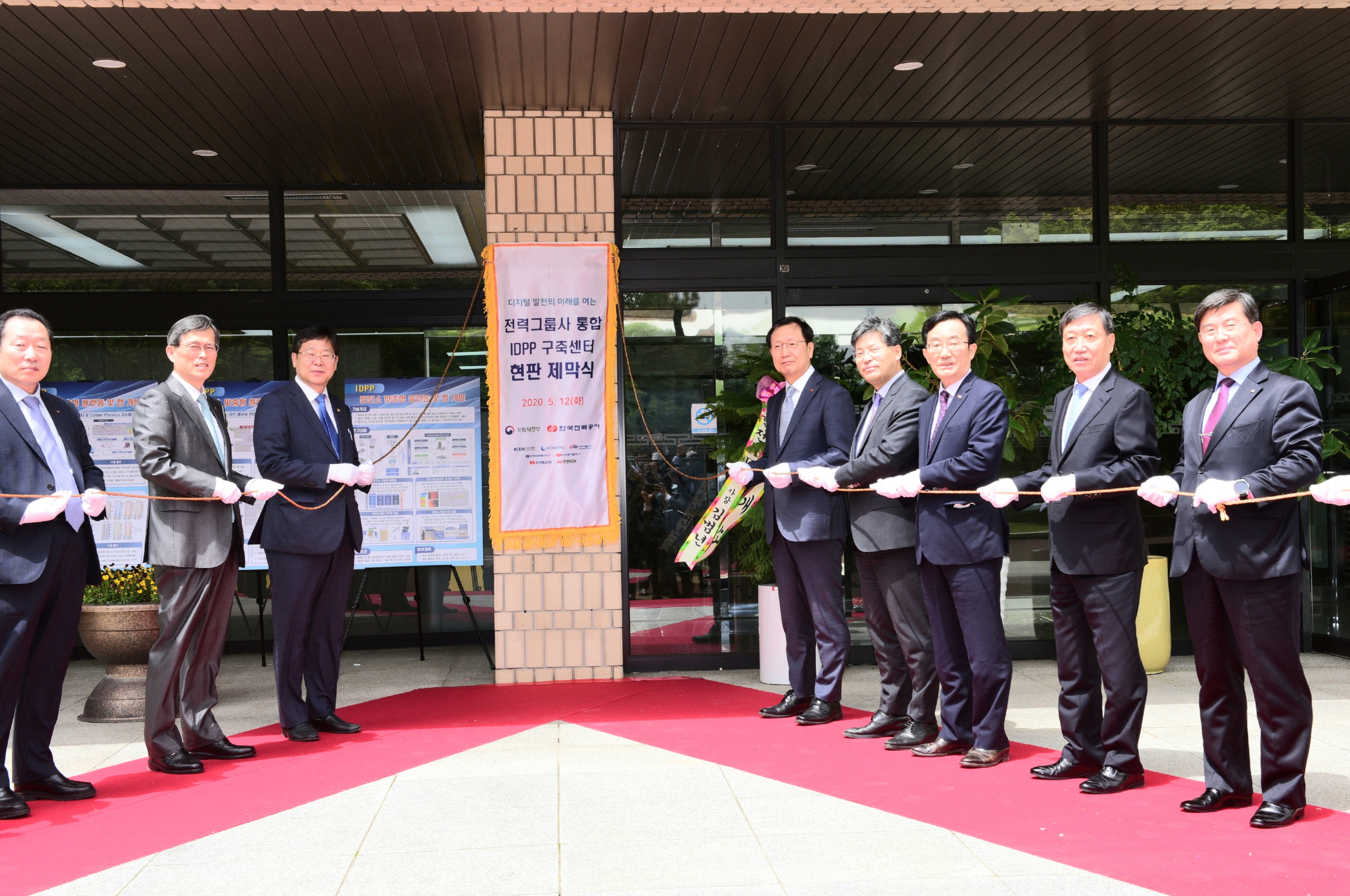 2nd Vice Minister Ahn Il-hwan of the Ministry of Economy and Finance, KEPCO President Kim Jong-kap, President Chung Jae-hoon of Korea Hydro & Nuclear Power, KEPCO KPS CEO Kim Bum-nyun and KEPCO Nuclear Fuel CEO Jeong Sang-bong attend a ribbon-cutting ceremony at the KEPCO Research Institute in Daejeon on May 12 to open an intelligent digital power plant (IDPP) buildup center at the research institute. (Photo: KEPCO)
Korea Electric Power Corp. (KEPCO) has joined hands with its counterpart companies to develop an intelligent digital power plant. KEPCO held a ceremony at the KEPCO Research Institute in Daejeon on May 12 to open an intelligent digital power plant (IDPP) buildup center at the research institute.
Researchers with the KEPCO Research Institute and their counterparts from power companies will conduct joint research into IDPP.

It was in 2017 that KEPCO launched the IDPP project. The next year, KEPCO was designated by the Ministry of Economy and Finance as a public entity specializing in innovative growth tasks until April 2023.
In May 2019, Korea South-East Power (KOEN), Korea Midland Power (KOMIPO0, Korea Western Power (KOWEPO), Korea Southern Power Co. (KOSPO), Korea East-West Power (EWP), and KEPCO KPS joined KEPCO in the joint research on the development of the IDPP, including verification and commercialization.

The joint research, based on KEPCO's homegrown digital platform technology, will focus on the establishment of a standard platform in the power sector, to be jointly utilized by the power companies and the development of the power plant operation, diagnosis and prediction programs using big data and AI technologies.

KEPCO has already developed four kinds of diagnosis programs and the power company is developing 12 more programs. They will be verified at a power plant starting next year. KEPCO is seeking to obtain 37 related patents.

DIPP technologies involve the employment of IoT and big data platform technologies to the entire cycle of a power plant, including the design, operation and preventive maintenance of boilers, turbines, generators and auxiliary equipment to realize the maximization of operational efficiency in digital space.
Global leaders like Siemens of Germany and GE of the United States are developing related technologies.

KEPCO sees that the development of an intelligent digital power plant is designed to grasp the optimal operation conditions and maintenance points, thus improving power generation efficiency and preventing accidents. The project is also expected to have environment effects of reducing fine dust and greenhouse gas emissions, the power company said.

A KEPCO official said the project will create jobs related to power generation and ICT convergence technologies and accelerate energy paradigm shift, a reduction in the nation's dependence on turbines, pumps and other parts imports. Spill-over effects are also expected for diverse industrial platforms like smart factory.

KEPCO predicts that the economic benefits related to exports and substituting electric systems and parts imports using digital power generation technologies is estimated to be at roughly 500 billion won by 2026.

Meanwhile, KEPCO announced a plan to build an energy technology market platform by October. The platform is designed to extend a helping hand to SMEs with technology power, which find it hard to supply their products to public entities and tap overseas markets due to a lack of marketing capabilities.
Among dignitaries on hand at the opening ceremony were 2nd Vice Minister Ahn Il-hwan and KEPCO President Kim Jong-kap.

KEPCO President Kim said, "The energy technology market platform will provide a win-win model in which public entities will secure excellent technology and SMEs will be given the chance to make a pitch for their products."