Shinhan Financial Group Holds Vision Declaration Ceremony for Incheon Startup Park
Incheon Startup Park will discover and foster global, high-tech startups through public-private cooperation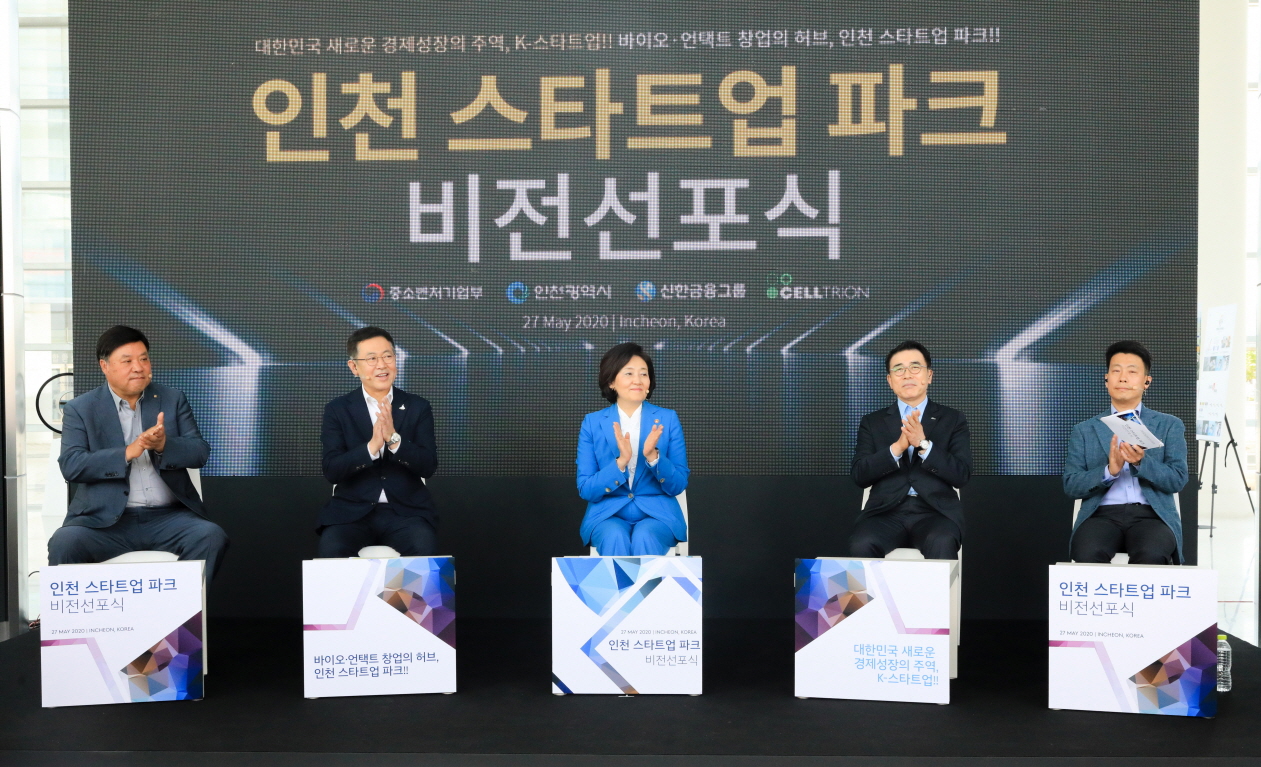 The Shinhan Financial Group signed a business agreement to create "Incheon Startup Park" in Tomorrow City located in Songdo, Incheon, on May 27. The event was attended by Park Young-sun (third from left), minister of SMEs and startups, Cho Yong-byoung (fourth from left), chairman of Shinhan Financial Group, Park Nam-chun (second from left), mayor of Incheon City, and Seo Jung-jin (first from left), chairman of the Celltrion Group. (Photo: Shinhan Financial Group)
Shinhan Financial Group signed a business agreement to create "Incheon Startup Park" in Tomorrow City located in Songdo, Incheon, on May 27. It held an event in honor of the beginning of Incheon Startup Park on the same day.

Incheon Startup Park Project is a public-private partnership startup ecosystem that operates a one-stop acceleration program to create space for startups and foster preliminary unicorn companies.

Shinhan Financial Group will participate in the project with the Ministry of SMEs and Startups, The Incheon City Government and other local governments. Private companies such as Celltrion will also join the project.

The business agreement signing and vision declaration ceremony were held through a video conference system for the first time as a joint event between the public and private sectors in an effort to join the nationwide social distancing campaign.

The event was attended by minister Park Young-sun of the Ministry of SMEs and Startups, chairman Cho Yong-byoung of Shinhan Financial Group, Mayor Park Nam-chun of Incheon City, and chairman Seo Jung-jin of the Celltrion Group who had a discussion how to run the Incheon Startup Park well and strategies for fostering and supporting startups.

Subsequently, people from various industrial sectors including TBT CEO Lim Jung-wook, Kohive founder Choi Jae-yu, and Sandbird CEO Kim Dong-shin, share their visions for overcoming crises in the post-COVID-19 era.
In December 2019, The Shinhan Financial Group announced the Triple-K Project which is the group's mid- and long-term innovation financing plan for the so-called "Second Innovative Financial Big Bang."

The "Triple-K Project" consists of three themes. They are "Korea Cross-Country", which creates a nationwide innovation growth platform, "Korea to Global" to support startups' successful entry into the global market, and "K-Unicon Project" which supports the revitalization of the national economy and realizes corporate social value by fostering unicorn companies.

Incheon Startup Park is an innovative growth platform created as part of the "Triple-K Project." It aims to establish a platform to foster global, tech and bio-specialized startups that take advantage of Incheon's geopolitical characteristics.

It plans to strengthen its function as a global base for startups wishing to enter overseas markets, and intensively foster start-ups with fourth industrial innovation technologies such as data, AI, 5G, and IoT and biotech and healthcare startups.

Incheon Startup Park provides opportunities for overseas expansion by selecting more than 80 startups that wish to enter the global market a year in cooperation with the Korea Institute of Startup and Entrepreneurship Development, the Ministry of SMEs and Startups, and global accelerators in Europe, China, Southeast Asia, and the Americas, among others.

In addition, Incheon Startup Park will discover unicorn companies and foster prospective unicorn companies by providing free office space for childcare and scale-ups for up to one year to all tenant companies and about 12 billion won in operating cost and establishing an exclusive fund of about 50 billion won for four years.

At the same time, the Startup Membership System will be introduced to provide information on Shinhan Financial Group's various startup support programs to companies that do not move into the startup park.
Member companies will continue to receive various information for scale-ups and seize opportunities to participate in global events and IR programs. Data archiving services will be offered to startups' stakeholders such as ACs and VCs.

"IT companies and platform operators that develop and provide innovative services are real heroes in boosting Korea's future competitiveness," chairman Cho Yong-byoung said during the event. "
We will spare no efforts in helping Incheon Startup Park become a landmark of innovation that every company wants to move into, and unicorn companies must start here for a better future."