Power company plans to inaugurate 'KOEN Divergent Power Comprehensive Digital Platform' service next year
President RyuHyang-yeol of Korea South-East Power Co. (KOEN) makes an inspection tour to a power plant complex to ensure safety on July 1.
Korea South-East Power Co. (KOEN) is implementing a divergent power grid digital platform project employing digitalization in the power generation industry to comply with the "Korean New Deal" policies in all sectors.

KOEN, sensing the necessity of digital transformation in the power industry to overcome uncertainties, is going about building a future power industry standard model.

The highlight of the digital transformation projects is the public photovoltaic power solution service platform "U'sol." The service platform, which made its debut in 2017, is designed to provide support to invigorate the private photovoltaic power generation market in the interests of people.

The service platform had made KOEN the sole top honor winner at an innovation evaluation of public entities conducted by the Ministry of the Interior and Safety (MOIS) in April 2018. KOEN has overhauled U'sol to raise its functions and availability this year.

The power company is spearheading the explosive expansion of divergent power grids in Korea.

According to KOEN, power generation of divergent power grids, which have increased 1GW per annum in the past three years, surged to 1GW only in the first half of this year on the back of the government's new/renewal 2030 policies.

The establishment of virtual power plants capable of predicting and controlling new/renewal power generation as one body appear evitable.

KOEN has already finished verification of virtual power plant (VPP) solutions thorough its in-house R&D activities.
KOEN has become the first power company to register its own photovoltaic power farms as small-sized power trade business resources as part of efforts to spearhead VPP technology development and business.

The power trade market is predicted to be growing briskly. KOEN is evaluated to has established ground to lead the future power market by owning a comprehensive platform capable of utilizing many divergent power plants as unified VPP resources.

KOEN has designed the divergent power grid digital platform business as one of its future growth tasks. The power company has set a first step to build a comprehensive new/renewal energy platform by inaugurating a task force comprising of academia, institution and platform company officials.

The task force has designed six core platform tasks, including on-line one-stop VIP platform and fleshed them out before launching a tentatively named "KOEN Divergent Power Comprehensive Digital Platform" service next year.
It is expected to contributew to reinvigorating the new/renewal industrial ecosystem, creating jobs, boosting state supply of new/renewal energies, and stabilizing power grid.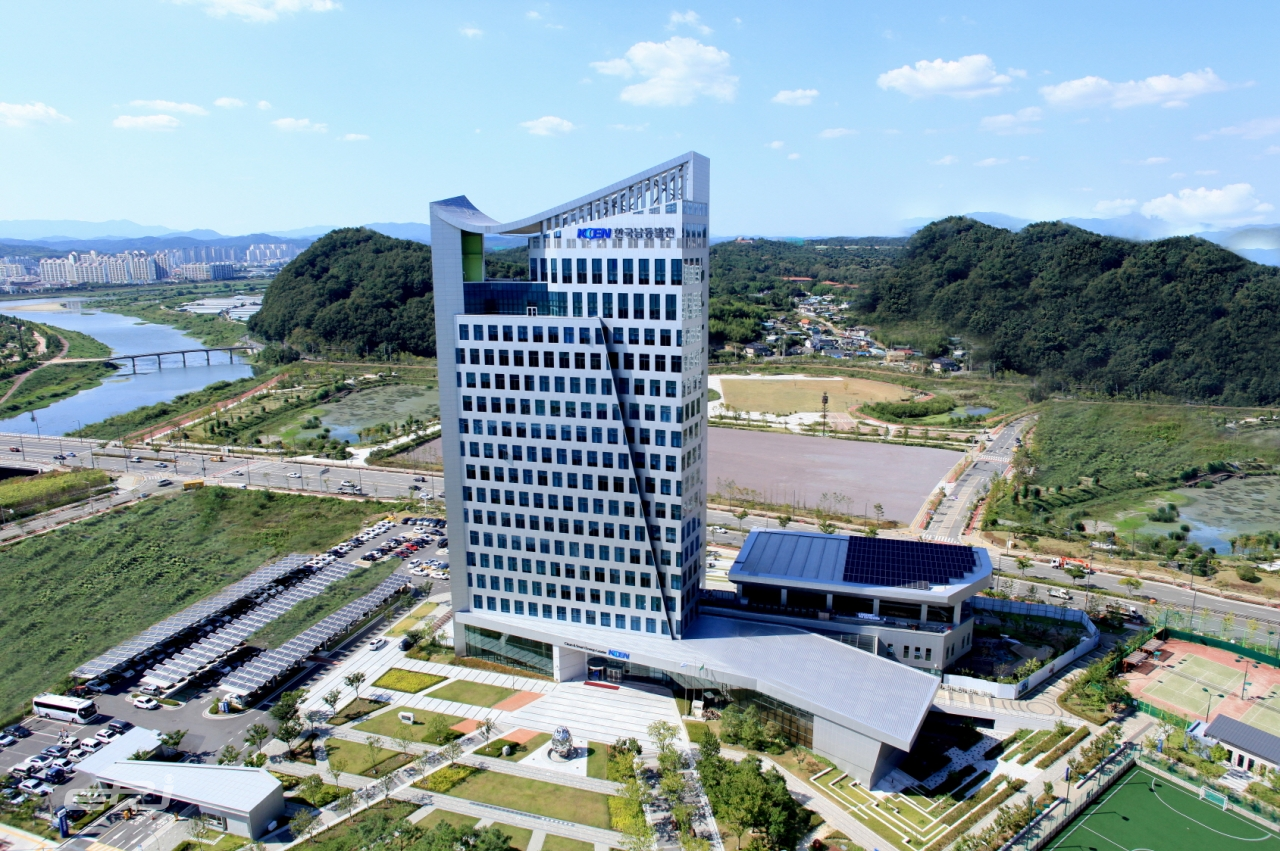 A view of Korea South-East Power Co. headquarters in Jinju, Gyeongsangnam-do. (Photos: KOEN)